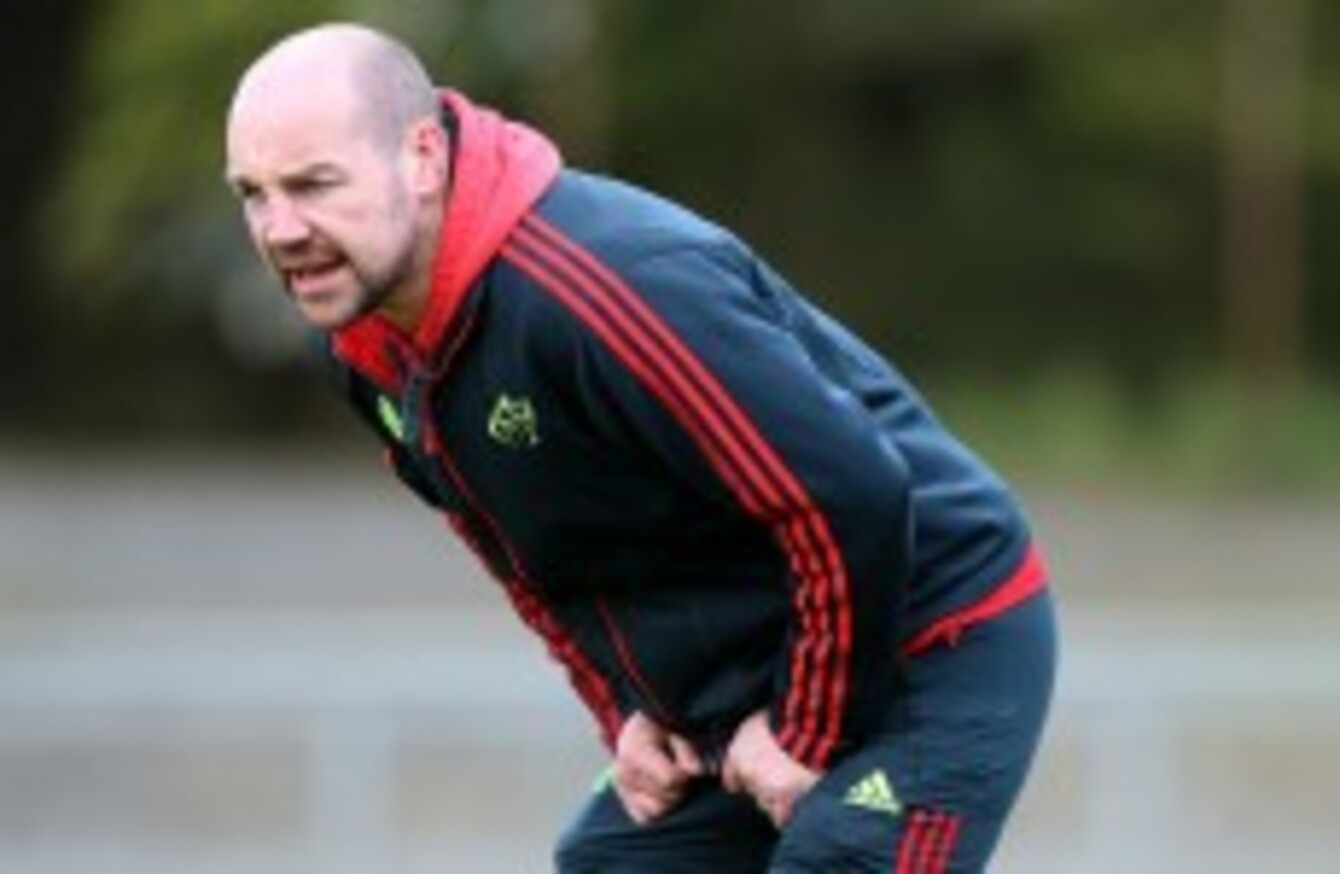 Munster Academy Manger Peter Malone, who is also the province's 'A' team coach.
Image: ©INPHO/Dan Sheridan
Munster Academy Manger Peter Malone, who is also the province's 'A' team coach.
Image: ©INPHO/Dan Sheridan
WHAT DOES IT take to become a professional rugby player?
Many will take the viewpoint that genetic gifts play a role, and there is certainly a strong element of that at play. But as Munster Academy Manager Peter Malone explains, there is also a crucial aspect of nurture involved in producing the type of player who has the ability to move beyond amateur levels.
"In rugby, you do need athletes, you do need physical power and all that kind of stuff, but it's a very technical sport. There is a massive physical demand, but if you look at guys who are professional players, the vast majority of them have been playing since they were a very young age.
They've had the ball in their hands a lot, they've been challenged. The more times you've had the ball in your hands, the better you'll be. Yes, you need the nature, you need some physical aspects and mental aspects, which might also be nature, but there's a lot of nurture in there that really develops players."
Malone firmly believes that the best players come from "places where they play lots of games, train often" and encourage a strong work ethic. Whatever about natural physical advantages, he says that from the age of 15 onwards, coaches and development officers like himself can have a "massive impact in developing professional players."
As the head of the academy at Munster, Malone is tasked with leading the production line for the province, taking players in at a raw, promising level and polishing them into diamonds within three years; diamonds who are ready to make a difference on the pitch.
Selecting the best of the young talent in the province and beyond is one of the most important parts of the job, and Malone underlines that that is a long-term task.
"Obviously you're looking for outstanding talent at all times, whether it's in schools or age grade inter-provincial rugby with Munster. It could be in club rugby, it could be in the All-Ireland league or it could be further afield than that.
Malone, right, on Ireland club international duty with Donnacha Ryan in 2006. ©INPHO/Billy Stickland.
"Our requirement is that the player is Irish-qualified, and that's probably it. You're searching for talent, and you're looking at succession plans and the needs of Munster. Where do we see need for a player two or three years down the line to fill a place in the Munster squad?
That's where you might target an extra player or two, hopefully two or three of them might come through. Still, you never ignore outstanding talent. Like we've seen in Munster, you might end up with a block of second rows, because some guys are going to be good no matter what."
Munster have not been afraid to look abroad to the Exiles system for players with the potential to play for the province at senior level, with highly-rated scrum-half Jack Cullen [18] having arrived from Saracens this season, while powerful wing-cum-fullback Alex Wootton [19] made the switch from the Northampton Saints.
Malone underlines the fact that Munster have a great need to start producing more centres, a problem area that requires both short-term and long-term prospects. That search is constant and far-reaching.
But what happens when a talented player has been identified? Who has the final say on which players are inducted into the Munster academy? Malone says that decision rests with the academy board.
"That's basically a chairman, Tom Barry – a Munster branch official, a very good, solid chairman, progressive. The head coach Rob Penney is on it and I'm on it, as well as Ultan O'Callaghan, the Domestic Rugby Manager. We've two selectors – Brian Walsh would be Cork-based and Declan Edwards would be Limerick-based.
"That board would have the final say over any decision, but I suppose the real detail is in the academy staff's work; myself, Greig Oliver and Colm McMahon [the latter duo are Elite Player Development Officers]. We use the network of scouts and network of contacts to look at drafting a proposed squad around this time of the year for next year."
Malone says he would never be "arrogant" enough to think he has stopped learning. ©INPHO/Dan Sheridan.
Malone admits that the academy board has so far not failed to give approval for any players he has put forward for selection in his two years in the position, and says they act more as an 'overseer' than anything. There is great trust bestowed upon himself, Oliver and McMahon.
Once that approval process is completed by the board, Malone contracts the young player to the academy and the real work begins. The youths are pushed hard to improve their technical and physical skills, but for the Munster set-up, the "off the field stuff" has become just as crucial.
Ensuring that a player can cook for themselves, helping them to settle into what might be life away from home for the first time and adapting their training programs around college [or other] demands are important aspects of the journey. On top of that, Malone is focused on developing professional playing mindsets.
"The longer I'm in the academy, the more I believe the off-field stuff is important; the mental skills development, the life skills development, the bit of resilience. Whether people believe it or not, professional rugby is a tough, tough sport.
It's mentally draining, the knocks you take in it; having to perform week-in, week-out is tough. I do think there is a belief that if you're a great rugby player, can kick a ball and pass a ball, it comes easy. It just doesn't, so what we try to do is put players through a three-year program to prepare them to be excellent professional players.
"That's across rugby – tactically, technically, strategically, so there's a bit of game plan understanding in there. There's video analysis, whiteboard sessions with players, bringing outside speakers in to speak about different aspects of the game."
Malone returns to the phrase 'mental skills' repeatedly, and points to the importance of the role of Aine MacNamara in that regard. A senior lecturer in elite performance, she works as a mental skills coach with the academy's players.
Malone, the man of the match in the final, celebrates an AIL title with Garryowen in 2007. ©INPHO/Lorraine O'Sullivan.
Malone explains that mental skills work is all about "training yourself to perform" so that you peak as often as possible on the pitch. MacNamara, alongside the other academy staff, helps the young players to understand that they "can get better by working on their brains a bit."
What might that specifically involve? Malone outlines an example.
"It might be stuff like visualisation. There are aids to skill development like visualisation and imagery; just imagining yourself repping it out four or five times to make yourself better at it. Then obviously there are coping strategies; when you're in Toulouse and you're seven points down, how do you react?
It's about giving players little cues to focus on little things, like 'Next action' or 'Next thing I can be most effective at', 'How do I get into the game?' All practical little things, but they're all built on the basics of understanding where you want to go, then each day living that little goal for yourself."
That's another huge part of Malone's development philosophy; "living the stuff we talk about." Goal-setting, both short-term and long, is a key part of any academy or professional teams' schedule, but the former Bruff RFC coach points out that those targets are pointless if action is not taken in order to meet them.
If a player has targeted improving their passing from their left hand, they must 'live' that goal. They must ask themselves, 'How many times did I practice passing off the left-hand side this week?' When the volume of training is accumulated to a high level, confidence in that left-handed pass will follow.
It's all well and good training these young players to be technically, physically, tactically and mentally elite, but the only positive result for Malone is seeing them on the pitch for Munster. In that regard, having a head coach like Rob Penney at the province is useful.
Malone with Munster head coach Rob Penney. ©INPHO/James Crombie.
"It's brilliant. We've seen a pretty good patch of it in recent years, guys coming in and playing for the senior squad, more than before. There's two strands to that; one, we're producing better players and two, the age profile of the squad has changed.
"You see guys coming out of the academy last year, like James Cronin, the two hookers [Duncan Casey and Niall Scannell], Ronan O'Mahony on the wing; they've had their opportunities and they've shown they're able for it.
"We put guys through and he's 100% behind giving them a chance. He's backed it up as well, not gone looking for short-term fixes with people coming in. He's thrown in young guys and I think he's been rewarded so far."
Like rugby? Follow TheScore.ie's dedicated Twitter account @rugby_ie >