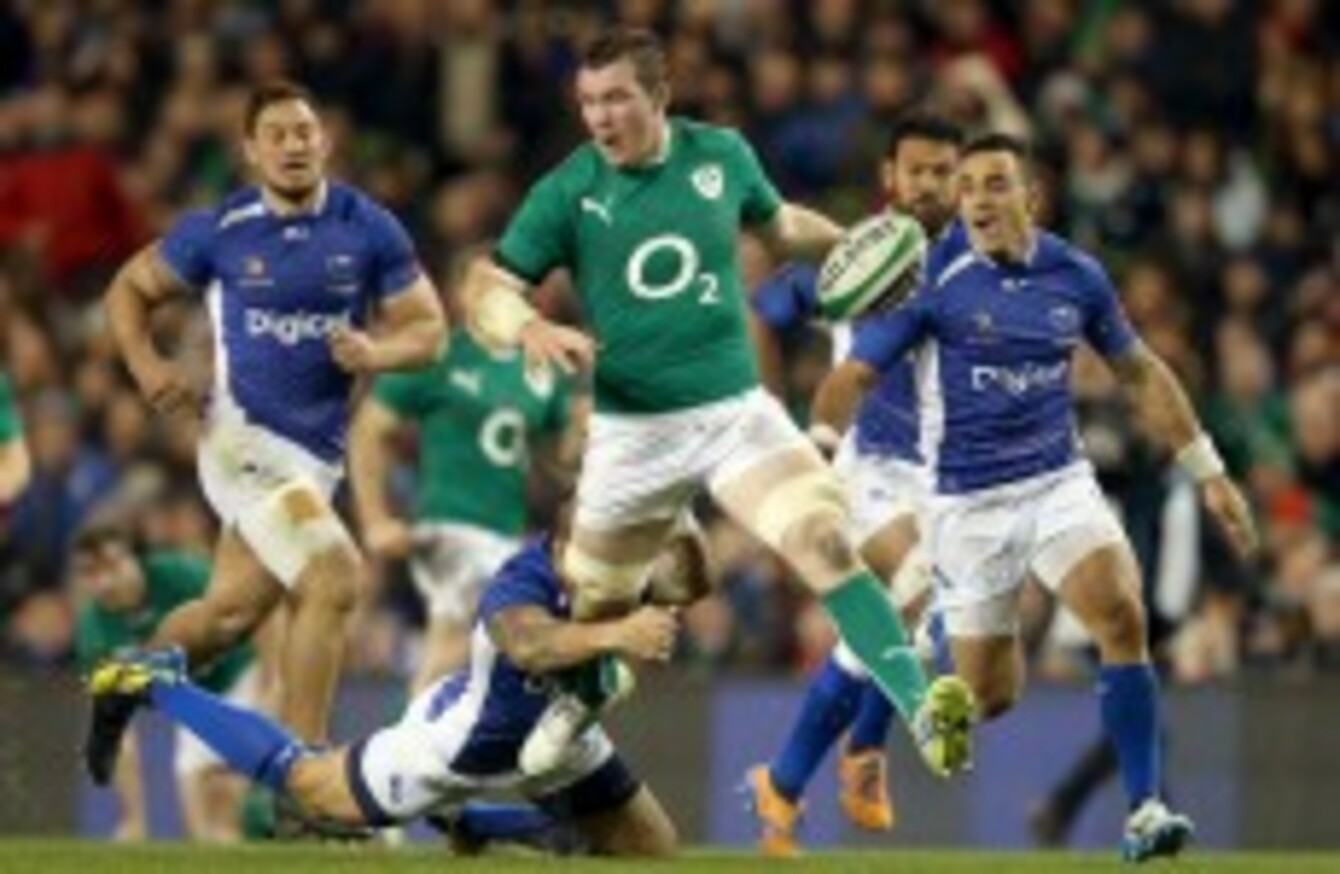 O'Mahony cuts through the Samoan defence.
Image: ©INPHO/Dan Sheridan
O'Mahony cuts through the Samoan defence.
Image: ©INPHO/Dan Sheridan
PETER O'MAHONY had what was possibly his best performance for Ireland on Saturday against Samoa.
Last season was the 24-year-old's first campaign as a first-choice international player, so it was understandable that he didn't consistently stand out as one of the dominant figures on the pitch. Judging by his display against Samoa, the Munster captain is ready to do so this season.
We've taken a detailed look at every action O'Mahony was involved in against Samoa, from carrying, to tackling and rucking to passing. If he can maintain this level of performance, he will nail down the number six shirt long-term, possibly with a view to eventually replacing Jamie Heaslip at No. 8.
Ball carrying
O'Mahony's evening didn't start too well as he knocked on the game's first drop-off. The ball hadn't quite gone 10 metres, but the blindside flanker decided to attack it in the air and was unfortunate to spill it forward, giving Samoa the put-in at the first scrum.
The Munster back row had three carries in the first half, all of which were powerful and made positive metres. His third carry in the 34th minute was inside Ireland's own 22 and was lateral in running towards the touchline. However, O'Mahony bumped off two defenders on his way across the pitch, showcasing his increased explosiveness this season.
Just after half time, the flanker made his most spectacular carry of the game, spotting a hole in the Samoan defence (above) and bursting through it to demonstrate his pace. It took vision to spot the gap, but his good work was wasted by throwing an offload to nobody. Yes, there should have been support but if O'Mahony had held on and Ireland had recycled, they would have been in a superb position to score.
There was just one other carry for the remainder of the game from O'Mahony, when he made 2 metres by powering through contact close to a ruck.
Passing
This was perhaps the most impressive area of O'Mahony's performance. He is a superb 'footballer', in that he has a high skill level, can pass off both hands, and also sees space into which to pass. The 24-year-old could very easily play in the centre and it was great to see him showing off that ability against Samoa.
The back row passed the ball six times in total, with his 'link' passing standing out. When many forwards receive a pass from their scrum-half, their first thought is to drive into contact. However, O'Mahony has the intelligence to check the defence's set-up and then make a decision as to whether one of his teammates is in a better position to break the gain-line.
The example above highlights O'Mahony's ability to do exactly that. Having received possession from Conor Murray, the temptation would have been to smash the ball up himself. Instead, the flanker recognises that the Samoan defence is disjointed and slips Kearney a soft pass to manufacture a half-break for the fullback.
Below is an example of O'Mahony having scanned across the pitch and noticed the space for Ireland to attack out wide. In this instance, he sent out an accurate right-handed spin pass to give Ireland a great attacking chance. Again, some forwards would have taken this chance to carry themselves, but O'Mahony showed that he is all about the team.
Finally, there were two fantastic passes from the base of the ruck by O'Mahony which led to tries for Ireland. The first one came in the 46th minute, when the back row instantly recognised that Rory Best was making a steal in contact. O'Mahony rushed to the breakdown, aware that a counter-attacking chance was on for Ireland.
He passed to Gordon D'Arcy who switched play to Paddy Jackson, who sent a kick in behind Samoa. A phase later, Sean O'Brien burst over to score.
O'Mahony's urgency showed how switched on he was for this game, as well highlighting his understanding of the game. A turnover like the one above is a superb chance to score, as Samoa's defence gets so little time to organize itself.
For the final try of the game, it was O'Mahony who once again read that the turnover was on and rushed in to pass the ball to space.
Rucks
In attack, we counted 11 rucks where O'Mahony featured. Only three of them were effective clear-outs of opposition players, when the 24-year-old removed a threat and allowed Ireland to move the ball away from the ruck with speed.
On five occasions, O'Mahony was a 'guard' at Ireland's attacking rucks, meaning he was present but didn't have to actually physically engage a Samoan defender. Often, the guard discourages defenders from making an effort to steal the ball, so it can be important. The shot below is an example of O'Mahony in such as position. This is the ruck before Dave Kearney's first try.
O'Mahony did have two rucking involvements in attack that ended in negative outcomes for Ireland. The first one saw the Munster skipper concede a penalty for going to ground and sealing the ball off. It was a little harsh by referee Steve Walsh, as O'Mahony had actually cleared a defender away before falling over.
However, as you can see below, he was blocking Jack Lam, the Samoan openside, from having a legitimate effort at stealing the ball. O'Mahony is on his knees if you look closely and, crucially, is blocking the ball. This one could have been overlooked be a different ref.
The other negative ruck involvement saw Lam stealing possession for Samoa, but again another referee could have called it differently. As you can see below, O'Mahony is in something of a guard position but importantly, he's not fully in control of his body.
His head is down too, meaning he can't see where the Samoan threat is coming from. The flanker isn't fully aware of where the ball is and it squeezes back between his legs. Lam rushes in from the side and simply picks the ball up. It could have been whistled as offside, but O'Mahony will be annoyed with his inaccuracy.
Breakdown
O'Mahony was wonderfully selective in attempting to steal Samoan possession. He won a turnover penalty after just two minutes to allow Ireland to take a 3-0 lead, and that could have given him the notion that he could compete for everything on the deck. However, he showed maturity in deciding to ignore lost causes and get into the defensive line instead. Good signs of maturity.
His first steal was a crucial confidence-boosting moment for Ireland in the early stages. Mike McCarthy went in low on the ball carrier, bringing him down swiftly, and O'Mahony was over the ball in a flash. He got into a perfect jackal position, forcing Ole Avei to be pinged for holding on (screenshot below).
His second steal came in the 16th minute, directly after he had been involved in one of the defensive errors we highlighted last night. Having made the mistake of sitting back on his heels in defence, O'Mahony worked hard to get back and win a fantastic turnover penalty.
This time is was Brian O'Driscoll who chopped down the Samoan lock Fa'atiga Lemalu, and O'Mahony was onto the ball like a magnet. The Samoans tried to blast him off the ball, but the extra kilograms of bulk he added during the summer showed their value in holding him solid and stealing possession for Ireland.
Set piece
O'Mahony was involved in at least 10 scrums, and while his role was obviously not as taxing as the front rows' or locks', it was encouraging to see the 24-year-old pushing as part of a concerted effort by the back row. Too often in the past, Irish back rows have been passengers at scrum time but John Plumtree has clearly been working on an eight-man shove.
O'Mahony had a very strong game at the line-out. He won one ball at the tail in the 35th minute (shown below), showing his athleticism and deft handling skills. He also competed in the air on one of the Samoans' throws, but conceded a free-kick for closing the gap before being lifted.
Otherwise, there were six excellent lifts by the Munster captain, two from behind on Toner to secure Irish possession; one from behind on Heaslip to do the same; and two lifts on Paul O'Connell for the lock to steal Samoan throws.
O'Mahony adds so much to the Irish lineout because he is both a lifting and jumping option. That makes if more difficult for the opposition to read where Ireland are going to throw to, and it would be good to see Ireland use his soft hands on a few more occasions against Australia.
The blindside flanker's performance was nicely rounded out by his 25th minute try, which came from one of the lineouts in which he had lifted Toner. O'Mahony was spat out of the maul on the left initially, but after a quick appeal to the touch judge for a penalty, he threw himself back in and was deservedly rewarded with his first try for Ireland.
Overall it was a fantastic performance by O'Mahony, but there is certainly more to come from him. His aggression and energy is now being balanced by maturity and intelligence, while his increased physical power makes him more effective.
Like rugby? Follow TheScore.ie's dedicated Twitter account @rugby_ie >