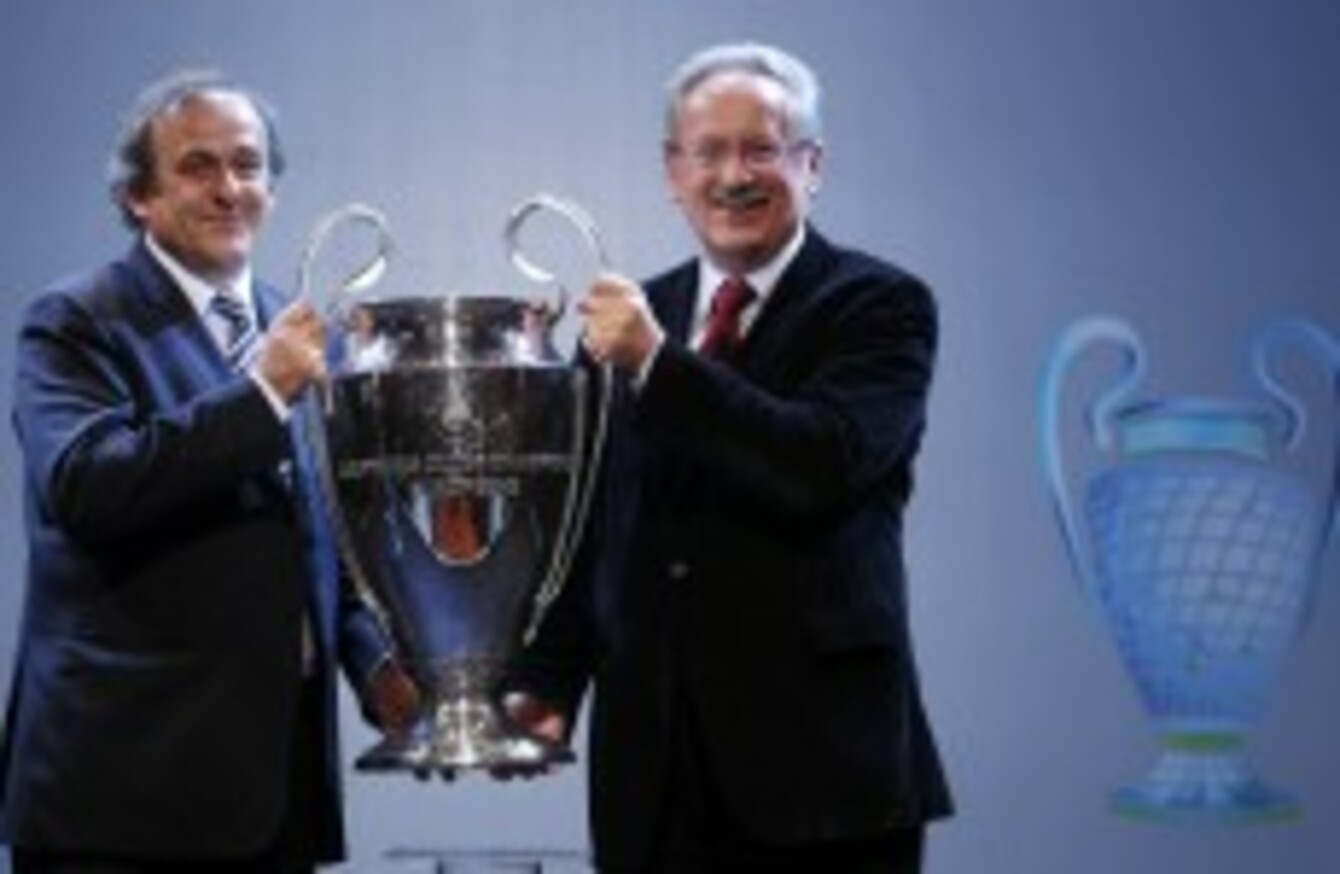 UEFA President Michel Platini, left, hands over the UEFA Champions League trophy cup to Mayor of Munich Christian Ude
Image: Pa images
UEFA President Michel Platini, left, hands over the UEFA Champions League trophy cup to Mayor of Munich Christian Ude
Image: Pa images
UEFA PRESIDENT Michel Platini believes Bayern Munich will have to pull out all stops against Real Madrid to qualify for the Champions League final.
Munich will host the decider on 19 May, but Platini believes local heroes Bayern will face a tough task getting to the tournament showcase, despite leading Real Madrid 2-1 after the first leg of their semi-final clash at Allianz Arena.
"It's certainly not over yet," declared Platini as he officially handed over the Champions League trophy to the city at Munich's Old Town Hall. "Bayern of course have the advantage at the moment, but the match in Madrid is certainly going to be tough for them.
"You can say that, if Bayern leave Madrid having qualified for the final, then they would have put in a great performance."
Franck Ribery had opened the scoring for Bayern last Wednesday evening in the 17th minute before Real's Mesut Oezil responded just after the break. But Bayern hitman Mario Gomez was on hand to net a late winner, giving the Bavarian side a slender advantage heading to Madrid.
While Gomez stole the headlines, it wasn't surprising that Platini — a legend of French football — opted to focus in on the other goal scorer, his compatriot Ribery.
"I think that the French guys who have come to Munich in the last ten years have represented French football well," Platini said. "Ribery at the moment, but (Bixente) Lizarazu and (Willy) Sagnol did well too when they were at Bayern.
"They all did well, and they all came here to Munich and really enjoyed themselves, they played with a lot of passion.  When I see French players doing well abroad I feel proud, it's a shame for the French league I guess but that is the nature of European football these days.
"But yes, French players should feel proud of their achievements while playing at foreign clubs."