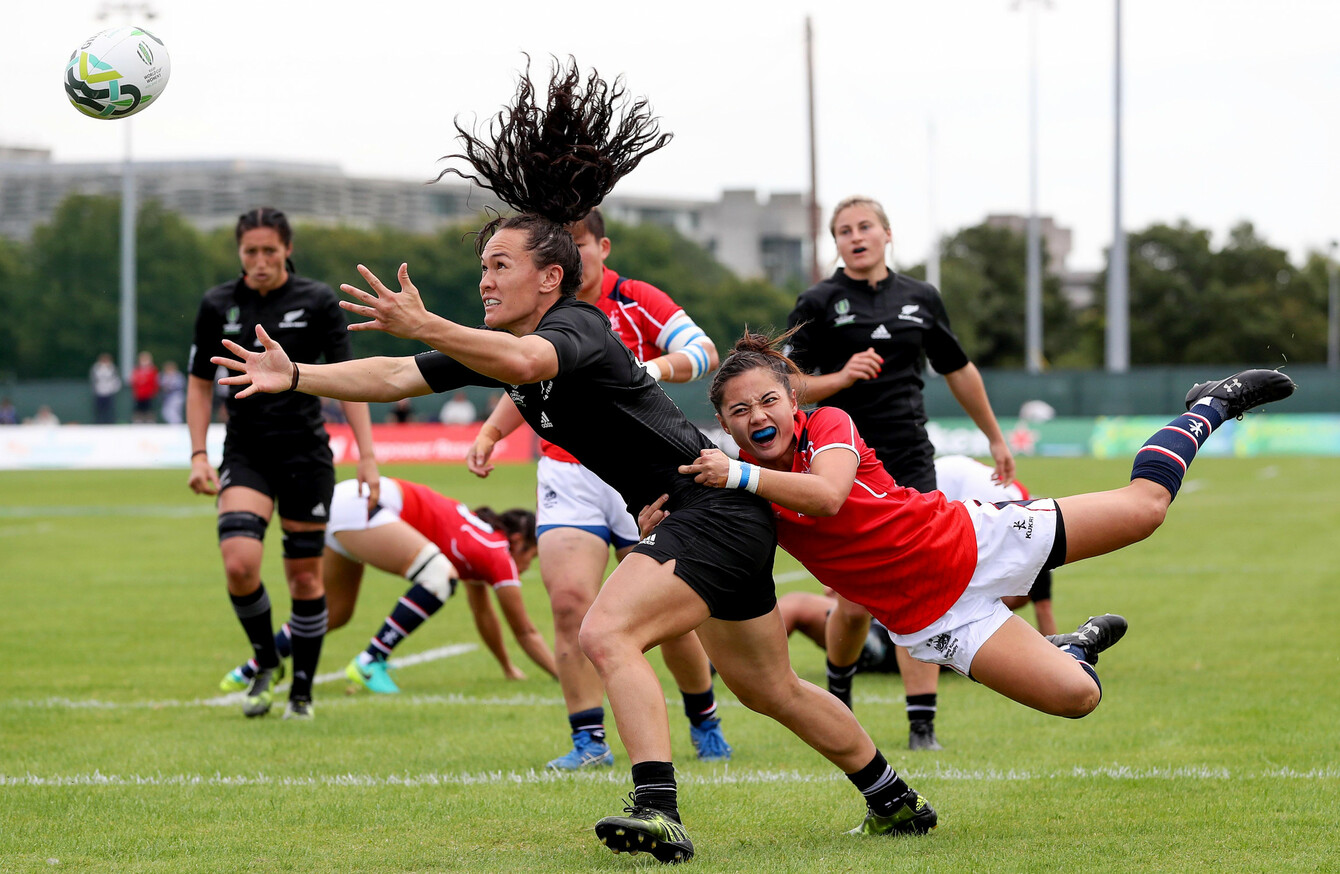 Woodman goes over for one of her eight tries.
Image: Tommy Dickson/INPHO
Woodman goes over for one of her eight tries.
Image: Tommy Dickson/INPHO
Ryan Bailey reports from Billings Park, UCD
THE PLAYER OF the match silverware tucked under her arm, there was little surprise to see Portia Woodman stroll into the mixed zone underneath the single stand at Billings Park.
Barely a sweat broken nor a stain of grass on her kit, the flying winger — who had just scored eight tries in New Zealand's World Cup thrashing of Hong Kong — was quick to deflect any praise coming her way.
"The forwards did a lot of work and it made it easier for me," she said modestly.
As Woodman started to run in the tries with increased frequency, the statisticians were scrambling to determine if the 26-year-old was in fact breaking records as well as tackles.
There was no definitive answer as to whether her eight tries is unprecedented by a player in a single Women's World Cup, but her performance and clinical ability to finish is as good as any you'll see during this tournament.
Although Woodman's exploits don't really come as a great surprise given her sevens background and a penchant for crossing the line and reputation as the 'finisher.'
"Not in 15s," the winger laughed, when asked if she had ever scored eight tries in a game before.
"At half time the coach wanted to keep the ball from the kick off and get it out wide and towards the end of the first half we kind of got in the mode of going up the middle but we began to spread it and it popped up out wide for us.
"The main focus for this game was to pick up as many points as we could ahead of Canada and just giving the respect to Hong Kong they deserve. They're a tough side and kept battling throughout the whole game so we didn't want to let it down just because we're that far ahead.
"It's all down to the forwards, they do all the hard work and it's easy for us to cross the line."
In all, New Zealand, the four-time world champions, scored 19 tries on their way to a 121-0 demolition of Hong Kong, the second comprehensive victory of their campaign.
But after a stroll in Billings Park against Wales and now Hong Kong, Glenn Moore's side will face a considerably stiff test when they face Canada on Thursday, a game which will in likelihood determine the standings in Pool A.
"It was a good effort in the end," Moore reflected. "We've used the bulk of the squad and we got out of it what we needed to. There are certain things we wanted to do and we just move on and look forward to Canada now."
On the performance of Woodman, he added: "She's just class. She goes looking for work and work comes her way. She knows how to finish."
Subscribe to The42 podcasts here: