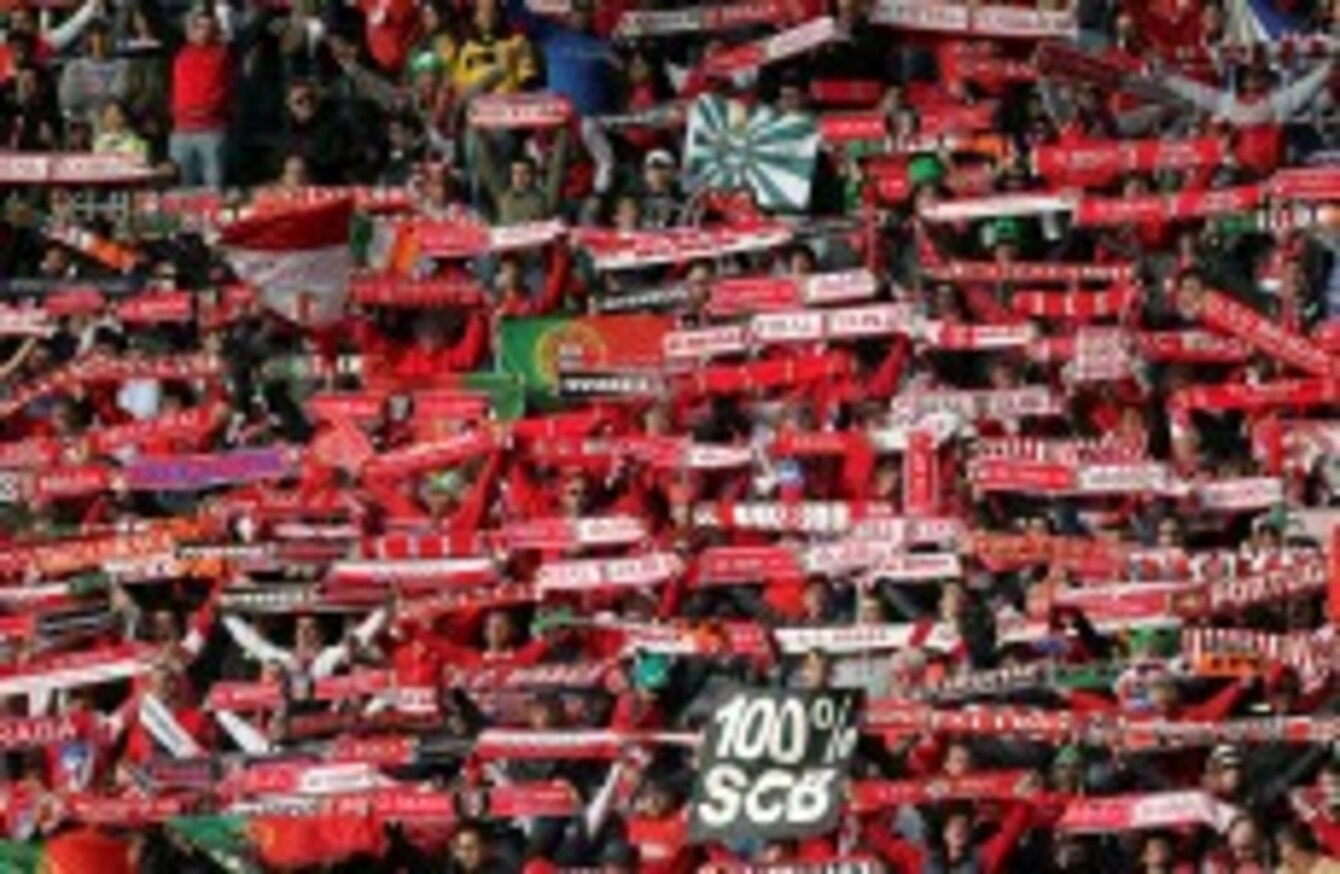 Braga fans at Lansdowne Rd last night.
Image: Mike Egerton/EMPICS Sport
Braga fans at Lansdowne Rd last night.
Image: Mike Egerton/EMPICS Sport
ASIDE FROM A UEFA promo truck near Grafton street on Monday and yesterday, the build-up to the Europa League final at the Aviva, the first game of its kind in Ireland, had swooped in largely under the radar.
The Queen's arrival in Dublin, along with a relatively minimal level of interest among locals in both competing teams, ensured that a large chunk of attention was diverted else where.
Porto returned 2,000 of their 12,000 tickets while Braga could only muster up a support of 3,000 for the biggest game in the clubs history.
It is estimated that 80% of Portuguese fans who attended were chartered in and taken home yesterday, without spending the night.
The fans who did attend however, would make it a special night indeed. In the hours proceeding kick off, the approach ways to the Aviva Stadium were buzzing with Braga and Porto's 'ultras'. There is something quite bizarre about seeing a tanned Portuguese supporter walking around flaunting a leprechaun hat. But as they say, when in Rome…
While pockets of seats were left empty at kick off time it didn't detract from a magnificent atmosphere. The pre-game show brought colour and life to the already vibrant spectacle and as the two teams emerged from the tunnel to take to their stage, both sets of fans proudly unveiled their banners and flags and the chanting match in the stands began.
The game itself was hardly a classic, however record-breaking striker Falcao's match-winning goal, a minute before the break, was worthy of winning any final. The Columbian raced towards the Porto crowd in a celebration reminiscent of Filippo Inzaghi. Porto danced and embraced on the touch line knowing they were that step closer to a remarkable double.
If the goal would briefly stun the Braga support into silence, they would be in full voice again as their team sprung into life in the second half. Braga had some big chances in then to turn the game their way. Substitute Mossoró missed the most guilt-edged of those opportunities and even though that chance fell early in the second half, it was easy to sense that the Braga faithful were starting to believe that their dreams were slipping away.
End game
And so it was, Braga could find no answers and the 2011 Europa League Final would swing in Porto's direction. While it was disheartening to see some missiles fly down from the Braga section, tucked away in a top tear, these were merely the actions of a select few disgruntled idiots.
The game itself was played in good spirits and this, in general, was carried over into the stands. It was good to see the vast majority of Porto fans applaud the Braga team as they went up to receive their medals and vice versa.
While gold and silver streamers sprinkled down from the sky, to the sound of some bizarre Celtic music, the Porto players enjoyed their lap of honour.
The average Irish supporter in attendance wondered when they would ever see such an occasion in Dublin again. It will probably be a long wait, so they soaked it in all the more. Next year, the Europa League final will take place in Bucharest and after  last night's entertainment, they will have a lot to live up to.