Worryingly for Villa and Ireland, Richard Dunne was taken off late in the game with a shoulder injury.
As always, we'd love to hear your thoughts on this afternoon's game. E-mail paul@thescore.ie,tweet @thescore_ie, post a message to our Facebook wall, or leave a comment below.
You may need to refresh the page for YouTube videos and other elements to display correctly.
Aston Villa 0-1 Man City (FT)
16:20 – 16.20 – Hello, and welcome to our liveblog of today's all-important Premier League clash. Apologies for the late start. We've had our hands full, thanks to a plethora of sporting action this weekend.
16:25 – 16.25 – The good news is that you haven't missed much. It's been a very low key start at Villa Park.
16:27 – 16.27 – Here are the two lineups:
Aston Villa: Given, Hutton, Dunne, Collins, Cuellar, Petrov, Albrighton, Gardner, Keane, Bent, Heskey. Subs: Guzan, Warnock, Ireland, N'Zogbia, Bannan, Weimann, Baker.

Man City: Hart, Zabaleta, Kompany, Lescott, Kolarov, Barry, De Jong, Milner, Silva, Johnson, Aguero. Subs: Pantilimon, Richards, Pizarro, Dzeko, Savic, Nasri, Clichy.
16:28 – 16.28 – Adam Johnson has just hit the post with a rasping shot, as Man City begin to look threatening.
16:30 – 16.30 – Aguero does well to get past Collins and Dunne, before skying his shot over and well wide.
16:35 – 16.35 – Sergio Aguero's tame shot is cleared off the line by Hutton, as City continue to press.
16:36 – 16.36 – Something tells me Mossy Quinn is a United fan.

16:39 – 16.39 – Martin Tyler informs us that Nasri is only on the bench, as he has been feeling "under the weather" this week.
16:41 – 16.41 – Sergio Aguero's play so far has epitomised his side's wastefulness. He keeps getting himself in good positions, before finishing disappointingly.
16:46 – 16.46 – By the way, in case you haven't heard, West Brom thrashed Mick McCarthy's Wolves earlier today. Odemwingie scored a hat-trick, in addition to goals from Olsson and Irish international Keith Andrews. Steven Fletcher, meanwhile, scored a consolation for Wolves.
16:46 – 16.46 – HALF TIME: ASTON VILLA 0-0 MAN CITY
16:51 – 16.51 –
Mancini's men haven't really looked like potential Premier League champions so far. They haven't seemed capable of breaking down a stubborn Villa defence, despite some promising build-up play.
Villa, meanwhile, have rarely threatened, and seem content to sit back and attempt to hit the visitors on the counter-attack.
16:57 – 16.57 –
It hasn't been a classic so far, with ball winners such as De Jong dominating (Nick Potts/PA Wire/Press Association Images).
17:04 – 17.04 – The second half is underway…
17:07 – 17.07 – Villa launch a rare attack and win a corner, though it comes to nothing.
17:11 – 17.11 – A poor pass from Keane gives back possession to City. The Irish international has looked relatively isolated up front for the majority of this game, and his frustration was evident there.
17:15 – 17.15 – After ten minutes in this second half, there's barely been a shot at goal. In other words, we've continued where we left off in the first half, with scrappy play prevailing.
17:17 – 17.17 – Great defending from Villa. Dunne does well to beat Lescott to the header, before Collins throws himself at a shot to block it. They really do look solid at the moment.
17:20 – 17.20 – GOAL FOR MAN CITY!
17:22 – 17.22 – Joleon Lescott scores from close range after the ball is headed into his path from a corner.
17:24 – 17.24 – Surely Villa need to make changes now. They look unlikely to score otherwise, given their somewhat negative tactics.
17:27 – 17.27 – Following our reports that Mancini was willing to talk, we're now hearing news that Tevez will return to Manchester (from Argentina) this week.
17:29 – 17.29 – N'Zogbia has replaced Heskey, as Villa look to adopt a more attacking approach.
17:30 – 17.30 –
17:32 – 17.32 – Co-commentator Gary Neville, meanwhile, has criticised Villa, saying they've offered "nothing" and claims he "can't remember Joe Hart touching the ball". Deary me, harsh words.
17:36 – 17.36 – A streaker has apparently ran onto the pitch, much to the crowd's delight. I say apparently, as the cameraman has refrained from showing what's happening.
"There'll be no handcuffs involved," says a relieved Martin Tyler.
17:37 – 17.37 – Everyone's least favourite Irish player, Stephen Ireland, has come on, in a late bid to rescue Villa.
17:42 – 17.42 –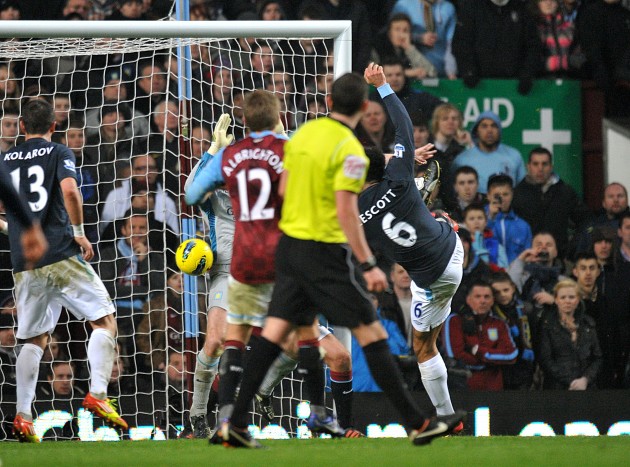 Lescott opens the scoring (Neal Simpson/EMPICS Sport).
17:43 – 17.43 – It's pretty dour stuff at the moment. After going behind, Villa look like they have no plan B.
17:45 – 17.45 – Corner for Villa. Can they grab an unlikely equaliser?
17:47 – 17.47 – Cuellar heads over from the corner and wastes a good chance in the process, as City's zonal marking system is badly exposed.
Meanwhile, Dzeko has replaced Aguero.
17:48 – 17.48 – Hart with a great reaction save to deny Villa.
17:50 – 17.50 – It was Bent (with a snap shot from a corner) who was denied by Hart, and it's the first proper save he's had to make today. Great stuff from the England goalkeeper.
17:52 – 17.52 – Gary Neville says Joe Hart is "every bit as good" as all the goalkeepers he played with in his career.
17:53 – 17.53 – Worryingly for Villa (and Ireland), Richard Dunne has to go off injured. He holds his collarbone as he trudges off.
17:54 – 17.54 – FULL TIME: ASTON VILLA 0-1 MAN CITY
18:00 – 18.00 – If you can't be bothered scrolling down (or up depending on when you read this), this is good basic summary of virtually everything that happened in today's game:
18:03 – 18.03 – While it may not have been pretty, City got the job done, with the kind of gritty performance that's invariably required occasionally, in order to win titles.
Villa, in contrast, were fairly poor, and will presumably regret the stark lack of ambition they displayed for most of this game.
18:04 – 18.04 – Man of the match Gareth Barry says City's "experience" will be key in the title run-in, and has praised Joe Hart for his save at the end.
18:10 – 18.10 – Mancini says his side deserved their win, as they played "fantastic football".
He says he doesn't think Joe Hart is the best goalkeeper in the world yet.
And on Tevez's comeback, he somewhat cryptically says: "It's possible," and that "nothing has changed".
He'll be back in Manchester on Tuesday, apparently.
18:12 – 18.12 –
Alright, that's it for me again. Thanks for reading and commenting. It's been a pleasure as always.