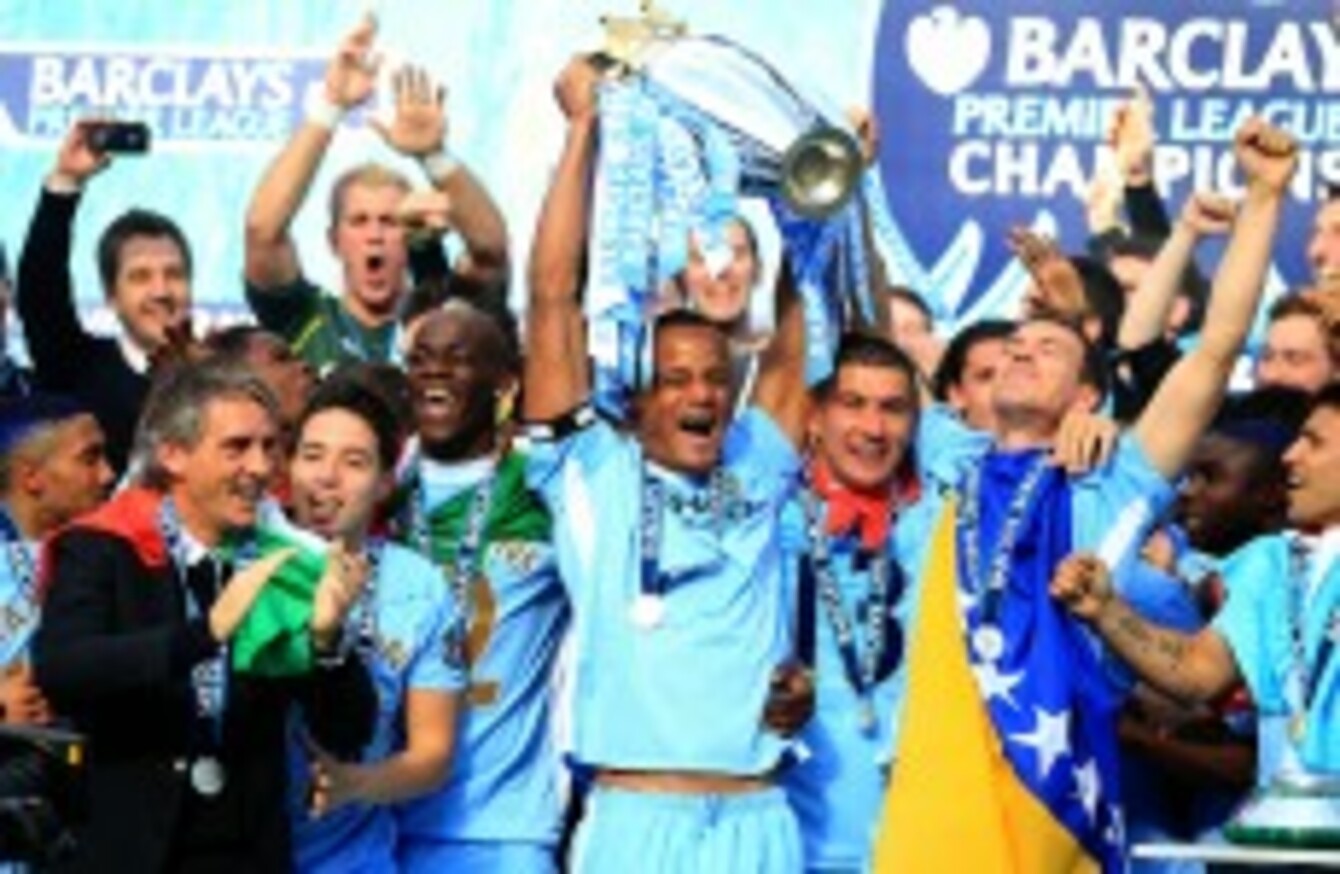 Manchester City captain Vincent Kompany lifts the Premier League trophy.
Image: Mike Egerton/EMPICS Sport
Manchester City captain Vincent Kompany lifts the Premier League trophy.
Image: Mike Egerton/EMPICS Sport
Arsenal
Last season: 3rd
Predicted finish: 5th
Opening fixture: Sunderland (H)
FOR THE LAST few seasons Arsenal have resembled a house of cards. Lacking stability, the Londoners have stumbled from crises to crises and have been left behind in the hunt for silverware. Despite the impressive additions of Olivier Giroud, Lukas Podoloski and Santi Cazorla – Robin van Persie's contractual drama and Jack Wilshire's injury woes could shake the Gunners to their core.
Arséne Wenger has been the glue that has held Arsenal together in recent years. Having survived a humiliating start to the last campaign, Wenger led Arsenal to a top-four finish for the 12th year in a row. But with Tottenham, Newcastle, Chelsea and Liverpool all scrapping for a Champions League spot seven into four won't go. Wenger's side might well lose out this time around.
What they need: Van Persie to apologise to Arsenal fans and sign a new contact.
Stats a fact: Last season, Arsenal became the first side to win four consecutive games by coming from behind.
Aston Villa
Last season: 16th
Predicted finish: 15th
Opening fixture: West Ham (A)
HAVING FLOPPED LAST time out under Alex McLeish, Aston Villa supporters will be hoping for some stability this season. New manager Paul Lambert will have been a popular choice all round. He will bring to the Villains a fresh approach and an attractive style of football. But the Villa faithful must not get ahead of themselves and expect a major improvement in league table position. For when the players aren't there, the players just aren't there.
The Birmingham side has not effectively replaced Ashley Young or Stewart Downing and last summer's addition Charles N'Zogbia was a major disappointment. Lambert has made four signings in Ron Vlaar, Matthew Lowton, Brett Holman, Karim El Ahmadi (none of whom have any Premier League experience), and the Scottish manager will be hoping his new recruits can bed in quickly.
While Villa avoid playing a traditional 'top four' side until November, they have a difficult set of fixtures over the festive period, and will need to start the season well to avoid getting into relegation trouble.
What they need: Some confident and capable midfield options.
Stats a fact: Darren Bent can be found at 25/1 to finish Premier League top scorer.
Chelsea
Last season: 6th
Predicted finish: 3rd
Opening fixture: Wigan (A)
CHELSEA'S 2011/2012 SEASON may have started badly but it could hardly have ended any better. The Andre Villas Boas project was well and truly forgotten by the time fans favourite Roberto Di Matteo was lifting trophies in May. By guiding Chelsea to their first ever Champions League title, Di Matteo has cemented his place in club folklore forever.
The one (major) blotch on the Blue's season was their 6th place finish in the league. Chelsea supporters will be expecting a much higher position this time out. New signings Eden Hazard, Marko Marin and Oscar should help see to that. However, Manchester City and Manchester United have left Chelsea so far behind domestically that it is unlikely the Blues will be able to make it up in just one season.
What they need: Time to complete a transition period.
Stats a fact: Did you know – Chelsea took fewer points in London derbies than any other London side last season (just eight from eight games).
Everton
More will be expected from 18-year-old Ross Barkley this season. Credit: Peter Byrne/PA Wire/Press Association Images
Last season: 7th
Predicted finish: 8th
Opening fixture: Manchester United (H)
THE TOFFEES ARE perennial bad starters. And an opening day fixture against Manchester United is not likely to yield many points either. Particularly in the context of last seasons 4-4 draw at Old Trafford, a result which cost United dearly. The Manchester side will be eager for revenge. But seasoned manager David Moyes has made a habit of turning poor starts to seasons into reasonably positive finishes. The Blues finished above their city neighbours last season (for only the second time since they won the league in 1986/87) and most Everton fans would settle for the same again this time around.
While that is not necessarily all that likely to happen, with Nikica Jelavic the Blues always have a chance. Bringing Steven Pienaar back to the club was another positive move. But Everton's shaky financial situation means they still lack real strength in depth and Tim Cahill's departure was sad to see. The months of December, January and February could be a bumpy ride for the Toffees as they have a difficult run of fixtures.
What they need: A cash injection.
Stats a fact: Last season Tim Howard became only the fourth goalkeeper to score in the Premier League.
Fulham
Last season: 9th
Predicted finish: 10th
Opening fixture: Norwich (H)
IT IS FAIR to say Fulham have had a busy summer. Andrew Johnson, Danny Murphy, Dickson Etuhu, Bjorn Helge Riise and Orlando Sa have all moved on. And by bringing in Mladen Petric and Hugo Rodallega Fulham have made shrewd signings. Arguably the most important bit of business they have done so far is keeping Clint Dempsey. However, there is still a good chance Dempsey will leave during this transfer window and if that happens Fulham will need to replace him effectively.
The one blotch on their summer report card was the failure to hold onto Pavel Pogrebnyak who looked lively in patches during his loan spell at the club last season but has joined Reading. Martin Jol has solidified Fulham as a middle of the road team. While they will be in no danger of being relegated they will also pose little threat to the European places.
What they need: The new signings to settle in quickly.
Stats a fact: Fulham were the only team not to be shown a red card in the Premier League last season.
Liverpool
Last season: 8th
Predicted finish: 7th
Opening fixture: West Brom (A)
IN THE CLOSE season Liverpool replaced the vast experience of club legend Kenny Dalglish with the relative inexperience of Brendan Rodgers. Rodgers impressed last term in his Premier League debut season with Swansea and will at the very least be looking to avoid the damaging controversies of 2011/12 with the Reds.
Liverpool host Manchester City, Arsenal and Manchester United at Anfield in the first six games of the season. This will be a great opportunity to take some big scalps and set a tone for the season. Liverpool's league position at the end of September could well be a forecast of what's to follow in the rest of the campaign.
What they need: Shooting practice – Liverpool were the first team to miss five penalties in a single Premier League season since 1998/99. They also hit the woodwork an astonishing 33 times last season.
Stats a fact: Only once, before last season, have Liverpool won fewer games (six) in a league season; they could only win five in 1948/49.
Manchester City
Last season: 1st
Predicted finish: 2nd
Opening fixture: Southampton (H)
LAST SEASON, MANCHESTER City fell over the line to be crowned Champions for the first time in 44 years. They claimed the title on goal difference from their fierce city neighbours. Yet for all of their millions in the bank, Roberto Mancini has yet to strengthen his side at all this summer. As history shows us, it is often foolish to not freshen up a Championship-winning squad.
From the outside it seems Manchester City might be resting on their laurels. That is a dangerous game for the Sky Blues to play particularly as they will face a title challenge from a United team with renewed hunger and vigour.
And don't expect City to make a flying start to the new season either. Mancini has stated that he does not expect his stars to have achieved full fitness by their season opener against Southampton. Keeping egos in check will be a significant challenge for the City manager this season and may prove to be key to their title retention hopes.
What they need: Less egotistical antics from Carlos Tevez and others.
Stats a fact: The last player to score more goals than Sergio Aguero (23) in his debut season was Fernando Torres (24) in 2007/08.
Manchester United
United striker Javier Hernandez had a difficult second season at the club. Credit: Schalk van Zuydam/AP/Press Association Images
Last season: 2nd
Predicted finish: 1st
Opening fixture: Everton (A)
FOLLOWING A DISTRASTROUS finish to the last campaign, United boss Alex Ferguson promised new faces would be arriving at Old Trafford. He didn't lie. Nick Powell and Shinji Kagawa have joined the ranks but after missing out on Eden Hazard and Lucas Moura, Ferguson has so far failed to capture the marquee signing that many United fans crave. There's still time to put that right, however.
The Red Devils staggered through last season with a long list of injuries to key players, a loss of killer instinct and no real form to speak of. They also suffered humiliations both domestically and in Europe that will not be forgotten quickly. However, when the smoke cleared, United had only missed out on a 20th Premier League title on goal difference. Even without any further additions, if Ferguson can keep his key players fit, United should be able to mount a strong challenge in the title race.
Always remember… Write Alex Ferguson and Manchester United off at your peril.
What they need: Further strengthening in midfield and less damaging talk of shady stock floatations.
Stats a fact: Last season's tally of 89 points is the highest ever achieved by a side not to win the English top flight.
Newcastle
Last season: 5th
Predicted finish: 4th
Opening fixture: Tottenham (H)
IT IS FAIR to say that the Magpies took the Premier League by storm last season and most neutrals rooted for Newcastle to finish in the top four. Ultimately they fell just short. They played exciting football and refreshed the league with their attacking attitude. And all of this from a team that many thought would be relegated at the start of last season.
As of yet, Newcastle are yet to strengthen. If they can bring in transfer targets Mathieu Debuchy and Jeremy Toulalan it might just provide a shot in the arm for the Geordies. A lot will depend on the form of Papiss Cisse, who was scintillating last term. And if he can keep that form up Newcastle will have a good chance of breaking into the top four.
What they need: A flying start to the season. Tottenham home and Chelsea away aren't exactly easy fixtures for your first two games.
Stats a fact: Demba Ba failed to score in all 13 league games where he and Papiss Cisse started together last season.
Norwich City
Last season: 12th
Predicted finish: 13th
PAUL LAMBERT DID an incredible job at Norwich City last season. So it is natural to think it was a big blow to the club to lose Lambert to Aston Villa. But in Chris Hughton Norwich have made a safe choice. Hughton will hope to push the Canaries into the top half of the table but he is likely to fall short.
Norwich have managed to keep hold of their important players – crucially Grant Holt. They have also made some handy additions in Steven Whittaker, Michael Turner and Robert Snodgrass. These additions should keep the men from the south east safe from any relegation worries.
What they need: Better luck with referees – Norwich were awarded only two penalties last season.
Stats a fact: Striker Grant Holt committed more fouls than any other player in the Premier League last term (89).
Read Part 2 of our Premier League preview tomorrow