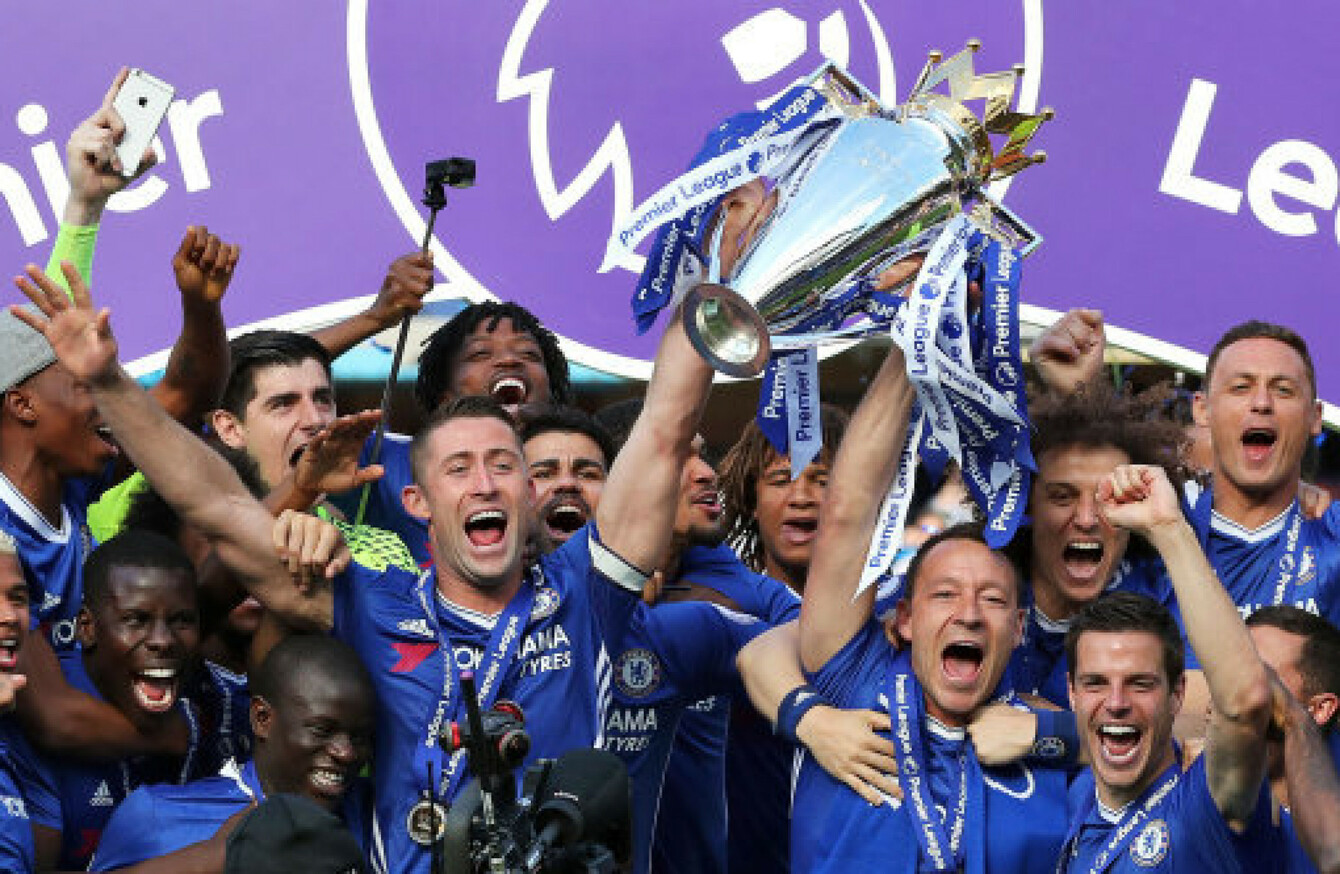 Three at the back helped Chelsea to a title last year.
Image: PA Wire/PA Images
Three at the back helped Chelsea to a title last year.
Image: PA Wire/PA Images
WITH THE PREMIER League almost upon us, we examine some of the key tactical questions likely to define the forthcoming season
1. Is possession nine-tenths of the law?
Tactics in football generally tend to be determined by teams that enjoy great success. Recent debates about possession and whether teams should be obliged to keep hold of the ball are nothing new.
In the 1980s, a number of sides including Jack Charlton's Ireland team and Wimbledon's 'Crazy Gang' punched significantly above their weight by adopting a long-ball game that minimised risk and abdicated trust in players to a degree.
By contrast, in the late 2000s and early 2010s, teams such as Pep Guardiola's Barcelona and the Spanish side that won the World Cup and two European Championships adopted elements of the intense pressing style that Wimbledon favoured, encompassing the famous six-second rule, while insisting that possession should not be wasted readily.
After this 'tiki-taka' innovation helped the Catalan side achieve great success, all of a sudden, a number of lesser teams such as Brendan Rodgers' Swansea began attempting to emulate this style.
In more recent years though, the trends — particularly in the Premier League — have veered towards a less possession-based game, and a number of sides have been richly rewarded for adhering to this strategy.
In the 2015-16 campaign, Leicester shocked everyone by winning England's top flight. It was a riposte to conventional wisdom, as espoused by legendary Man United manager Alex Ferguson among others, that keeping hold of the ball is vital to winning football matches.
Leicester won the Premier League despite ranking 18th in terms of possession, having the lowest pass success rate and playing the third-most long balls of any side in the league.
The Foxes' gameplan was based on getting the ball in the opposition's half as quickly and as often as possible. Their well-organised backline was protected by accomplished defensive midfielders in N'Golo Kante and Danny Drinkwater and their attack was heavily dependent on swift transitional play.
So often, Claudio Ranieri's team would force the opposition to lose possession in dangerous areas and their speedy attackers such as Jamie Vardy and Riyad Mahrez would have the necessary skills and ruthlessness to punish teams on the counter-attack.
Last year's champions, Chelsea, although there were some differences too, had several similarities to the victorious Leicester team. They also used two defensive midfielders — Kante (again) and Nemanja Matic — to protect a well-organised backline. They also relied on speedy attackers (such as Eden Hazard and Pedro) to punish teams on the counter attack.
The 2017 FA Cup semi-final was a classic example of Antonio Conte's men's strengths. Tottenham dominated possession and play for much of the game — they had 63% of the ball overall — yet they could not cope with Chelsea's pace and finishing ability on the counter attack, and thus ended up losing 4-2.
Chelsea were not quite as economical with the ball as previous reigning champions Leicester — stats in May put them sixth in terms of average possession — but they noticeably triumphed over teams such as Arsenal, Man City and Tottenham, whose tactics revolved much more heavily towards keeping the ball, to the extent that goalkeepers were seemingly barred from going long at times.
Moreover, other teams benefited from this approach as well. West Brom, the team with the lowest average possession as per statistics in May, exceeded most people's expectations to finish 10th in the league, comfortably away from the relegation zone. Meanwhile, Burnley, many people's favourites to go down last season, were second bottom in terms of average possession, but punched significantly above their weight to avoid relegation.
2. The increasing prevalence of 'complete' footballers
One of the most marked trends in the Premier League of late has been the increasing reliance on players with a diverse skill set. Last season, this trend was particularly noticeable in England's top flight.
Pep Guardiola's decision to ostracise Joe Hart from the Man City squad was a clear result of this evolution. Hart was and arguably still is considered one of the Premier League's best goalkeepers. For years, he was a regular between the posts for both Man City and England. His agility and shot-stopping abilities were widely admired.
Guardiola's reservations, however, had nothing to do with Hart's goalkeeping in the classic sense of the word. Instead, the English star was snubbed by his manager owing to the former's discomfort with the ball at his feet.
In Guardiola's eyes, goalkeepers must not just be great goalkeepers, they should be good footballers too.
Willy Caballero Caballero and Claudio Bravo were both tried as alternatives to Hart, but both struggled with many critics suggesting the Englishman should be recalled.
The manager's insistence on his goalkeepers playing it out from the back also cost City goals at various points in the season, with opposition teams successfully pressurising Bravo/Caballero into mistakes and exploiting the club's risky approach.
Yet the controversy and criticism of Guardiola's policy did not stop other sides emulating this strategy. Tottenham were another side who ostensibly insisted that their goalkeepers refrained from going long, and they employed this strategy much more successfully than their rivals.
The greater prevalence of footballing goalkeepers is in itself part of a wider trend in Premier League football towards more 'complete' players.
Liverpool boss Jurgen Klopp is another well-known advocate of this principle. This is one reason why Daniel Sturridge, a highly talented out-and-out goalscorer, has been marginalised at Anfield.
Sturridge is, by most accounts, Liverpool's best finisher and the player most likely to get them 20-plus goals a season.
Yet stars such as Roberto Firmino and Sadio Mane were invariably preferred in attack. Their inferior stats indicate both players don't offer as great a goal threat as Sturridge, but both are picked more than anything else for their tactical intelligence and work off the ball — areas where the England international is perceived as coming up short.
While there is a shift in emphasis towards more complete footballers, these types of players are not so easy to come by. This is one of the reasons why Jose Mourinho, according to widespread reports, identified Tottenham's Eric Dier as a top transfer target, before eventually having to settle for Nemanja Matic.
Dier is a classic example of the ideal modern Premier League player. Young, athletic and versatile – the England international is just as comfortable playing at centre-back as he is anchoring the midfield, and the 23-year-old frequently alternated between the two roles last season.
3. Three at the back
For a long time in the 2000s and 2010s in the Premier League, 4-5-1/4-3-3 became the favoured style.
Small strikers such as Robbie Keane and Craig Bellamy became increasingly rare, while physical target men, preferably with plenty of pace and skill to boot, in the mould of a Didier Drogba, Diego Costa or Fernando Torres, became increasingly popular. These forwards often worked in tandem with wingers who had the freedom to join the attack — the Jose Mourinho Chelsea side with Damien Duff and Arjen Robben is a classic example of this style.
More recently, 4-4-2 — so often dismissed as outdated particularly when Giovanni Trapattoni defied trends and stuck with it during his time as Ireland manager — saw an unexpected resurgence. Brendan Rodgers' Liverpool almost won the league in 2014-15 with this formation, usually playing Daniel Sturridge and Luis Suarez up front, and Leicester of course triumphed a year later while predominantly using a 4-4-2 (Jamie Vardy and Shinji Okazaki were often the preferred partnership up front, though Leonardo Ulloa saw some game time too).
Last season, however, the dominant tactical trend was undoubtedly a three-man defence.
Chelsea endured a dire start to the season, which even caused murmurs about Antonio Conte's future at the club. Yet after beginning the campaign with an unconvincing 4-1-4-1 formation, once they switched to a three-man defence, they equalled a Premier League record of 13 successive wins before going on to comfortably claim the title.
Tottenham, similarly, went on a nine-match unbeaten run, having reverted to three at the back. And tellingly, they eventually lost to West Ham, having been forced to play a four-man defence and push Eric Dier into midfield, as Mousa Dembele's lack of fitness restricted him to a place on the bench that night.
As is always the case in football, Chelsea's early success with three at the back prompted other teams to attempt to copy their winning formula. By the end of the season, 17 of the 20 Premier League teams had at least tried three at the back at one point in the campaign — Burnley, Southampton and West Brom being the only clubs who resisted this temptation.
This growing trend towards three-man defences has also meant teams have accommodated full-backs as fit and fast as wingers, and who are more renowned for their attacking prowess rather than their defensive qualities. The full-backs/wing-backs who thrived in recent times — Danny Rose, Antonio Valencia, Marcos Alonso and Hector Bellerin among others — are largely renowned for the tendency to offer width and attacking threat more so than defensive solidity.
One manager who has clearly recognised this trend is Man City's Pep Guardiola. Hence, ageing, defence-oriented full-backs such as Pablo Zabaleta and Gael Clichy left the Etihad in the close season and have been replaced by more modern, athletic and pacy full-backs in Kyle Walker, Danilo and Benjamin Mendy.
That said, tactics in football are always evolving and so don't necessarily expect three-man defences' prominence to continue to be the dominant theme this season.
The Premier League kicks off this weekend and eir Sport will have all the heart-stopping action across its seven great sports channels. With 42 Premier League games, every Champions League game and every Europa League game, as well as UFC, Allianz Leagues GAA, Golf, F1 and much more, why not sign up today?