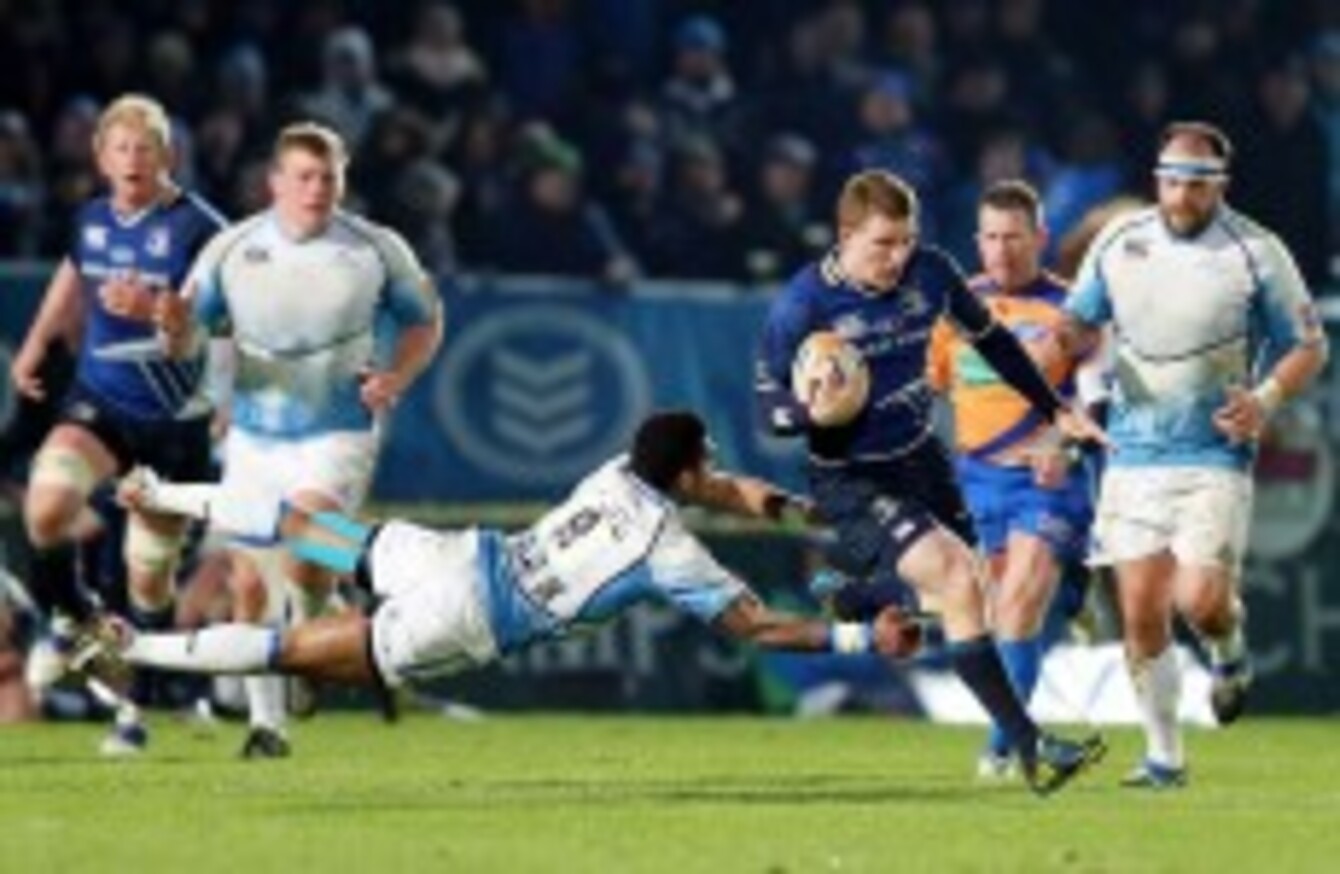 Andrew Conway evaded Niko Matawalu during the top-of-the-table clash.
Image: ©INPHO/Dan Sheridan
Andrew Conway evaded Niko Matawalu during the top-of-the-table clash.
Image: ©INPHO/Dan Sheridan
LEINSTER COACH JOE Schmidt looked like a man in need of a cold beer in the aftermath of Saturday's dramatic 22-17 win over Glasgow Warriors.
Tempers flared after the visitors had a potentially match-winning score controversially chalked off for a forward pass on the last play of the game.
But in the more comfortable confines of the RDS' media room, there were two coaches almost embarrassed by the level of respect held for one another.
As Gregor Townsend finished his duties with the press, Schmidt peeled away from his to make sure to shake the hand of his opposite number.
"You guys," the Kiwi said with a shake of the head that would have said it all, "you guys are bloody good, I've got to say."
"We were loose – we'll put it down to rustiness after not playing for a while" was Townsend's rueful response before also expressing a hope for better weather next time out.
It was a game to mark the full circle of a sea-change in the Scottish club. Last May, they pitched up at the RDS for the RaboDirect Pro12 final intent solely on spoiling the game and roughing up their hosts to make them question their commitment to a game seven days out from a European final.
On Saturday, despite their first defeat in seven league outings, the Warriors looked every inch a side capable of taking the Pro12 crown away from Ireland and the Ospreys.
"The bonus point wasn't what we came for." Townsend said, refusing to accept his inquisitor's consolation. "We've got some tough games coming up, and to have led for most of the game it's really disappointing to only pick up one point."
Leinster took their first lead of the game eight minutes from time when Ian Madigan made a trade-mark line-break around a flat-footed defender in front of the posts.
However, as well as scoring all 22 of Leinster's points, the new Pro12 leaders' out-half also showed a down side to that cavalier spirit; scampering and scrambling around his own in-goal area. On another day, Leinster may well have paid the full price.

YouTube credit:
RaboDirectPRO12
"We were pretty lucky in the end," admitted Dave Kearney. "There's no doubt about it, it wasn't one of our best performance of the season. We struggled in the first half, jumping off tackles and not really fronting up."
He added: "They were getting offloads and making more ground than us, and thankfully we had the wind in the second half so it was up to us to  try and keep the ball in hand – we probably didn't do enough of that either."
Through the wringer
A win, though, is a win. And while Glasgow must now turn towards Munster next weekend, the young Blues of Leinster have placed them in pole position for a home semi-final in the competition that has eluded them so narrowly for the past three years.
In order to make the fourth time a charm, Schmidt appeared to have a nagging feeling that he would have to go through the emotional wringer once more with the Warriors.
"I just hope we don't see you again" Schmidt said in what was meant as a joke with Townsend moving for the door. But the words came out sounding deadly serious. He corrected himself out of politeness:
"Well, I kind of hope we do, then we'll both be alive."
Hopefully he got that beer… followed swiftly by another.