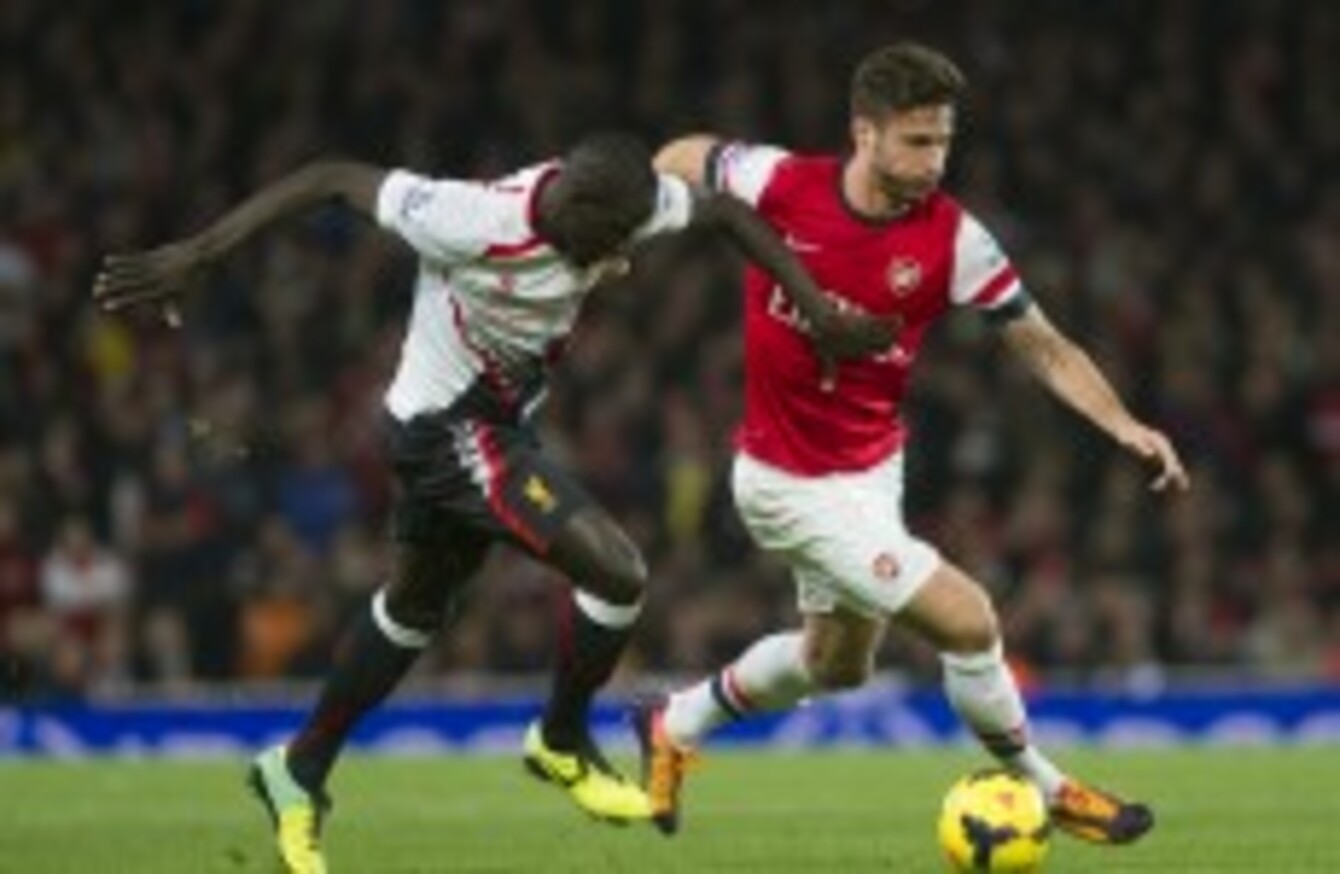 Parlour facing Liverpool in 2003.
Parlour facing Liverpool in 2003.
ARSENAL MAY BE top of the Premier League but ex-Gunners midfielder Ray Parlour has warned that they may live to regret not signing a striker in the January transfer window.
The North Londoners hold a two-point advantage over Manchester City but are facing into their most difficult run of fixtures in the coming weeks.
Today's lunch time clash with Liverpool is followed directly by games with Manchester United, Liverpool again (in the FA Cup) and Bayern Munich on 19 February.
While Arsenal have an array of midfield talent in their squad, they have relied heavily on Olivier Giroud to fill the centre forward position with Theo Walcott out injured, fit-again Lukas Podolski regularly played in a wide role and Niklas Bendtner often ineffective.
Despite having funds available, Arsene Wenger chose not to bring in reinforcements last month and Parlour, speaking in Dublin earlier this week, is worried that it could leave them short.
"I'm sure Arsene Wenger looked at the position with Theo Walcott getting injured," said Parlour.
"Giroud is the main man and I'm sure they will be wrapping him in cotton wool between the games.
It's going to be so important that he says fit if they are to have any chance. If he can, everything is going really well and they believe they can do it. I can see a different mentality in the team this year than I have in the last couple of years.
"The way they play these days, they're strongest position is in midfield so they need a player to hold up the ball and bring Ozil, Wilshere, Cazorla into the game."
With six points and two league positions separating them, this afternoon's meeting could have considerable impact on the title race.
"It's a massive game for both clubs," says Parlour. "With an early kick-off you can always get one over on the teams around you but Anfield is a really tough place to go.
"Walking down that tunnel you get butterflies because it's a great stadium. I'm sure the Arsenal players will be a little bit nervous but also confident that they can get a result. If the do get a win it will be a big three points."
Parlour facing Liverpool's Bruno Cheyrou in 2003. Credit: Mike Egerton/EMPICS Sport
"They're a top side this year and Brendan Rodgers has done a fantastic job. I'm sure Liverpool fans will be delighted with how it is going.
"Whoever is playing in that little hole for Arsenal is going to have to look after Gerrard because he does pick up the ball very deep and he can ping balls around the park.
"With Sturridge and Suarez, they're always going to have a chance of beating anybody. Their link-up play has been excellent."