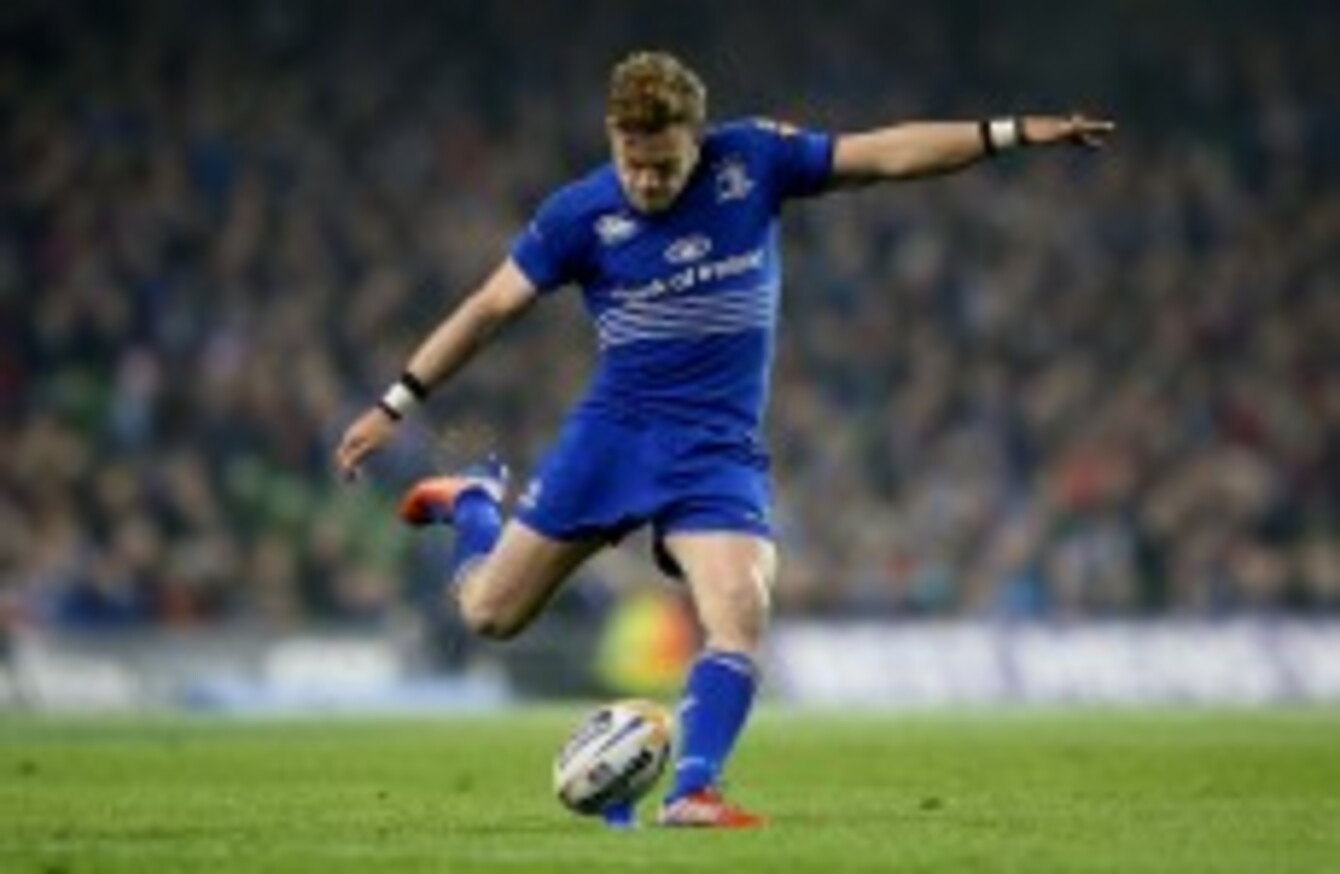 Ian Madigan is one of the place-kickers Murphy works closely with.
Image: James Crombie/INPHO
Ian Madigan is one of the place-kickers Murphy works closely with.
Image: James Crombie/INPHO
HE MAY NOT make the headlines, but Richie Murphy continues to play a key role in the success of Leinster and Ireland.
The former out-half is kicking coach for both sides, as well as working more broadly on other technical skills. While his duties involve paying close attention to kicking from hand, a large part of his time is spent with place-kickers like Jonny Sexton, Ian Madigan, Jimmy Gopperth and Fergus McFadden.
An ex-Leinster player himself, Murphy was a renowned points-scorer in his playing days with AIL clubs Greystones, Clontarf, Carlow and Old Belvedere. Now his expertise lies in sparking improvements from the goal-kickers he works with daily.
Madigan and Gopperth have performed well in this area so far this season, even if Murphy admits that they "have missed one or two that you'd like them to be knocking over" in recent weeks.
Leinster's success rate off the tee stands "in around 80%" at present, and Murphy outlines that his kickers are "looking for solutions all the time and both of them are in pretty good form."
Converting chances from the tee is pivotal to any team striving for success, and the former Presentation College Bray man points out that Madigan, Gopperth and Leinster's other place-kickers dedicate many extra hours to ensuring they do so more often than not.
That is a necessity due to the fact that time for place-kicking is not factored into the main squad sessions.
"We wouldn't really schedule it in. We'd pick it up on the back end of training sessions and then on a Wednesday, when the lads have a down day, a lot of them would kick that day, down in the RDS or wherever.
"That's time we value greatly because it's away from everyone else, it gives them a little more time to focus on what they actually need to. Time-wise, different weeks give different chances, but around 15/20 minutes on Tuesday, maybe a 40-minute session on the Wednesday, then 20 on Thursday, 20 on Friday, going into a game on Saturday.
It's a fair bit of extra workload on the lads, but I think all the kickers are used to it and they're comfortable with that extra commitment. If you don't put the work in, you don't get the rewards."
Murphy is alongside the place-kickers that entire time, guiding them both technically and mentally. Building a consistent, reliable routine is vital for sustained success, as is developing the mental strength to deal with pressure situations.
Some of that work is done in-house at Leinster, although Murphy points out that Ireland's sports psychologist, Enda McNulty, also works with the likes of Madigan.
Delivering on match-day is key, and Murphy's role extends to involvement during games, as he brings on the tee and communicates with the goal-kicker before and after their attempts.
"Each individual has different cues. Sometimes it's a case where you wouldn't be giving them anything. Other times there's a question asked and you just try to get them back into what they need to do.
"It's normally after a miss when someone would ask you something. It's just personal little information. When you're in a situation like that, you try to sort of break down everything and make it very much compartmentalised.
"So you're getting your set-up right, you're getting your alignment right, then it's a case of your two cues or one cue, or some people don't like any cue. It could be 'stay tall', it could be 'make sure you get your toe down', anything like that.
It depends on the individual really."
Ian Madigan's development into a highly dependable place-kicker has been led by Murphy, who started his current role with Leinster in 2010. Murphy calls on evidence from the Pro12 clash against Munster at the end of March to hammer the point home.
"Ian is one of the most consistent goal-kickers in the country. He has shown that in big games. I think of the kick he got against Munster when we were 9-0 down out on the right touchline, nearly 40 metres out and he nails it.
"That was a big moment in that match, a lot of pressure going on him and after one or two loose kicks early on, he just steps up knocks it straight over. I would trust Ian with any kick, there's never any problem there."
Not that Madigan always operated at his current rate of success. Murphy admits that Leinster removed place-kicking responsibilities from the former Blackrock College man in his younger years in order to allow him to develop his skills away from game day.
"As he was coming up, I think it was a case that he had enough in his game to worry about. His goal-kicking as a young fella wasn't as consistent as it needed to be, so we didn't want to put that pressure on him when we had someone like Fergus McFadden, and obviously Jonny as well. It was a case of sharing that workload really."
So what has been the key to turning Madigan into a high quality place-kicker? Murphy explains that many marginal gains have added up to produce a notable improvement.
I don't think he had a routine, a proper routine, both mentally and technically. So it was a case of him trying to settle on something, which he did. We changed his tee very early on, three or four years ago now.
"The first day he picked it up, he said 'There's no way I can kick off that,' but three days later it was 'I love this tee!' It's just one of those things that he feels very comfortable in and he's doing very well."
Such has been the improvement in Madigan's place-kicking that he is getting to the stage of self-coaching. His kicking in that clash with Munster was excellent, but there was one blip amongst the successes, as the Ireland international missed with the last kick of the first half [above].
"It was certainly a very important kick just before half time and very disappointing to miss it. Luckily, I've done a huge amount of work with our kicking coach Richie Murphy, and I knew exactly why I missed it," said Madigan afterwards.
I was able to have a quick chat with him at half time. I still had full confidence in my technique and I knew I could go out in the second half and strike it confidently. Luckily, they went over for me."
What did he and Murphy identify as the problem?
"I've got to stay tall and kick through the ball, fully kick through the ball. I checked on it slightly, so I just dragged the ball left."
There are always more solutions to be found.