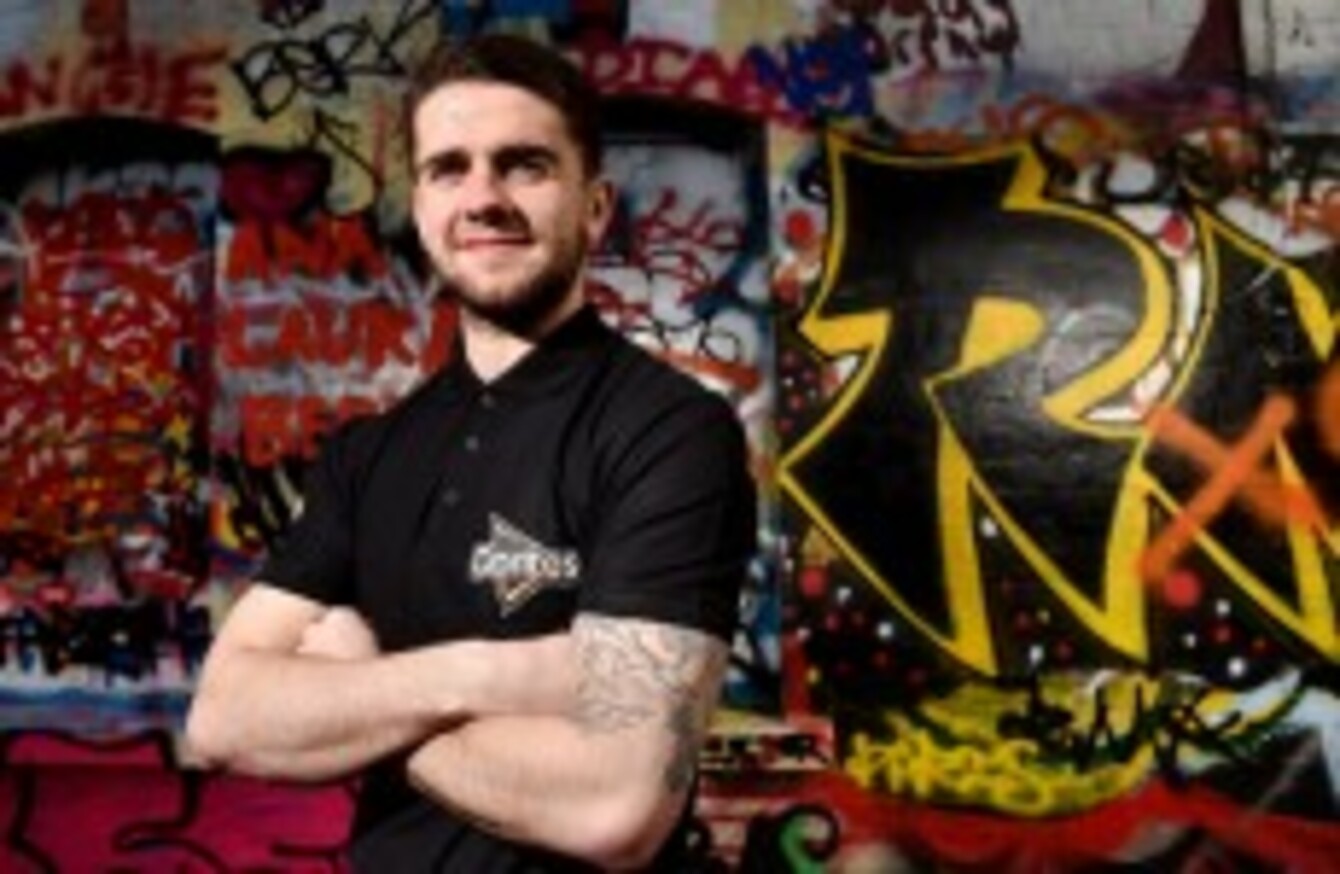 Bray was promoting the Doritos Penalty Shootout competition in Dublin yesterday.
Image: David Maher/SPORTSFILE
Bray was promoting the Doritos Penalty Shootout competition in Dublin yesterday.
Image: David Maher/SPORTSFILE
ROBBIE BRADY HAS described his debut season in the Premier League as "almost a write-off" but is hoping to salvage it by lining out at Wembley in an FA Cup final.
The Hull City winger joined the club initially on loan from Manchester United before signing permanently in January 2013 and played his part in their promotion to the top flight last year.
A terrific start to the current campaign saw the 22-year-old score four goals in the opening two months. However, a nightmare period of injuries were to follow and a hernia operation and ongoing groin problems have restricted the Dubliner to three league appearances in 2014.
"Coming into the start of the season, I started getting pains around my lower abdomen, I was coughing and sneezing and it showed signs of a hernia," Brady explains.
"I got a scan and it showed up a double hernia. It was about managing when to get the operation because I didn't want to miss out – it being my first season in the Premier League.
"I played through the first few games and the pain was getting worse so I had to get my operation. I had a double hernia and had to get it done.
"That was all healed up and when I played 17 days later it didn't affect the hernias too much. Then I started getting pains in my groin which I thought was the hernia again but it turned out to be something totally different.
"I played a few more games after the hernia operation, had these pains in my groin and I went and got another scan. It turned out that I had two tears on either side of my groin so I tried to manage that and keep playing.
"I got a few injections to keep me going because I didn't want to miss anything. Then I tore my groin completely and that was it."
Brady, whose Hull team sit 12th in the table on 36 points, was told his season was effectively over after undergoing groin surgery last month but is now aiming to return of the last league fixture — a home game against Everton.
And if the Tigers overcome Sheffield United in their FA Cup semi-final this Sunday, involvement at the KC Stadium on 11 May would put him in contention for a place in the match-day squad at Wembley six days later.
"There's an outside chance I could be involved. I think the way my rehab is going now, with no effects, hopefully I'll be involved in the final if he (Bruce) wants to put me in.
It's something good to aim for. It'd be a good end to my season personally rather than just finishing my rehab and going straight into summer. I'd rather get the game under my belt. Once I'm involved I'll be happy."
Despite their League One status, the Blades will be no pushovers as Fulham, Aston Villa, Charlton and Nottingham Forest have already found out during earlier stages of the competition.
"Anything can happen. It's only 90 minutes of football and say if they have a very good game and we can't score or anything like that or that they're on top of us because of the occasion. But hopefully we can rise to the occasion and get the result.
"We should be the favourites going into it but I don't think the lads will be taking anything for granted. Quinny (Stephen Quinn) had a good few years at Sheffield United and he will tell us that they're no pushovers but hopefully if we put a good performance in we should get the job done."
Yesterday, Robbie Brady was in Dublin to announce details of the Doritos Penalty Shootout competition, where snack-loving teams of mates across Ireland and the UK are being given the extraordinary opportunity to compete for the chance to take a penalty against the Manchester City goalkeeper Joe Hart.
To enter, entrants need to be over 18 and register at Doritos.co.uk by 18th April, uploading a video of them and their mates showing off their top football skills and tricks on the pitch!
The competition will be supported by an on-pack promotion, where snack-lovers have the chance to try their luck against Hart in the comfort of their own home and win up-to £100 (or Euro equivalent) by scoring penalties in the Doritos Penalty Shootout online game at www.doritos.co.uk/shootout. Purchase necessary, 18+ only, T&Cs apply.