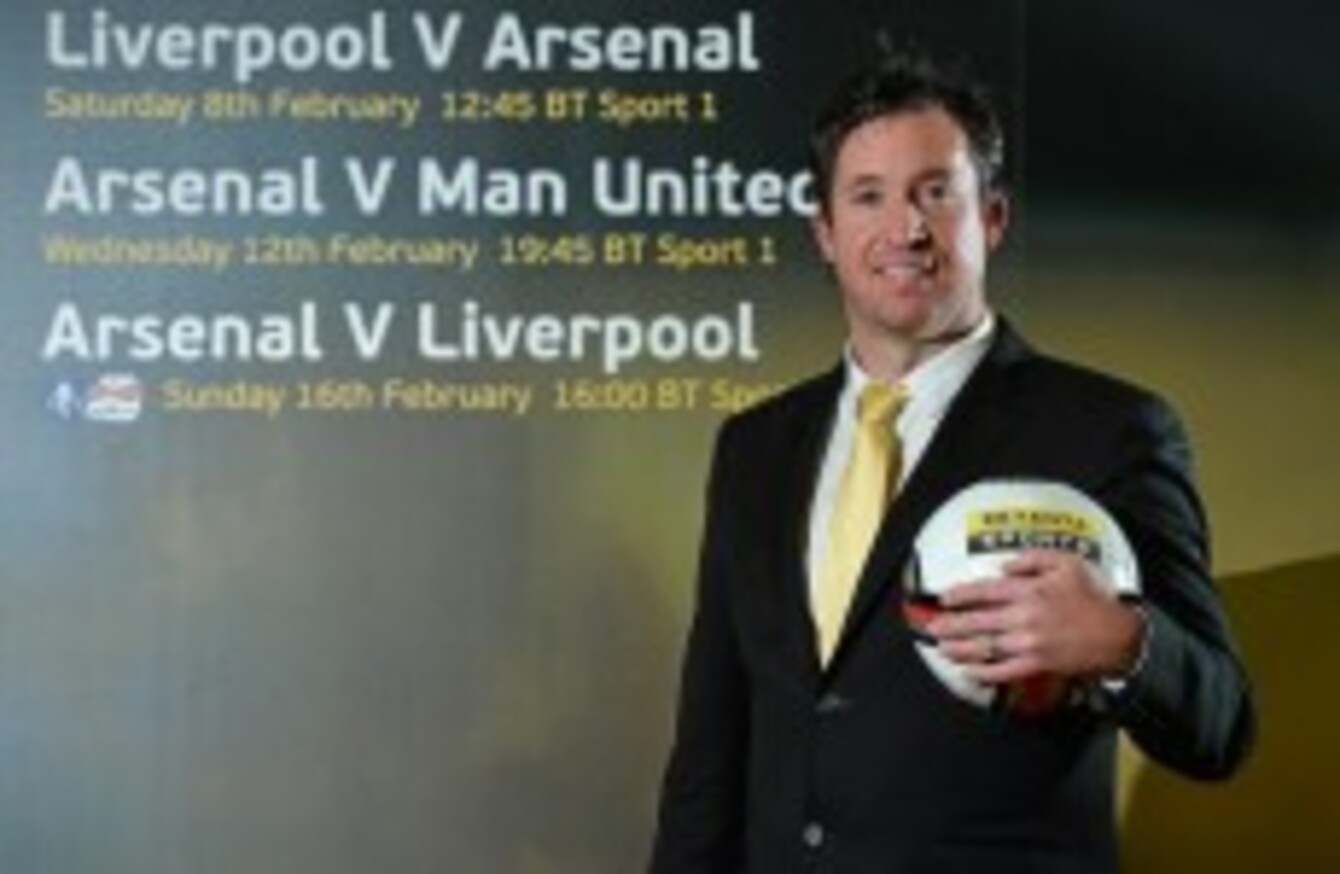 Fowler at today's Setanta Sports media event.
Image: Sportsfile
Fowler at today's Setanta Sports media event.
Image: Sportsfile
FORMER LIVERPOOL STRIKER Robbie Fowler says it is pleasing to see Luis Suarez and Daniel Sturridge losing their cool with each other on the pitch.
Of the 58 league goals the Reds have scored this season, the 'SAS' strike partnership have chipped in with a whopping 37 —  Suarez tops thescorers charts on 23 and Sturridge sits in third with 14.
The pair combined in the recent 1-1 draw against West Brom and are sure to start when league leaders Arsenal visit Anfield on Saturday afternoon.
And speaking at a Setanta Sports media event in Dublin today, legendary ex-Reds frontman Fowler, who scored 183 goals during two spells at the club, said he hopes their rich run of form continues as Brendan Rodgers' side attempt to keep up the pace in the top four.
"Both of them are great individual players and it's very rare you see two unbelievable players work well in a partnership but they look excellent," Fowler said.
"The formation that Liverpool are playing is helping them too. If you're playing 4-4-2 it would be a little be easier to nullify them. But because you've got the one up front with Sterling or Coutinho on one side and Sturridge on the other, they're moving all over the pitch and are a real handful.
"They've scored some great goals between them and long may it continue."
Suarez and Sturridge. Credit: Barrington Coombs/EMPICS Sport
Last week, Liverpool thumped city rivals Everton 4-0 in the Merseyside derby with both Sturridge and Suarez on the scoresheet.
However, the Uruguayan was left "fuming" and had a go late in the game when his team-mate chose to shoot instead of passing to him in a better position.
"All good players are like that and I was the same," he explains. "If I've got a chance to shoot and I think I can score then I'm going to do it as it's the type of player I am. And that's the way they are too.
"There's obviously going to be frustration if one of them shoots and the other thinks he's in a better position. I don't think it's a problem though as they're not going to fall out.
I just think they want to score and do well. If someone misses a chance it's only right because it shows that they care and want to score goals.
"Players have been getting on each other's backs for years. As long as it doesn't boil over into the dressing room, and you know what it hasn't.
"They're keeping each other on their toes, they're both scoring goals and both playing well and I hope it stays like that for a long time."
The Setanta Sports Pack is broadcasting the two upcoming meetings between Arsenal and Liverpool (8 February, 12.45pm and 16 February, 4pm) as well as Arsenal v Manchester United on 12 February.
The Setanta Sports Pack is currently available on Satellite (SKY) and UPC in the Republic of Ireland. Since Aug 1st 2013 the Setanta Pack contains 5 channels; Setanta Ireland, Setanta 1, BT Sport 1, BT Sport 2 and ESPN. For more information, visit setanta.com/ie