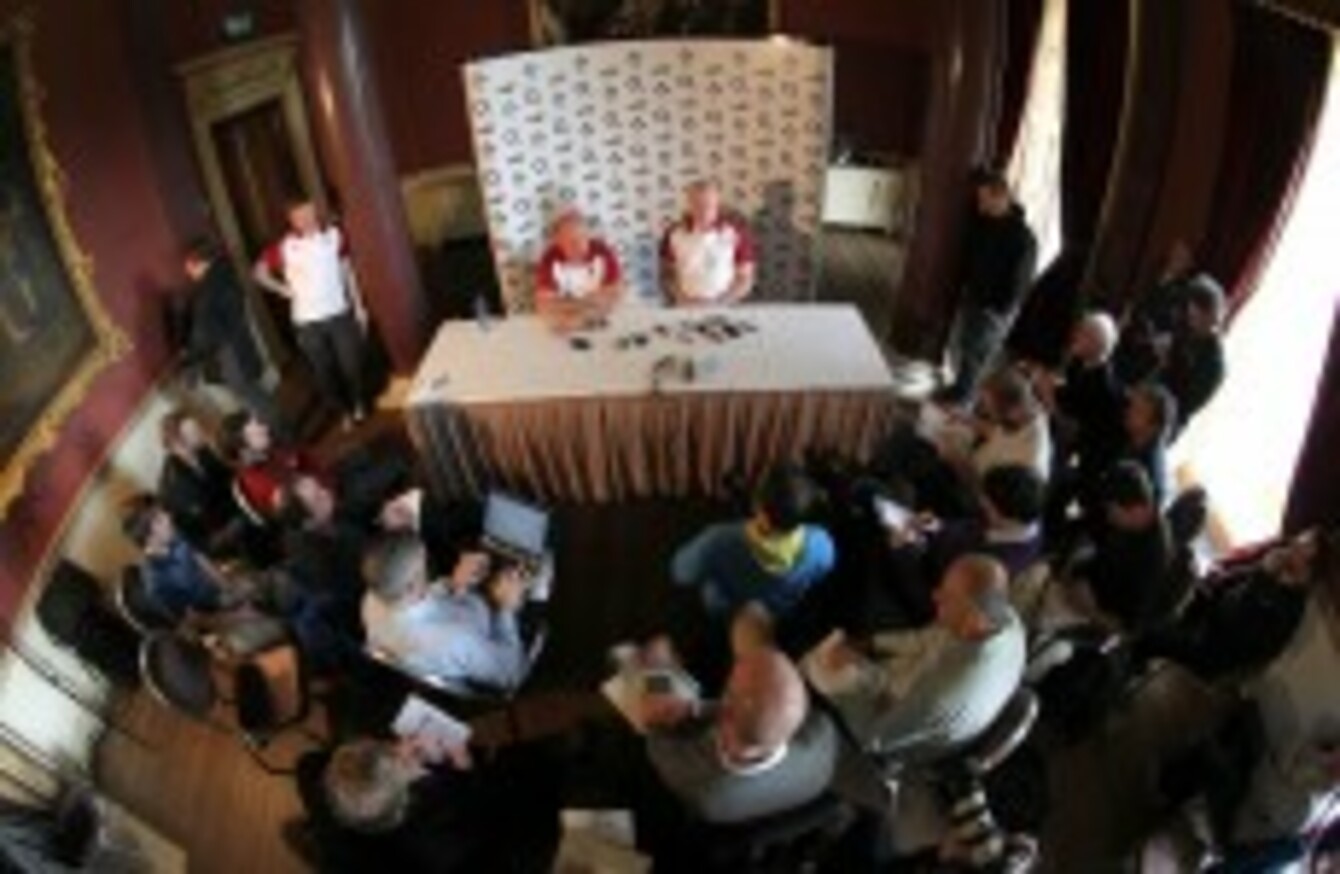 Declan Kidney and Paul O'Connell at this afternoon's squad announcement.
Image: ©INPHO/Billy Stickland
Declan Kidney and Paul O'Connell at this afternoon's squad announcement.
Image: ©INPHO/Billy Stickland
IT MAY LOOK as though Declan Kidney has simply drawn a line through the word "France" and replaced it with the less ominous "Italy" at the top of his team-sheet, but the Ireland coach stressed today that this was not a team which picked itself.
Two weeks on from le farce, the starting XV which should have lined out in the Stade de France will get their opportunity against Italy in the Aviva Stadium this Saturday afternoon.
Same faces, different places — and with a bit of luck, a game of rugby to accompany all of the pre-match hoopla this time around.
The most ardent of Kidney's critics will seize on his decision to field the same team again as evidence of conservatism, or worse, complacency. But as the man himself said himself at this afternoon's announcement in Carton House, if he thought this team was good enough to face France, why wouldn't it be good enough to face Italy?
"It wasn't just a case of let's just go again," Kidney said. "We took a look at different permutations and, on the basis that we're taking it a game at a time, we're just going full throttle for this one.
"We had a good long discussion about it and we just made sure that in our own heads we were treating this game by game and not looking at it as a block of anything."
Before the team set off for the freezing Parisian spring, all of the talk surrounded the lessons to be learned from the bitter defeat against Wales on open weekend. It wasn't the heroic failure so typically associated with Irish sporting near-misses; it was just disappointing, riddled with basic errors and self-defeating tactics that seemed as though they were designed to nullify Ireland's talent, rather than Wales's.
In some respects, the abandoned French game was a blessing. Had Ireland made it two defeats from two in Paris, as many expected, the remainder of the tournament would've been a bleak prospect indeed. Saturday brings an opportunity to get off the mark, and to show that the lessons of defeat against Wales have sunk in.
""I've always said that you learn from the games, you learn more from defeat," Kidney explains again. "We've just played the one game, we've learned from that. We learned those lessons going into the French game so we'll look to refine what we learned in that game.
We said after the Welsh game that we need to take a look at our exits from our own half, we put ourselves under a lot of pressure. There was some uncharacteristic individual errors that I'm sure will be eradicated this time.
One game at a time
The Italians are no mugs though, as they proved in their own heroic failure against England on matchday two. The Azzurri are traditionally a huge physical presence, but coach Jacques Brunel has wasted no time introducing a little more subtlety to their style.
"They're certainly playing with a lot more ball in hand than we saw last year. They're retaining the ball very well, they're using their physicality to do that.
I think if you look at it, they were well ahead of England into the game and then they had an unfortunate block down that left England back into the game. And then whether they panicked a little bit or whatever, but they gave two penalties that they know they can control in future and not give those away.
"Italy will be disappointed with that. I just think the margins are so thin at this level, so tiny, that if they adjust those small things it will be the challenge that it always is."
The challenge was hardly more obvious than in the Stadio Flamini last year when it took a Ronan O'Gara drop goal at the death to prevent Ireland falling to a shock defeat in their opening game. The World Cup win in Dunedin was more comfortable, admittedly, but it's no mere platitude when Kidney says that this Italian team is no longer a guaranteed two points.
If you look at last year's Six Nations match, we were lucky to pull that one out of the fire with a last-minute drop goal, and I don't see it being any different.

The fact that the Italian teams have been in the RaboDirect league over the last two years has really stood to them. Their players' match fitness has come on an awful lot.
"You might not have said it a few years ago, but you always knew in the back of your mind that if you stayed 65 or 70 minutes with them that you might have it over them in the last 10. That certainly isn't the case any more, it'll be a full 80 minute test match."
Ireland (v Italy): Kearney; Bowe, Earls, D'Arcy, Trimble; Sexton, Murray; Healy, Best, Ross; O'Callaghan, O'Connell (c); Ferris, O'Brien, Heaslip. Replacements: Cronin, Court, Ryan, O'Mahony, Reddan, O'Gara, McFadden.