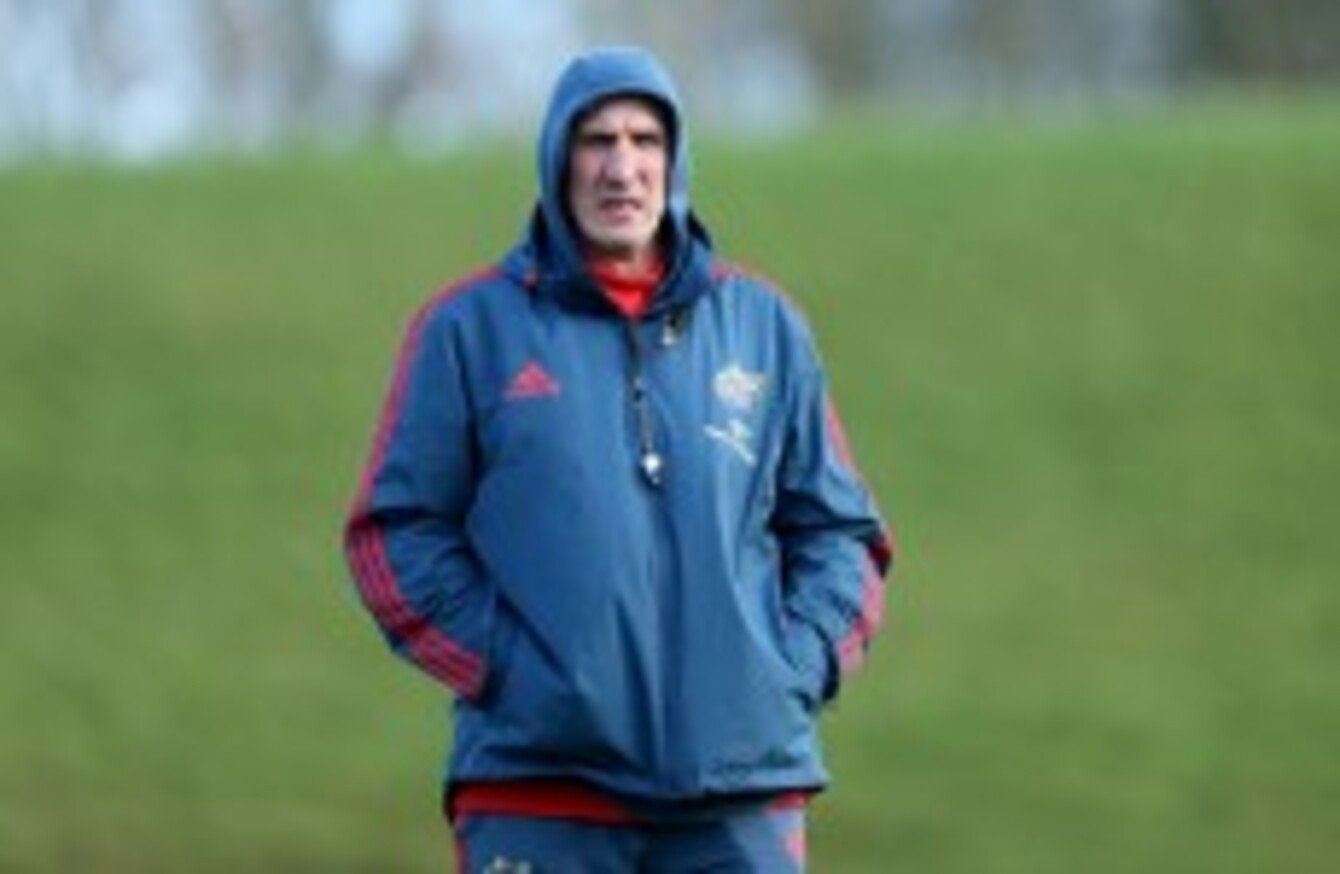 Rob Penney's plans for Munster are falling into place.
Image: INPHO/Dan Sheridan
Rob Penney's plans for Munster are falling into place.
Image: INPHO/Dan Sheridan
MUNSTER HAVE LOST two games all season, they top their Heineken Cup group and the Pro12, they have secured contract extensions with three of their most important players, the next generation are starting to come through, and yet there remains a lingering sense the province hasn't progressed since last season.
Rob Penney himself has been as critical as many of the pundits, famously questioning the desire of the players after the Edinburgh game. His public reproach raised eyebrows at the time, but they haven't lost a game since. Coaches are judged on performances, player satisfaction, player progression, media skills, and style, but mainly on results and trophies.
Judging by Conor Murray, Donnacha Ryan and Tommy O'Donnells' new contracts, the players are happy. Performances have been patchy, and handling skills are still clearly an issue, but Zebo, Murray, Earls, James Cronin, Tommy O'Donnell, Cathal Sheridan and Peter O'Mahony have all arguably improved since the New Zealander took over in 2012. The team as a whole is in a better place too – lest we forget the insipid 45 -10 defeat to the Ospreys which ended Tony McGahan's reign.
Having taken over at that low ebb, Penney is trying to make big and obvious changes. And he has the eyes of many former players on him, worrying he might destroy everything they built. He has come from a different culture and is trying to convince successful players to stick with his new plan. Now that he's getting wins to back up what appeared to be a one-off against Harlequins last season, he should be starting to earn their trust.
Munster don't have the players to dominate the best sides every week, and there is still a niggling sense that they lack bulk and ball carriers, but that goes for 95% of the teams in Europe. In all the analysis of the Tony McGahan and Rob Penney eras, the assumption was that the previous generations were flawless.
The truth is Munster were always masters at hiding any weaknesses, playing games on their terms, and somehow finding a way to win.
They have, for example, never had a fully satisfactory centre partnership for any great length of time. Trevor Halstead, John Kelly, Rua Tipoki, Lifemi Mafi, Mike Mullins, Sam Tuitupou, Barry Murphy, Jean de Villiers, Rob Henderson and others all briefly flourished, but rarely was there a truly settled combination, or a generation defining partnership. In the time all those players have come and gone, Leinster have effectively had just two men filling those positions, Gordon D'Arcy and Brian O'Driscoll.
This is the province, in the good times, that fielded Tomás O'Leary at outside centre for a Heineken Cup Quarter final (2006), and Denis Leamy at inside centre for a Pro12 match — Munster won both those games.
The 2000-2009 generation also had a habit of struggling in the easier ties, and then rolling out the magnificence when the bigger games came around. It happened so often that it almost looked deliberate, but they were forgiven because they had established names, and trophies.
The last minute win over Perpignan reminded everybody of the wins in France in the early 2000's, and though there is no tangible connection between the two eras, history matters.
The colour of your jersey doesn't improve your performance, but if your'e convinced of its significance, and if that sense of history makes players feel they represent something bigger than themselves, then you have a logical reason why JJ Hanrahan's sidestep is in some way connected to John Kelly's fourth try against Gloucester and O'Gara's away to Toulouse, and all the other great moments.
They don't yet look like a team that will win the Heineken Cup, but they do appear to be regaining that sense of entitlement, that ability to do something special when required, and this time round it was the younger men – JJ Hanrahan, and Tommy O'Donnell – providing the drama.
For all those in the province trying to build something new, that counts for a lot.