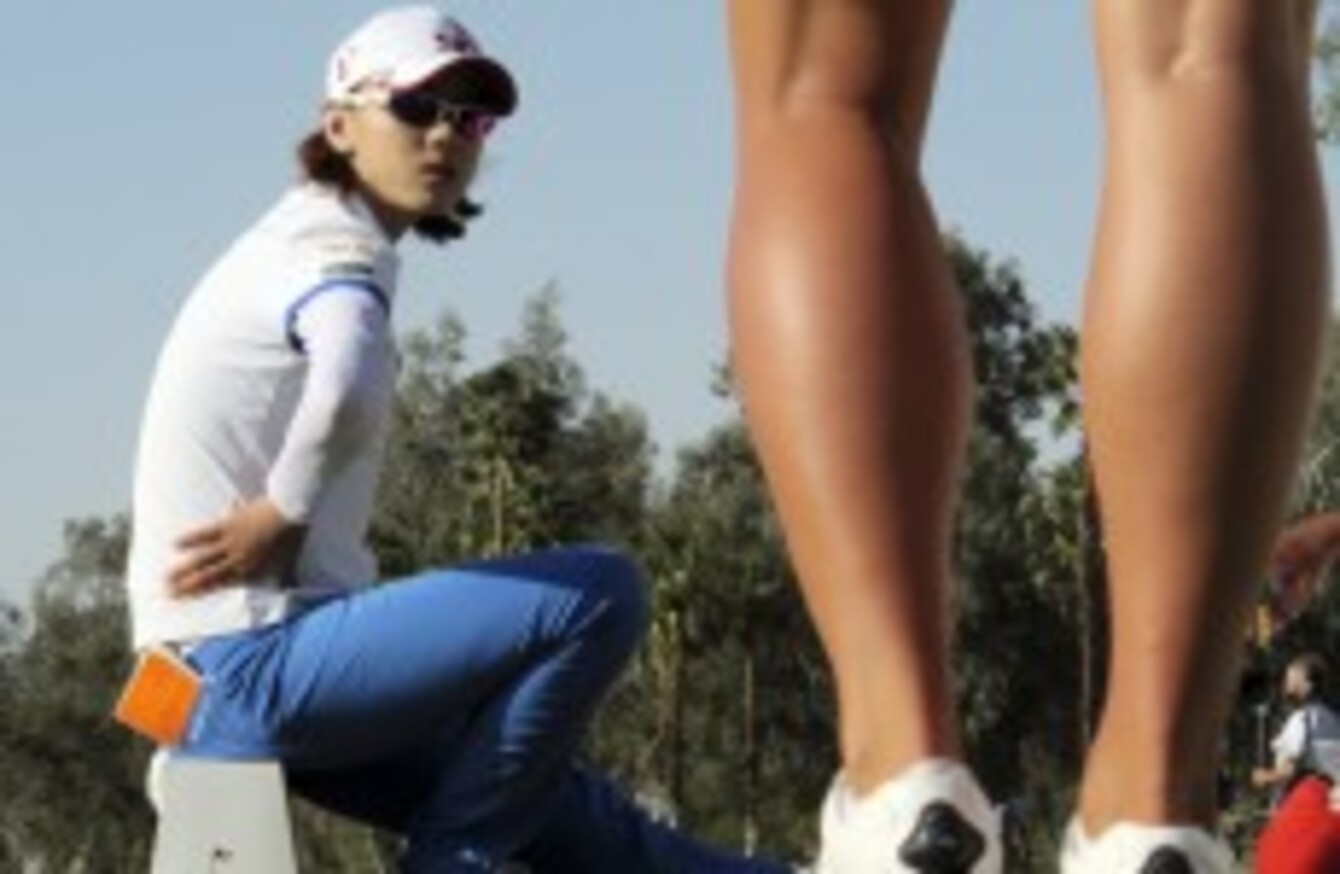 Na Yeon Choi casts a glance in the direction of playing partner Karin Sjodin.
Image: Chris Carlson/AP/Press Association Images
Na Yeon Choi casts a glance in the direction of playing partner Karin Sjodin.
Image: Chris Carlson/AP/Press Association Images
WHILE THE INFAMOUS Coachella Valley winds toppled the world's best golfers, Karin Sjodin thrived with a mix of patience and power.
That same blend has kept her on the LPGA Tour through seven seasons without a win, and now she's taking it into a final-round duel with Yani Tseng in the first major of the year.
Sjodin shot a steady 4-under 68 through heavy wind while chasing down the top-ranked Tseng on Saturday, pulling even at 9 under heading into the final round of the Kraft Nabisco Championship.
The dominant Tseng proved she's not unbeatable, showing visible frustration while posting a five-birdie, four-bogey 71 that was as inconsistent as the wind that buffeted Mission Hills from about the time she stepped onto the first tee.
While Tseng is a five-time major champion, the long-hitting Sjodin has only four top-10 finishes in seven years — nothing higher than 19th in a major. Yet Sjodin made just one bogey in her third round, briefly taking the outright lead down the stretch.
"The day was kind of smooth," said Sjodin, who kept playing despite apparently dislocating one of her ribs Friday. "I was never in any trouble, apart from one hole. It was nice and smooth out there. … It feels great to be there. I don't know if I've really had time to think about it much. It's going to be fun tomorrow, definitely."
Haeji Kang, who also has never won on the LPGA Tour, was two strokes back after struggling to a 72. She will join Tseng and Sjodin in the final group Sunday. World No. 2 Na Yeon Choi was among five players at 6 under.
Sjodin is among the few LPGA Tour pros who can compete with Tseng off the tee, but the Oklahoma State alum is ranked 216th. Sjodin first played the Kraft Nabisco on an exemption in 2005 while still in college, but had never made the cut until this weekend, when she will play in a final group for the first time in her LPGA career.
"In college and amateur golf, I lived off of my long drives," Sjodin said. "I never realized what my weaknesses were, because I could just bomb it up there and had such an advantage because of that, and coming out here, all of a sudden there are a lot of people that hit it further. It took me a while to first realize what I needed to work on, and how to work on those things."
And if the wind keeps blowing, Sjodin doesn't mind.
"Playing in wind is more about trusting the decision you made, and hit it as solid as you can," said Sjodin, who got plenty of experience in wind-affected golf from Sweden to Stillwater. "The solid shots don't move too much at least."
Sjodin hasn't yet reached the enormous potential suggested by her driving abilities, but the 28-year-old smiled throughout her third round after beginning the day three strokes back. She's off to a strong start to the season despite an offseason bout of pneumonia that forced her to stop working out and kept her out of qualifying school for the European tour.
Yet after three rounds, Sjodin has matched Tseng, who has won the last two tournaments and three of five so far this season, leading 10 of the last 11 rounds on the LPGA Tour. The 23-year-old Tseng is shooting to become the youngest six-time major winner in golf history, even three years younger than Tiger Woods.
But Tseng knew she might be in trouble when serious wind hit the Dinah Shore tournament course as Tseng and Kang teed off in the final twosome of the day.
"Actually, the front nine, I played very solid, especially under this wind," said Tseng, who also has plenty of experience in bad-weather golf growing up in Taiwan. "I don't think it was as tough as I thought, because maybe I was prepared for this. But on the back nine, I got kind of emotional, maybe thinking too much, wasn't trusting as much as I did on the front nine."
Se Ri Pak stayed in the hunt at the only major she has never won, shooting a 72 to stay at 5 under. Australia's Lindsey Wright was hurt by the wind, falling from third to 24th with a 76.
World No. 3 Suzann Pettersen, who has finished second at the Kraft Nabisco three times, took full advantage of an early tee time to match the tournament's lowest round at 66, moving up 36 spots to 12th. Lexi Thompson, the 17-year-old prodigy, also avoided the winds with a 68, matching Pettersen at 4-under 212.
With winds expected throughout Saturday night into Sunday, the Kraft Nabisco delayed its first tee times for the final round to finish course cleanup, and grouped the players in threesomes with split tees to finish quickly.
– AP