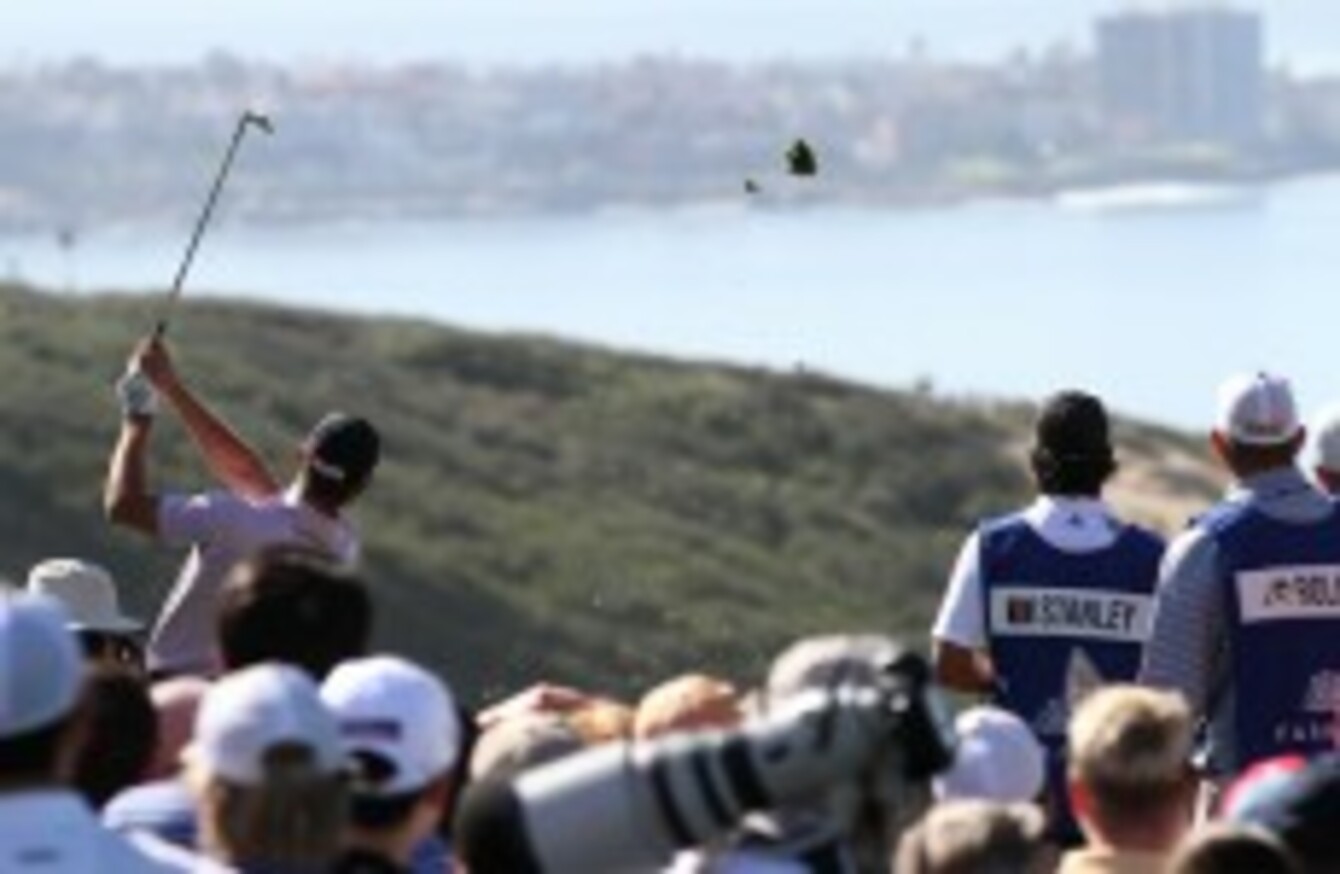 Kyle Stanley sends his divot flying as he hits a tee shot during the final round of the Farmers Insurance Open.
Image: Lenny Ignelzi/AP/Press Association Images
Kyle Stanley sends his divot flying as he hits a tee shot during the final round of the Farmers Insurance Open.
Image: Lenny Ignelzi/AP/Press Association Images
BRANDT SNEDEKER SAT in the media center, resigned to the fact that his 67 in the final round at Torrey Pines would not be good enough to catch Kyle Stanley in the Farmers Insurance Open.
"I just was too far back. Kyle had too big a lead," Snedeker said, glancing at the television next to him as Stanley, with a three-shot lead, played a simple sand wedge from 77 yards for his third shot to the par-5 18th.
"Uh-oh," Snedeker said.
The ball landed behind the pin and zipped off the front of the green, tumbling slowly down the bank and into the water.
A sure thing suddenly became surreal.
In a meltdown that ranks among the most shocking in golf, Stanley three-putted from 45 feet for a triple bogey on his final hole, then lost on the second playoff hole when his five-foot par putt caught the right edge of the cup.
"It's just crazy," Snedeker said. "To get my mind around what happened the last 30 minutes is pretty hard to do right now. My heart is out to Kyle. I feel bad for him to have to go through this."
Shock
Minutes away from a celebration, Stanley was in tears. His lip quivered as he tried to explain what went wrong, a sad ending to an otherwise spectacular week along the Pacific bluffs.
"It's not a hard golf hole," Stanley said. "I could probably play it a thousand times and never make an eight."
Stanley led by seven shots early in the final round, and he still had a four-shot lead as he stood on the tee at the par-5 18th, the easiest hole at Torrey Pines on Sunday. Just like that, the 24-year-old went from being anointed a rising star to being listed with Jean Van de Velde, Robert Garrigus and so many others who learned the hard way how cruel this game can be.
"I'm kind of in shock right now," Stanley said.
Snedeker, playing in the group ahead of Stanley, bogeyed the 17th to fall four shots behind. He hit wedge to a foot on the 18th hole for one last birdie to finish on 16-under 272.
Both made birdie on the 18th in the playoff, and it ended on the par-3 16th with another good break for Snedeker. His 5-iron bounced hard over the green and was headed into the canyon when it bounced off a television tower. He chipped to 5 feet and made par. Stanley left his 45-foot birdie putt about 5 feet short, and missed it for a bogey.
"You never want to see anybody go through that," Snedeker said. "I don't care who it is — not even your worst enemy on the planet.
Golf is such a funny game, and to have that kind of lead coming into the last hole and not to win is tough. It will be a tough night for him. But he's an unbelievably talented player, and the sky's the limit for him.

And I hope he does not beat himself up too much over this.
Comeback
Snedeker is making a habit of these comebacks. In all three of his PGA Tour wins, he trailed by at least five shots going into the last round. At Hilton Head last year, he came from six shots back and wound up beating Luke Donald in a playoff.
This one was handed to him.
"This one I kind of backed into," Snedeker said. "You never like winning a tournament that way. But you do like winning."
Stanley birdied his first two holes — Snedeker was nine behind at that point — and led by six shots at the turn until he started dropping shots from the sand. Even so, he made three straight par putts, starting with a 12-footer on the 14th, to seemingly regain control.
The kid knows heartache. Last summer, he was two shots ahead at the John Deere Classic until he bogeyed the final hole from a bunker, and Steve Stricker closed with two straight birdies to win.
This loss, however, put him in the wrong kind of company.
It was reminiscent of Van de Velde at Carnoustie, who made triple bogey on the last hole of the 1999 British Open and lost in a playoff; of Garrigus, who made triple bogey on the last hole of the St. Jude Classic in 2010 and lost in a playoff; and even of Frank Lickliter at Torrey Pines, who three-putted from 12 feet on the 17th hole in 2001 to make triple bogey in the third playoff hole in losing to Phil Mickelson.
"I know I'll be back," Stanley said, pausing to allow the words to come out of his mouth. "It's tough to swallow right now."