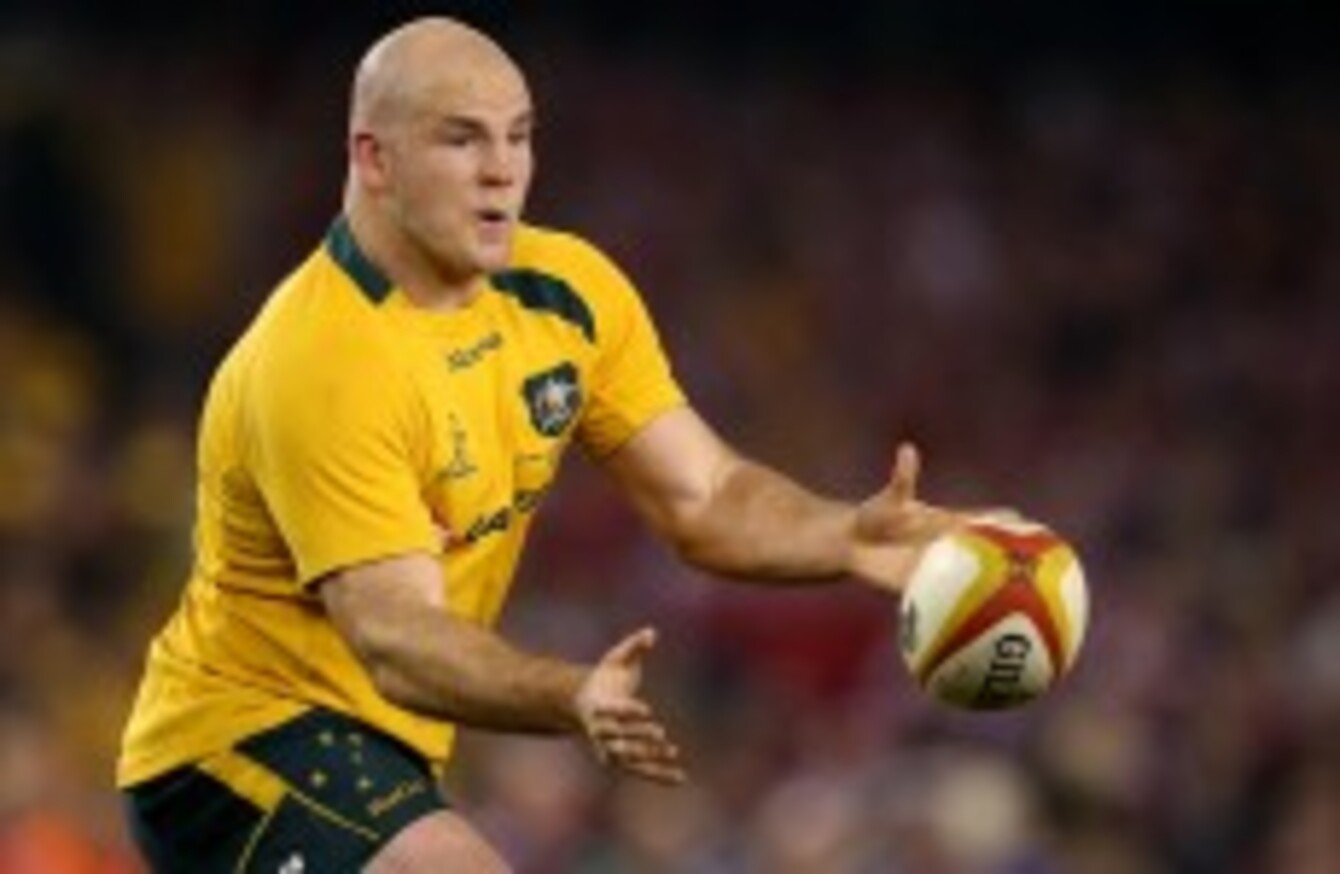 Moore in action against the Lions during the summer.
Image: ©INPHO/Billy Stickland
Moore in action against the Lions during the summer.
Image: ©INPHO/Billy Stickland
AUSTRALIA HOOKER STEPHEN Moore was watching with interest as Mayo were beaten in this year's All-Ireland Senior Football Championship final, and joined the Heather County's fans in disappointment after the defeat to Dublin.
"The boys were talking about some curse that was put on them some 50-odd years ago which is still in place, so hopefully that will be lifted soon."
The Brumbies man was also keeping a close eye on the International Rules series last month, given that he had a cousin involved; Paddy O'Rourke.
My cousin was the goalkeeper for the Irish team a few weeks ago against Australia. So I follow him pretty closely."
In fact, so strong is Moore's Irish heritage that he could have been lining up against Australia on Saturday night, rather than running out to win his 89th cap for the Wallabies.
The 30-year-old's father is a Galway man, while his mother hails from Mayo. Moore himself was born in Saudi Arabia before the family moved back to the west of Ireland in the mid '80s. That stint at home didn't last long though and at the age of five, the Moore clan set off for a permanent switch to Australian life.
Many of the hooker's relations have moved from Mayo to Meath over the last two decades, meaning Moore will have the chance to catch up with them when the Australian players are given a rest day tomorrow. The experienced front row says playing against Ireland is always different.
"Very much so. It's always a special week, particularly over here. There's always people to catch up with, lots of people to find tickets for, so this week's no different.
"I've also got my mother, my wife, my sister and my son over here, so it's pretty special. We're going to visit some family tomorrow on our day off. We don't get to do that very often over here, so it's a special week."
Paddy O'Rourke is a cousin of Moore's on his mother's side. ©INPHO/James Crombie.
The IRFU were aware of Moore's heritage as he began to make a name for himself in rugby circles in his adopted home of Brisbane and there was an effort made to convince him to return to his roots to play international rugby.
"That was a long time ago when I was very early in my career. I was only 19 or 20 so I wasn't really thinking of playing internationally at that stage, I was playing U19s rugby in Brisbane. There was a bit of interest there with my background, but I think at the time my head was spinning a little bit with everything.
"But I've been in Australia since I was five, I've grown up here and I'd consider myself a proud Australian. So I'm very glad that I've had the opportunity to play for Australia so many times and it's very special to me.
In saying that, I'm very proud of my heritage here [in Ireland]. We've got plenty of guys like that in the team, guys from other backgrounds. I guess that's one of the unique things about Australia."
Had Moore been convinced to pledge his allegiance to Ireland, we would have had a superb hooker on our hands. The Brumbies forward has grown in importance to the Wallabies in recent years, and at this stage is one of the team's outstanding performers.
Moore is a genuine all-rounder of a hooker; he throws well, hits with aggression in defence, is technically strong at the breakdown and is a powerful ball carrier. His work rate is an inspiration to his teammates and he is well respected withing the Wallabies group as a leader.
Ireland's loss has been Australia's gain, although the self-avowed Gaelic fan hasn't quite convinced his relatives to jump ship and pledge their support to the Wallabies this weekend.
"I think at this stage they've jumped the fence there. I think with all my cousins over here, they still support Ireland. I think you leave it all out there on the field when you play. It's just amazing having them all there."
Additional reporting by Sean Farrell.
Like rugby? Follow TheScore.ie's dedicated Twitter account @rugby_ie >