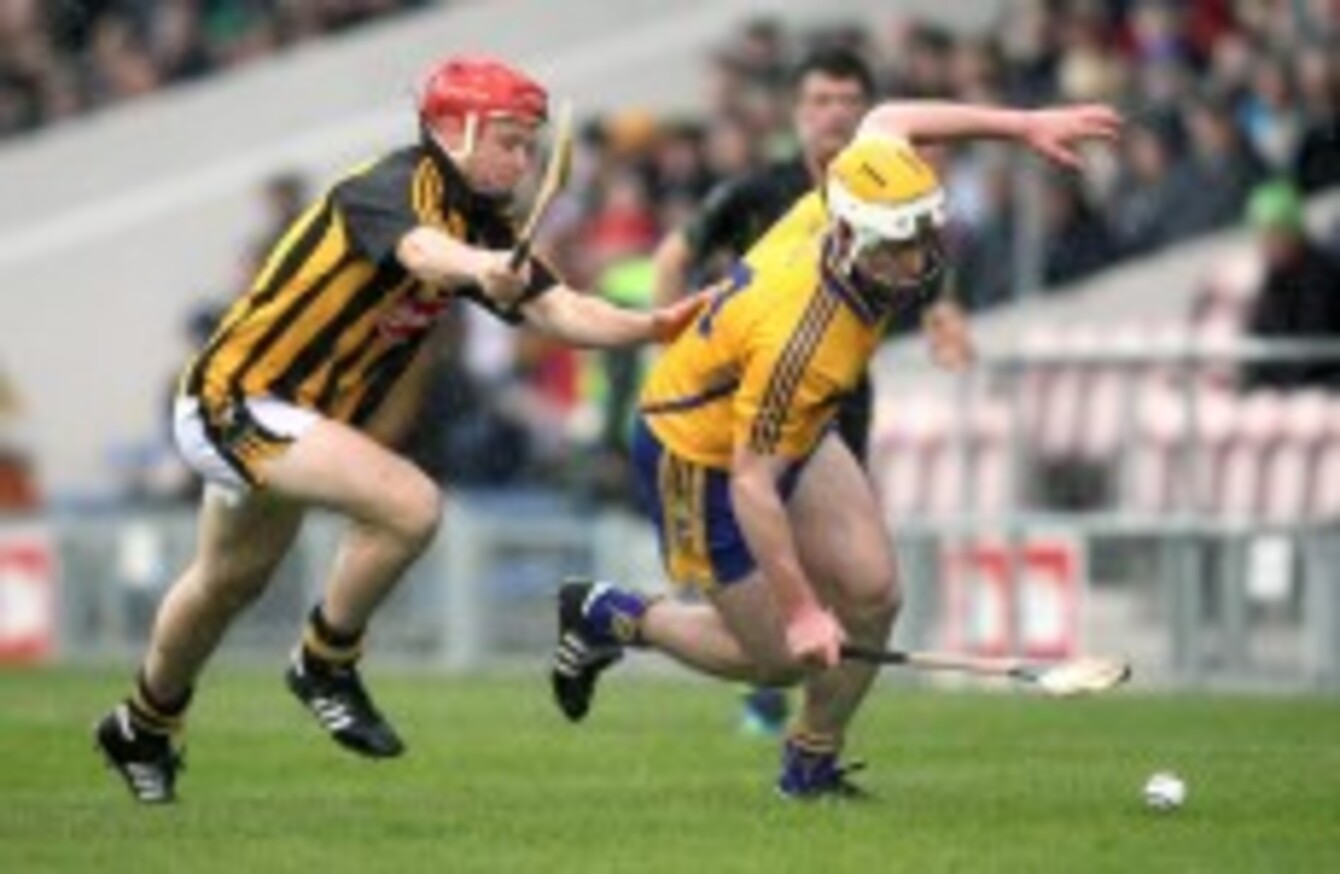 Conor McGrath is chased by Tommy Walsh
Image: INPHO/Donall Farmer
Conor McGrath is chased by Tommy Walsh
Image: INPHO/Donall Farmer
THERE WAS A growing sense that Clare were on the march this year.
Whispers that they would give Kilkenny a right rattle on Sunday and audible mutters about beating Waterford in the Munster semi-final.
Defeat to Kilkenny might not have pulled the wheels off but it was a dose of reality. A reminder that it is a long way to go from an ultimately comprehensive Munster loss to Tipperary and a qualifier rout against Galway in 2011 to being able to challenge the teams who share out the silverware.
For now, the Banner County remain a potential force. Davy Fitzgerald has looked to implement a new style of play and it might not be 2012 before that bears the fruits of his labour.
Too many times on Sunday did their gameplan break down and gift the initiative to Kilkenny. Centre-forward Sean Collins often dropped in with his midfielders and this allowed Kilkenny a spare man at the back. In theory, that is not a problem and can be a positive tactic when the ball is used smartly — it only becomes an issue when you launch balls down the field to outnumbered forwards.
That's precisely what Clare did, and we're not even talking about them doing it under pressure.
You would need more than one hand to count the amount of times a Clare half-back/midfielder had time to look up the field – which they did – before sending a 50-50 ball, at best, down somewhere. Yes, somewhere, because too often it looked like there was no sense of destination.
Inevitably, the forwards took the blame because that's how sport works. The entire half-forward line of Clare was withdrawn in the final 10 minutes, and curiously Brian Cody withdrew both his wing-backs. For the latter, the game was up at that point.
Clare can feel hard done by in terms of Matthew Ruth's goal because Eoin Larkin first juggled and then overstepped before sending the ball into the square. But there was a sense that the Cats would pull away in any case.
In fact it beggared belief that it was level going into the break because Kilkenny always seemed that bit quicker to the ball.
Between that and the Banner's physical approach, it was no real shock to see a few mistimed tackles. Half of the Clare back line was booked during the course of the game.
Clare have got bright spots from the game, with the most obvious being Cian Dillon who was exceptional at full-back. James McInerney will come back in at six so Davy Fitz will feel he has a good spine to his defence.
What might worry him is how much better the best side in the country were without the likes of Richie Hogan, Henry Shefflin and Aiden Fogarty. That should be a worry for all rivals.
As for Davy, this was Clare's first real challenge against the very best and while his side fell away, plenty others have been pulverised on the scoreline on days like this.
In other words, he won't be too unhappy.