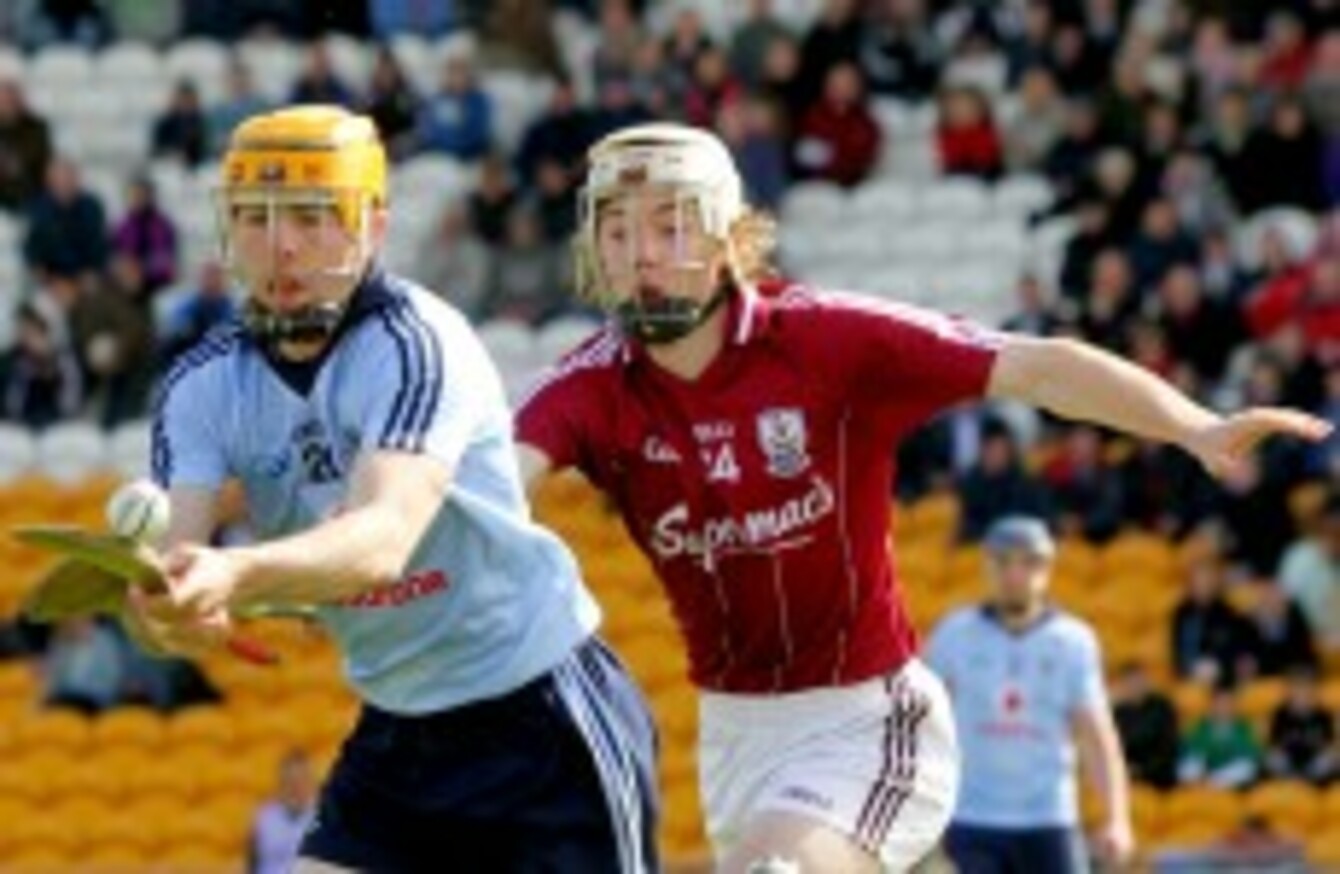 Oisin Gough races away from Padraig Brehony
Image: ©INPHO/James Crombie
Oisin Gough races away from Padraig Brehony
Image: ©INPHO/James Crombie
ANTHONY DALY HAS gone with form for the relegation play-off replay with Galway in Portlaoise.
Martin Quilty has come in at midfield and David Treacy is named at centre-forward. Both came on as substitutes in the drawn play-off match in Tullamore last Sunday and impressed, though a quick glance at match reports would suggest otherwise for the latter.
Cuala man Treacy had been brought on for Ryan O'Dwyer with 22 minutes of normal time remaining and was withdrawn for Eamon Dillon in the second half of extra time.
Ostensibly, that suggests Treacy did not get to grips with the game but it was more a case of Daly fielding pacier forwards – including Daire Plunkett – while down to 13 men, and short two men in the forward line. Treacy, who scored one point and set up another against the Tribe, will fill the number 11 shirt and a role that he has become quite accustomed to since coming on and scoring 1-2 against Tipperary earlier in the league.
Quilty came on for extra time of the drawn play-off and shone despite his side quickly being shorn of his fellow midfielder O'Dwyer – who had been reintroduced and relocated to centrefield. He will be in direct competition with Iarla Tannian - another man picked on form – who also impressed in the same position as a substitute .
Tannian is a player who has for a long time frustrated the Galway faithful – clearly he has the potential but sometimes promising league campaigns have not been realised as top championship form. For a man retained on the panel when the likes of Ger Farragher was cut loose, there is a feeling that Tannian has a chance to prove the doubters wrong.
Andy Smith was due to line out in the number nine shirt last Sunday but was withdrawn just beforehand with an injury. It was a sign of Galway's growing resolve that the team was able to absorb this blow and push Dublin to extra time. Indeed if there were another two minutes of regulation time on the clock, there was momentum enough to suggest that the Tribe would have won the game outright. Having been three points down with two minutes of normal and three minutes of extra time to go, Joe Canning rattled off three points – two of which were frees – to level it.
Canning's performance was exceptional when you consider that this was his first appearance since injuring his shoulder playing for LIT in the Fitzgibbon Cup. Six points from play and 12 in all in a comeback display was exactly what the doctor order, particularly with Galway having been in such a poor state of health after the Kilkenny mauling. The Portumna man also set up his teammate Damien Hayes for a gilt-edged goal chance that went abegging in the first half.
The full-forward grew into the game and sharpened his blade as the minutes wore in. No doubt Anthony Cunningham would not have planned to have his star man out on the field for 90 minutes but that, along with the replay, will surely stand to Canning coming into the championship.
Anthony Daly and Anthony Cunningham get to do it all again this weekend INPHO/James Crombie
In fact, the feeling is that both teams will benefit from the two games. There is a case to be made that Dublin and Galway each showed mental weakness in failing to close out the game – the Dubs in normal time and the Tribe in extra. A case of snatching a tie from the jaws of victory. A worry for Dublin will be how little traction they had up front once Liam Rushe had to be moved to centre-back in the second half. And make no bones about it, he did have to be moved back there.
Joey Boland was having an awkward time in the six slot as Canning sometimes wandered out to dictate the play. Michael Carton was next to man the centre-back slot but he was withdrawn with a quarter of an hour of normal time remaining. Once Rushe was moved back, the ball would not stick up at the other end – quite understandably once O'Dwyer's red put them a man down later on. It is a short-term concern for Dublin, as the return of Conal Keaney will surely help remedy the situation.
Speaking of returnees, Peter Kelly produced some excellent moments on Canning at full-back and Stephen Hiney – so long in the sick bay – made his return for Ballyboden St Enda's on Thursday evening. Irrespective of the result on Saturday, the outgoing league champions have plenty to look forward to. Unlike last year when they lost men to injuries as the season went on, the medical team are being relieved of work as championship approaches. While their playing options continue to grow: Dillon was a threat against Kilkenny, Niall McMorrow had a fine cameo against Galway and Ross O'Carroll grew into the same fixture.
As for who will be relegated from Division 1A to 1B is quite a puzzler. The Portlaoise pitch is likely to be faster than the Tullamore sandpit so we would expect the game to flow that bit more and, as a result, Dublin's physical advantage in close combat may be reduced. Yet it is worth remembering that Dublin are the only side in the top division without a win in 2012, while Galway have picked up the scalps of Cork and of course the Dubs in the first round.
Not only that, this Tribe side are beginning to take shape – the half-forward line has the workrate of Smith, the talent and height of Niall Burke and the strength of Cyril Donnellan. Inside them is the triple threat of Hayes, Canning and Davy Glennon. In other words, there is plenty for Dublin to worry about.
Which is part of the reason that Galway might be worth a flutter. This new side have more to prove than Dublin, who are expected to make strides in the championship even if the league results in a backward step. And when a side has more to lose, they generally tend to be the ones who gain.
Still, we'll be keeping our money in our wallets on this one.