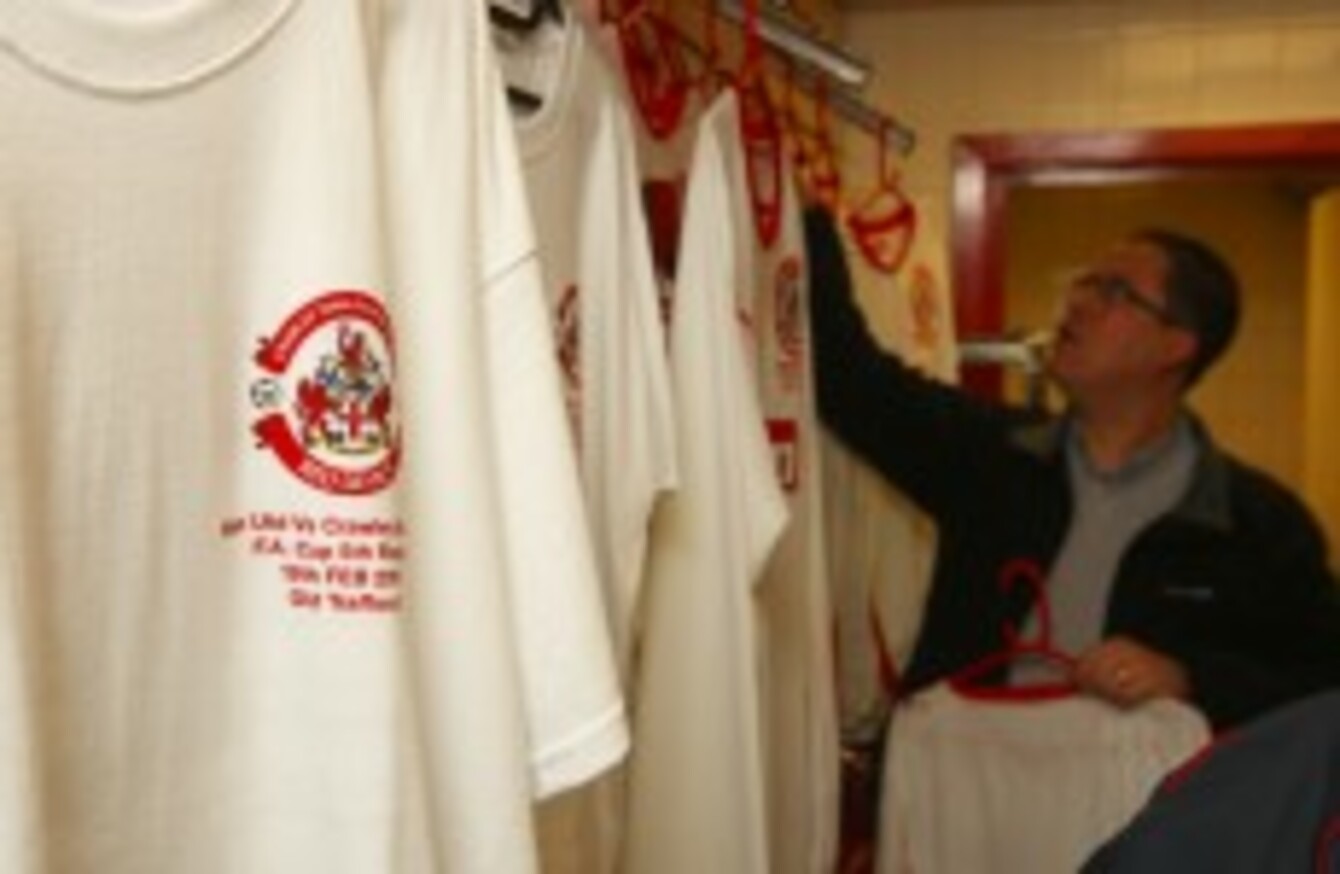 Image: Chris Ison/PA Archive/Press Association Images
Image: Chris Ison/PA Archive/Press Association Images
AH THE MAGIC of the FA Cup. It seems every midweek before a round of cup ties the argument is always the same.
In these days of fast cars and fat wallets those Wembley steps just don't mean what they used to.
The old-timers, huddled around their pints in locals can recall the true magic of cup final day. Kneeling, in short trousers, in front of the TV, never taking their eyes off the action.
And when all was done, their knees red raw from carpet burn, it mattered not a damn for they knew exactly where they were when Leeds got their first one in '72 or when the Saints stunned United in '76.
There is a certain romance to it all you see. It transcends the world of six-figure sums and snoods. Sure, it mightn't be what it used to be but don't tell me it's a dead duck. It's far from dead. When the boys from Crawley Town, camcorders and camera phones in hand, get their first glimpse of Old Trafford at a quarter to five on Saturday, they will never have felt more alive.
Yeah maybe it's about the money for Town chairman Vic Marley. And they will get it in spades. But you cannot put a price on the experience the Blue Square Premier Division side will get this weekend. Memories to last a life time. A story for the grandkids. Logic says they'll get smashed, but this is the FA Cup and romance trumps logic. Always has.
Hell just look at this year, Stevenage dumped Newcastle out, Man City have struggled with Leicester and Notts County and Crawley have themselves already knocked Derby out. And it's not like United have always breezed past these supposed minnows.
Anyone remember Burton Albion? They held United to a 0-0 draw in the third round of the cup five years ago. Nigel Clough was in charge and his success with Albion gave him the springboard he needed to launch his managerial career. Do not tell me the FA Cup is a dead duck.

True United put five past them in the replay at Old Trafford, but the result gave vibrancy to Burton and put their name on the map. The point is this, Crawley Town will arrive into Manchester on Saturday with the interest of the country and a massive financial bonus already secured.
Nobody expects a thing from them, all they have to do is go out and play.
They have a choice. They can stand there, with their jaws on the floor, in front of thousands at Old Trafford and watch the millionaires pass it around them or they can give it a right go. They can recognise that they may never keep such company again so why not see what they are really made of. That's what Stevenage did this Januray. And it's what Burton did five years ago.
United will have their focus on the brighter lights of Marseille in the week and more then likely field a team sans messers Nani, Rooney, Berbatov etc. Just like before the Burton game when they had their eyes on Blackburn away, three days later. It's the perfect opportunity. Nobody is talking about Crawley actually winning the game but we are now in the realm of the moral victory.
Another fairytale
If Crawley could get a goal, at any stage, and put the scares up United, for even five minutes then the most famous domestic cup competition of them all will have another fairytale. So get it together Crawley, you owe it to the FA Cup and all that it stands for.
These days, boys no longer wear short trousers and their knees are no longer carpet-burned. They wear replica kits with their nicknames on the back and keep their eye out for the latest colour of football boot. Boys used to idealise Nobby Stiles and Peter Lorimer now they idealise men who whinge and whine their way to victory.
And the FA Cup is no longer the only show in town. But that's just the way of it. When the Crawley boys bounce into Manchester the romance of the cup will warm their hearts. The magic ain't gone, you just have to look a little harder for it sometimes.