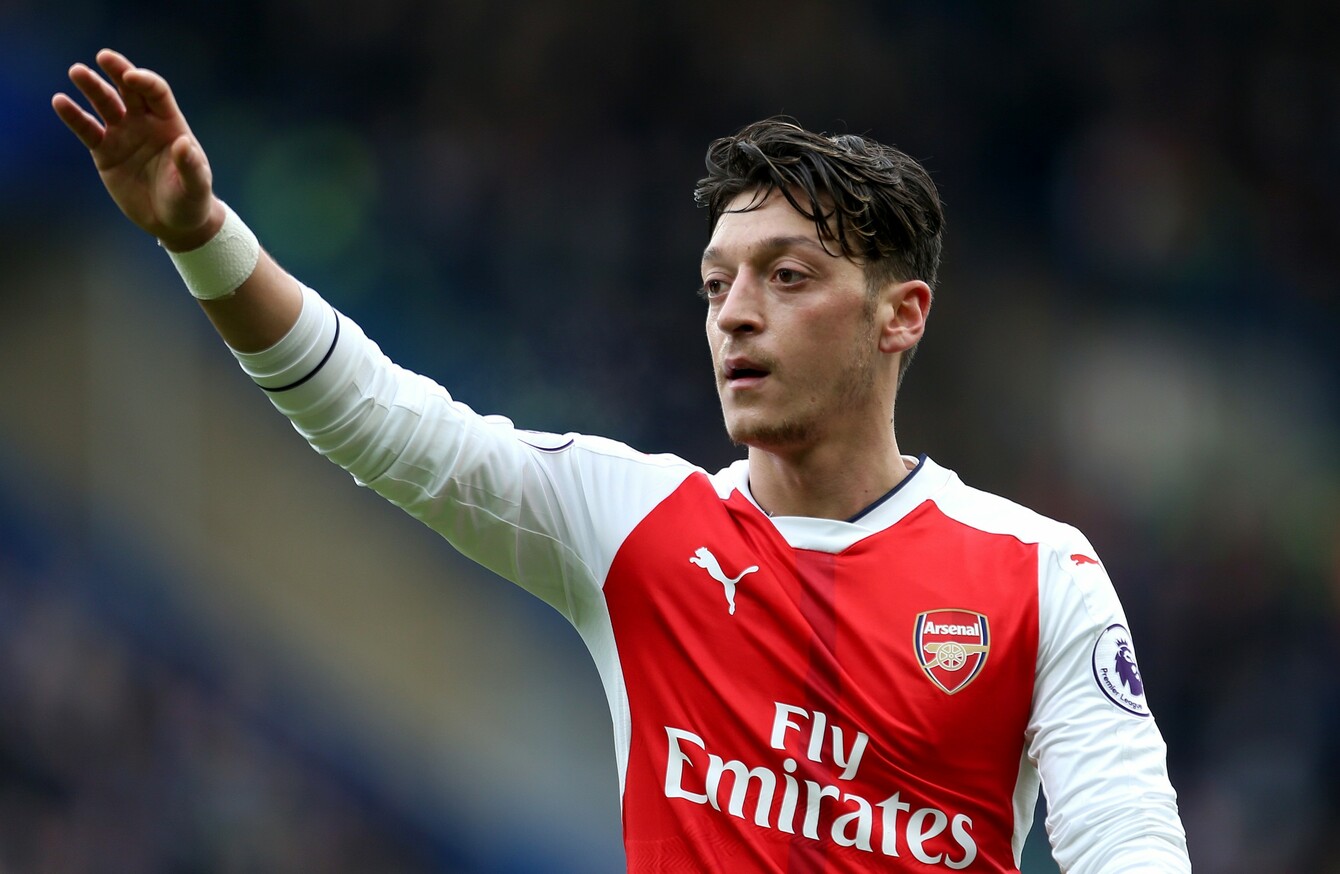 Arsenal's Mesut Ozil has been criticised for recent performances.
Image: Steven Paston
Arsenal's Mesut Ozil has been criticised for recent performances.
Image: Steven Paston
Updated at 14.47
AROUND THIS TIME last year, people were practically queuing up to heap praise on Mesut Ozil.
By mid-January 2016, Arsenal were looking like potential title contenders and Ozil had registered a phenomenal 16 assists.
Before Leicester went on to open up a substantial gap at the top, a number of pundits were even tipping the talented midfielder as a serious contender for Player of the Year. Tellingly though, the Gunners' title challenge ultimately petered out, and Ozil would register a mere three assists in the second half of the season, adding to the 16 he had previously accrued.
And in contrast with the German international's many admirers, there was at least one individual who remained distinctly unimpressed.
Ireland and Leeds legend John Giles, a long-time critic of the star, maintained that the player's game left much to be desired.
Despite sporadic moments of brilliance against the lesser sides, Giles argued, when the pressure came on, Ozil crumbled.
"In the last 15 minutes they collapsed," the pundit said of Arsenal and Ozil on Off the Ball last year. "That was down to dropping back and Liverpool being Liverpool and having a go at them. They need somebody, particularly in midfield, to get hold of the ball. The best way you can defend is by having the ball.
"The player that let them down most was the player who is getting most publicity and going for Player of the Year, Ozil.
He was the one who had the talent to get hold of the ball and do what was needed to be done to take the pressure off Arsenal. Ozil was taken off.
"If he's Footballer of the Year, then I'm a Dutchman.
When they actually needed Ozil, which they really needed him at that particular time, he wasn't there."
Of course, these comments resulted in an inevitable Twitter backlash, with some ageist insults thrown in to boot, all because Giles had the supposed temerity to offer an opinion that strayed from conventional footballing wisdom.
A year later, and interestingly, Giles' views suddenly seem to be shared by the majority. Ozil and the Gunners have increasingly flattered to deceive in recent times, and the fact that the 28-year-old is demanding a lucrative new contract to keep him at the club hardly helps matters.
The most common complaint about Ozil of late is that, as Giles originally claimed, he goes missing at crucial moments of big games.
After a sub-par display in the 2-1 defeat by Man City, The Guardian's Barney Ronay wrote:
Ozil was supposed to define the endgame of the late Wenger years. And so he has, an emblem of room-temperature stasis, a certain debilitating cosiness. Wenger has been criticised since the defeat at the Etihad for failing to react in real-time, to shift his tactics to mirror Guardiola's successful rejig into a system with two No10s and David Silva sniping behind. There is no shame in being out-tacticed now and then. But when all this was going on where was Wenger's senior player, Arsenal's only World Cup winner on the pitch?"
Ozil was similarly anonymous in the more recent 3-1 defeat by Chelsea at Stamford Bridge, showing poor decision-making on the ball, while looking lax and laborious in possession, in contrast with the sharp and intelligent attacking play of the hosts.
Now, it seems, even Ozil's teammates are beginning to doubt him. A report in The Daily Mail suggested some Arsenal players feel the German star gets preferential treatment from coach Arsene Wenger, and they are also understood to be disappointed by his level of application.
The player himself appears short on confidence. Having scored nine goals as well as producing six assists between August and December, his good form has tapered off dramatically since the turn of the year, with Ozil failing to score in his last eight matches.
The lowlight of the former Schalke and Werder Bremen man's season arguably came back in December. The star's failure to properly mark Ashley Williams late on proved costly, as Everton produced a dramatic last-gasp win over the Gunners, although why a player such as Ozil — who is patently inept defensively — was assigned with the task of marking the big powerful Welsh centre-half remains unclear.
Such is the concern at the level of Ozil's performances that there has been speculation he could be dropped tonight, in what is undoubtedly Arsenal's most important match of the season so far.
Former Gunners defender Martin Keown weighed into the argument, calling Ozil an "icing on the cake player," though ex-Man United star Rio Ferdinand defended the German, suggesting his teammates needed to provide more help.
Yet regardless of the aforementioned issues, Ozil is a much better player than recent displays have suggested.
The argument that he fails to rise to the big occasion overlooks the fact that he was the joint-top assist provider at both Euro 2012 and the 2010 World Cup, with his German team winning the latter tournament four years later. Furthermore, in Brazil, Ozil completed more passes than any other player in the final third and was behind only Lionel Messi in chances created. Four years previously at the same competition in South Africa, he was one of 10 players nominated for the Golden Ball.
Moreover, the last time Real Madrid won La Liga in 2012, Ozil was integral to their success, coming top of the assists charts with 17 — a tally he also achieved to come top of the equivalent Bundesliga table in 2010 while playing for Werder Bremen.
Bayern Munich legend Philip Lahm has said of Ozil: "His vision is probably the best I have ever seen… He is a dream for strikers." Meanwhile, German teammate Mario Gomez described him as "probably the most brilliant footballer we have or ever had".
The Gelsenkirchen native generally continues to be highly thought of in his homeland. Between 2011 and 2016, he failed to win Germany's Player of the Year award just once (in 2014), so it was no surprise that Bayern Munich centre-back and international colleague Mats Hummels seemed perplexed by the idea of leaving Ozil out of such a big upcoming game at yesterday's pre-match press conference.
Source: SEN 31/YouTube
Within world football too, Ozil commands respect. Diego Torres' 2014 book, The Special One: The Secret World of Jose Mourinho, conveyed the esteem with which the star was held even at a club as prestigious at Real Madrid, giving an insight into the uproar that then-manager Jose Mourinho's decision to drop him caused.
The overriding feeling in the squad was that no Madrid player was more skilful than Ozil," Torres writes. "At 22, the young midfielder from Gelsenkirchen was a rare case in the world of elite football, which was defined as much by jealously, individualism and internal competition as by camaraderie. Ozil, who hardly spoke any Spanish but understood everything that was said to him, was admired by his teammates. In every training session they saw him do things that other players could not do. His controls, his feints, the ease with which he played in confined spaces, his ability to find ways of passing through labyrinthine defences, his excellent touch with both feet — all these made him a player without equal. He had arrived in Spain just four months earlier and had won over the group in a short time. Removing him from the pitch was little more than capitulation. It was Mourinho's way of admitting the superiority of Barcelona and his inability to offer any sort of solution."
So clearly, Ozil is an exceptionally talented player. He surely suffers from a deceptively laidback demeanour, with many accusing him of laziness, despite the fact that he has run 10k more than any other Arsenal player in the Champions League this season.
There is a tendency too, in English football, to value crunching tackles and physicality over elegance and imagination, with Ozil largely characterised by the latter rather than the former. It is also an environment that tends to be suspicious of gifted foreign players who are apparently reluctant to 'put their foot in'.
Yet despite these legitimate grievances, there is no escaping Ozil's indifferent form, faltering confidence and inability to pose the same level of threat in the final third that he invariably offered in the first half of the season.
It is therefore hardly an exaggeration to suggest that tonight's fixture, along with the return leg at the Emirates in three weeks' time, could well be make or break as far as Ozil and the Gunners are concerned — the difference between Champions League quarter-finalists and also-rans, new contracts and acrimonious exits, heroism and vilification. As ever with Arsenal, it's one extreme or the other.
The42 is on Instagram! Tap the button below on your phone to follow us!