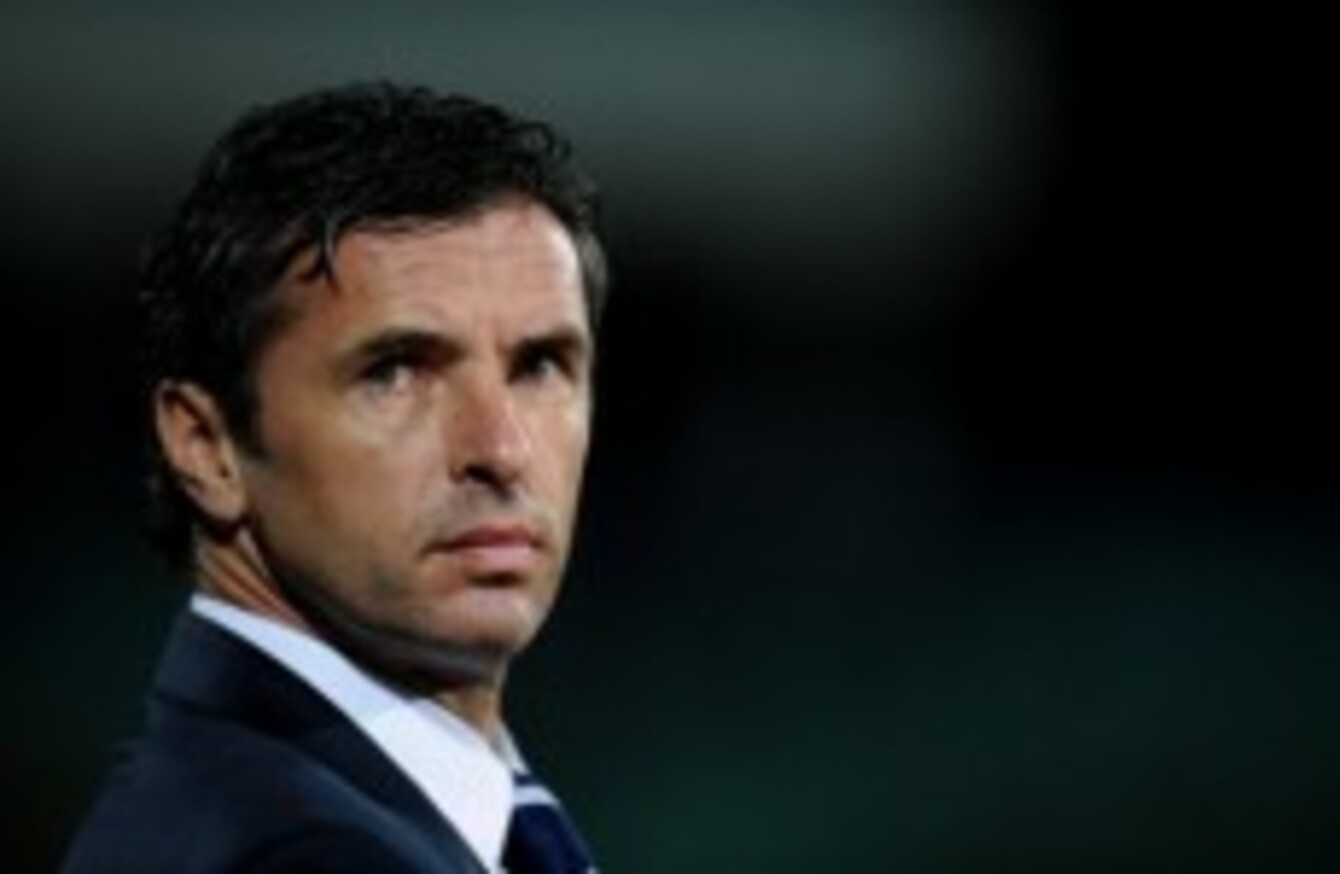 Image: Andrew Matthews/PA Wire/Press Association Images
Image: Andrew Matthews/PA Wire/Press Association Images
NOVEMBER WAS A month of great joy and great despair for football fans in this part of the world.
Giovanni Trapattoni led Ireland to qualification for only their second ever European Championships, while the Premier League lost one of its greatest former players at the age of just 42.
Elsewhere, boxing mourned the death of Joe Frazier, Rory McIlroy single-handedly ensured there would be a 2012 Irish Open and Sepp Blatter was more of an idiot than usual.
The winners
Ireland's footballers: Shareholders in Ryanair rejoiced as the Republic of Ireland qualified for their first European Championship finals since 1988. The return leg in Dublin proved a complete formality after Robbie Keane and company thwacked nine-man Estonia 4-0 in Tallinn. John Delaney and Ray Houghton must have known something we didn't, given the merriment they displayed the night before the first leg, and the good mood stretched to Trapattoni's signing of a new deal later in the month.
Golf in Ireland: Without a venue and a sponsor, the 2012 Irish Open received a massive boost when Rory McIlroy declared he would play the event in his home country instead of the AT&T National at Congressional, where he won the US Open earlier in the year.
Sir Alex Ferguson: The 69-year-old celebrated 25 years in charge of Manchester United, a phenomenal achievement that has encompassed 12 Premier League titles, five FA Cups and two European Cups. Not bad. He still signed Eric Djemba Djemba, though.
The losers
Leeds, Newcastle, Everton, Bolton, Sheffield United, Wales and football in general: The death of Gary Speed came like a punch to the stomach of anyone who has followed football in this part of the world since the early '90s. The Welsh manager took his own life at the age of 42, leaving behind a wife, two teenaged boys and a distraught football community.
Sepp Blatter: The man's sheer ignorance knows no bounds, and nor did his dogged refusal to quit as FIFA president despite his assertion – in two television interviews – that racist remarks on the field of play should be resolved with a handshake.
James 'Cha' Fitzpatrick: Disenchanted with his lack of action for the Kilkenny hurlers last season, the 26-year-old decided to call it a day. He later denied reports that he could play for Dublin instead. "I haven't been able to nail down a place on the team for a while, and as I don't think I am getting any faster, it is time to go," he said.
International rugby: Leaked documents from the investigation into England's shambolic World Cup campaign caused a media storm, with players slagging off the team's coaches and lamenting the loss of bonus payments after they exited to France. The controversy made it over to Ireland, with Sean O'Brien forced to deny that the behaviour of Ireland's players in New Zealand was actually worse than England's. It was all pretty unsavoury.
Steve Bruce: Sunderland finally ran out of patience with the former Manchester United defender, later appointing Martin O'Neill as his successor.
Highlight of the month
It had to be Tallinn, and the knowledge that the Irish team would be competing at their first major finals since the World Cup in 2002. Keith Andrews put Trap's men ahead, before further goals from Jonathan Walters and Robbie Keane, who scored two, made it 4-0 on the night. The return leg in Dublin – a 1-1 draw – proved to be a bit of an anti-climax but that didn't matter, the Boys in Green were back in business.
Picture of the month
Robbie Keane leads the celebrations in Tallinn, with qualification all but secured…
Sporting viral of the month
Inigo Martinez scores, arguably, the greatest injury time goal ever as his Real Sociedad side beat Real Betis 3-2 in La Liga.

YouTube credit: YourSportTV
Sporting tweet of the month
Once again, it's Rio Ferdinand. The Manchester United defender was none too impressed with Sepp Blatter novel (and utterly reprehensible) approach to dealing with racism on the pitch. Ferdinand tweeted the FIFA president directly: "To say what you said about racism in football spoke volumes of your ignorance to the subject." Blatter himself had tweeted Ferdinand earlier, defending his comments and – at the same time – showing himself to be an even bigger fool than usual.