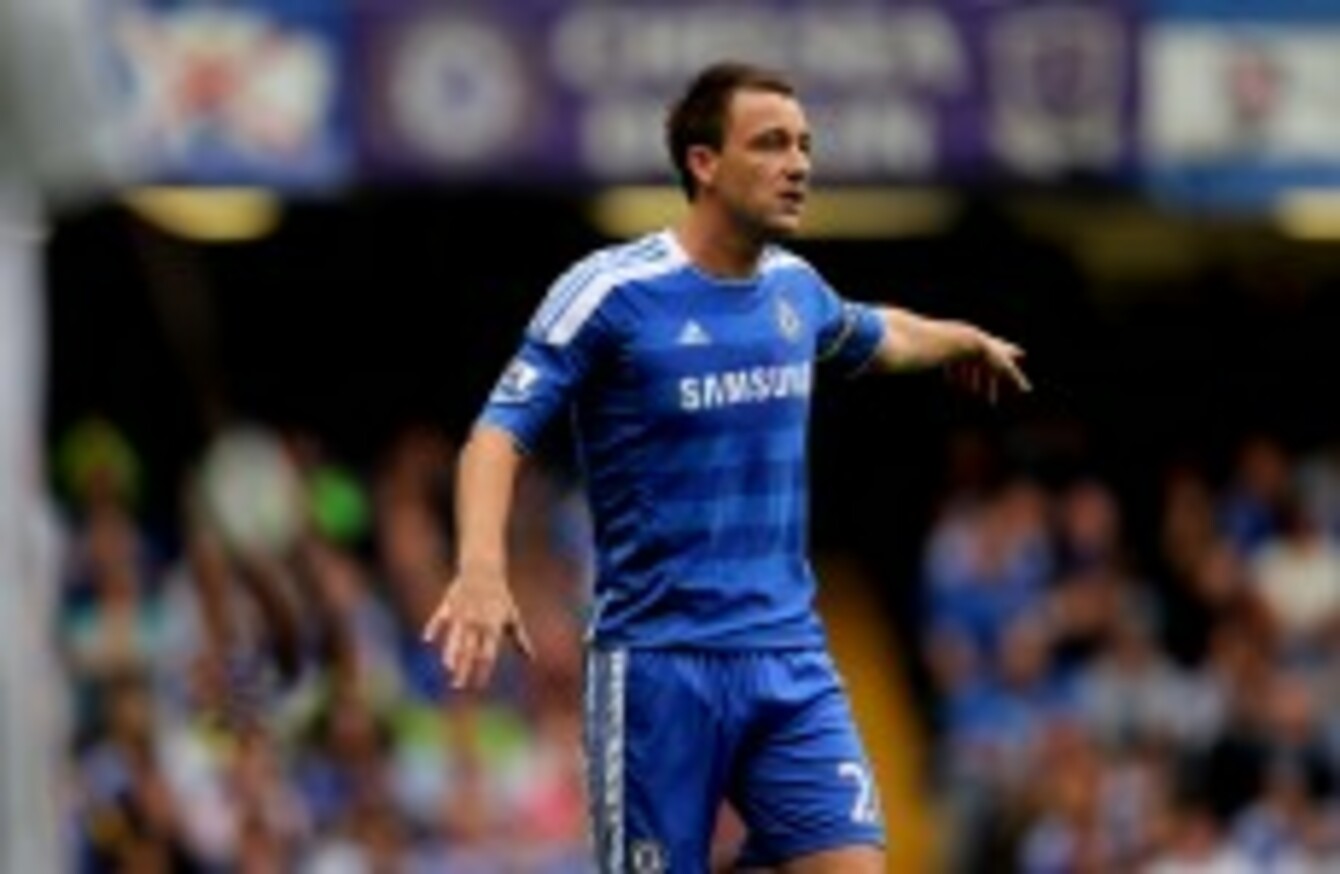 John Terry: hubris run amok?
Image: Stephen Pond/EMPICS Sport
John Terry: hubris run amok?
Image: Stephen Pond/EMPICS Sport
1. "Knocking a guy silly and watching him crash-land is a beautiful thing," Chuck says, "and when word spread that you were the toughest guy on the base, it was a lot easier to get the chicks."
Chuck seems oblivious to the kids playing in the park outside his window as he reclines in his favourite chair, thick arms folded across his chest, watching his beloved NY Yankees on the big screen TV.
Mark Collings, writing for the Sabotage Times, spends some time in the company of Chuck Wepner, the inspiration behind Sylvester Stallone's Rocky, and discovers that real life has a habit of confounding the clean lines and predictable arcs of Hollywood narrative.
2. "No more dragging yourself out of bed when it's still dark out. No more fighting through miles of traffic, everyone around you bound to the same schedule, stuffing muffins in their faces, spilling coffee on their laps, texting with one hand, driving with no hands. No risk of getting dumped or fired or scorned for being late. There are no deadlines. Only moments. Only possibilities.
You might go the rest of your life and never see a more perfect example of that existence than what happened last night. Only baseball could have made that happen."
The sixth game of this year's World Series was, by all accounts, one of the greatest post-season duels in MLB history. Relive the magic with Grantland's Jonah Hari, for whom the game's pitch-perfect blend of the improbable, the brave and the very, very late was a example of all that is and can be great about baseball.
3. "I cannot resist the temptation to award Mr Terry the benefit of any doubt, and acclaim him the most relentlessly wronged character English football has known. False accusations have plagued him ever since he became a piece of furniture – a stout oak hatstand, to be precise, with the turning circle of an oil tanker – in the Chelsea defence."
Like many's an impartial observer, Matthew Norman has grown tired of John Terry's self-regard. His satirical column in this week's Telegraph targets the defender's taste for assuming the role of matyr, no matter how incongruous or unwarranted the scenario.
4. "The Packers have benefited from a league structure that's orderly, predictable, and by the standards of other sports, egalitarian: The bulk of the Packers' revenues, $96 million, still comes from the team's share of the NFL's television deal, which is split evenly among all 32 franchises. Nothing like the Packers can happen again. The NFL's ownership rules forbid the model of public shareholders; the NFL's goal is to ensure that clubs have a single owner with financial resources and management accountability."
As European football struggles to come to cope with an increasingly unstable financial landscape, the case of the Green Bay Packers can be an instructive one. Karl Taro Greenfield, writing for Businessweek, explains why the fan-owned phenomenon that is the NFL's most successful franchise is a model of sound management.
5.

"

Because the FA has been pushing so commendably hard to stamp out racism as much as possible in recent years, it has to be shown to be taking a lead and being decisive on this issue.

"The men in charge at Wembley must address these allegations as a matter of urgency. They can't just hope it goes away because it will undermine all the efforts they have made to eradicate racism."
Footballer-turned-Eurosport pundit Paul Parker– the same Paul Parker who castigated Patrice Evra for reporting his alleged abuse at the hands of Liverpool's Luis Suarez last week– urges the FA to take a strong line with John Terry should the defender be found guilty of racially abusing Anton Ferdinand. Hypocrisy at its most illogical.
6. "In popular accounts, they are almost invariably described as 'panics.' The crowd is portrayed as a single, unified entity, which acts according to 'mob psychology'—a set of primitive instincts (fear, followed by flight) that favor self-preservation over the welfare of others, and cause 'stampedes' and 'tramplings.' But most crowd disasters are caused by 'crazes'—people are usually moving toward something they want, rather than away from something they fear, and, if you're caught up in a crush, you're just as likely to die on your feet as under the feet of others, squashed by the pressure of bodies smashing into you."
John Seabrook's unflinching history of crowd fatalities in this week's New Yorker is, given the British parliament's recent decision to revisit the Hillsborough disaster, a timely examination of an unnerving social phenomenon. (Warning: reader discretion advised; article contains a disturbing image.)
7. "Frankly, it came as a shock. The distinguished gentleman, beautifully groomed greying hair, kempt moustache, crisp white shirt, well-cut suit, leant across the desk with a twinkle in his venerable eye.
'Cricket,' he said, 'has to die.'"
Cricket may be India's national pastime, but a small and enthusiastic crowd of partisans are masterminding a guerrilla war in the name of football. The Independent's Stephen Brinkley is nothing if not intrigued.
8. "Defeat in the individual sprint provides a brutal spectacle…  the losing cyclist warms down in the middle of the arena. And there is an almost unbearable poignancy in watching Pendleton warm down after her loss. Round and round she rides, her pain magnified by the fact that her circling takes her right past the press tables and some of her most stringent critics."
Victoria Pendleton is an Olympic gold medallist and track cycling world champion. But, as the Guardian's Donald McCrae finds out, her success has been built on a foundation of fragility and self-doubt. With London 2012 less than a year away, her inner struggles appear to be taking their toll.