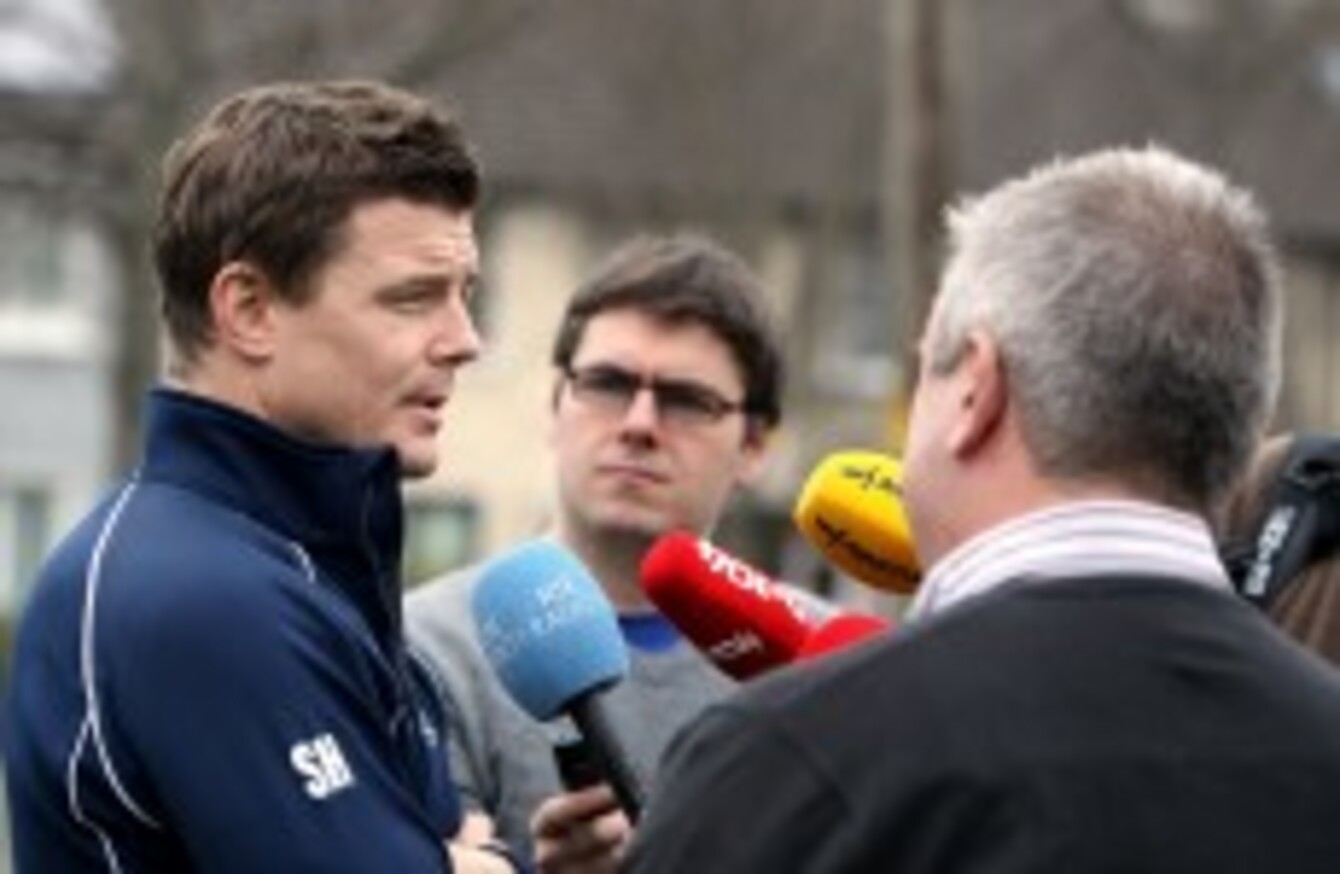 Brian O'Driscoll meets his match this week: our man Sean, (centre, confused).
Image: INPHO/Dan Sheridan
Brian O'Driscoll meets his match this week: our man Sean, (centre, confused).
Image: INPHO/Dan Sheridan
We're a tad golf-heavy week but make no apologies. Get in the hole etc and so on!
1. "There has always been a slightly uneasy relationship between elements of the Irish people north and south. After the Derrytresk/Dromid incident a few months ago, Joe Duffy had outraged southern-folk queuing up to vent to their spleen about those dirty northerners. Two "Liveline" shows were devoted to the scandal and still they jammed the switchboards, each new caller more indignant than the last. A man from Kildare summed up the mood when he suggested, 'The Northern Ireland crowd should be told to play their football up in Northern Ireland'."
Love him or hate him, Joe Brolly has an opinion and he's not afraid to express it. Check out his column in the Derry Journal on the context to the O'Moore Park 'racism' row recently.
2. "In San Jose, Calif., this week, Kevin Woods will sit in his wheelchair a few feet from his television, watching his half-brother play the Masters. He has to. He can't see otherwise. Can't stand much lately, either. Can barely use his left arm at all. He can feel his hands and feet going a little more numb every day. Kevin was diagnosed with multiple sclerosis in 2009, and it's not getting better. 'I'd say 60 to 70 percent worse now,' says Kevin's brother, Earl Woods Jr. 'He's not going to be able to keep his house much longer.'"
ESPN heavyweight Rick Reilly meets the siblings Tiger Woods haven't talked to since their father, Earl's death, including a half-brother who is suffering from MS.
3. "Well, it's not that I feel sorry for him, because it has happened to many players and it can happen to anyone; it can happen to me, and it's just tough."
Angel Cabrera shows no sympathy for Rory McIlroy in a wonderful tick-tock by Alan Shipnuck of 'The Best Sunday Ever', the final round collapse of the Irishman last year at Augusta. Check it out at Golf.com.
4. "Fantasy football is anything but. Worrying is about as effective as trying to solve an algebra equation by chewing bubblegum. The things to worry about in life will blindside you at 4pm on some idle Tuesday. A great philosopher said that. Actually it was the guy from that "Wear sunscreen" song. He has never played fantasy football."
Paul Ring, at Balls.ie, on the curse of Fantasy Football. Boom.
5. "I think, we will re-evaluate the way we consider the race that was, in my opinion, America's Grand Tour: the Madison Square Garden International Six Day Race. And when we do that, we'll find that 91 years before Stephen Roche won a first Grand Tour victory for Ireland, an Irishman won America's Grand Tour. That man was Edward 'Teddy' Hale. Most Irish cycling fans can give you chapter and verse on Sean Kelly and Stephen Roche. We can rattle off all the Irish riders who have participated in the Tour. We know the basic outline of Shay Elliott's career. We can even tell you something about Harry Reynolds: the Balbriggan flyer, Ireland's first World Champion, the man who refused to step up on the podium at the World's as long as the band were playing the British national anthem. But few in Ireland have ever even heard of Teddy Hale, the man who won in the Garden in the same year that Reynolds was crowned World Champion."
Cyclimas turn their headlight on a forgotten corner of Irish cycling history.
6. "What marks Guardiola out is his awareness of the future, not in the sense of positioning himself for a move to another club or even in terms of youth development – although he is clearly acutely aware of that – but in terms of understanding the sweep of history, of recognising that what is good now will not necessarily be good in a year or two's time. Dress it as the lesson of Bela Guttmann ("the third year is fatal") or Karl Marx ("all that is solid melts into air, all that is holy is profaned"*), but that awareness marks Guardiola as a true dynastician. Not for him the club-hopping of Guttmann or even José Mourinho: he wants to erect an edifice for the ages, something, paradoxically, strengthened by his refusal to commit to more than a 12-month rolling contract; he will not become a weary leader, governing by convention, but leaves open a perpetual route to step down for a fresher man when the occasion calls for it."
Jonathon Wilson, in the Guardian, is in flying form when answering the question: what makes Pep such a great manager?
7. "Forty-two years after winning the San Diego Open, Pete Brown has finally made it to Augusta. Brown, the first black golfer to win a PGA Tour-sanctioned event, never played in the Masters Tournament. But after suffering 11 strokes and congestive heart failure, he was lured to town a few months ago by longtime friend Jim Dent to get away from the cold winters in Ohio. 'Been down here once before with Jim," said Brown, who lives with his wife of nearly 56 years, Margaret, in a home next door to Dent's in Evans. "They took me around to see the (Augusta National) course. I heard so much about it I knew the course as well as anybody else.'"
On Masters Sunday (also Easter Sunday this year admittedly) let's end with this piece by Scott Michaux about Pete Brown.