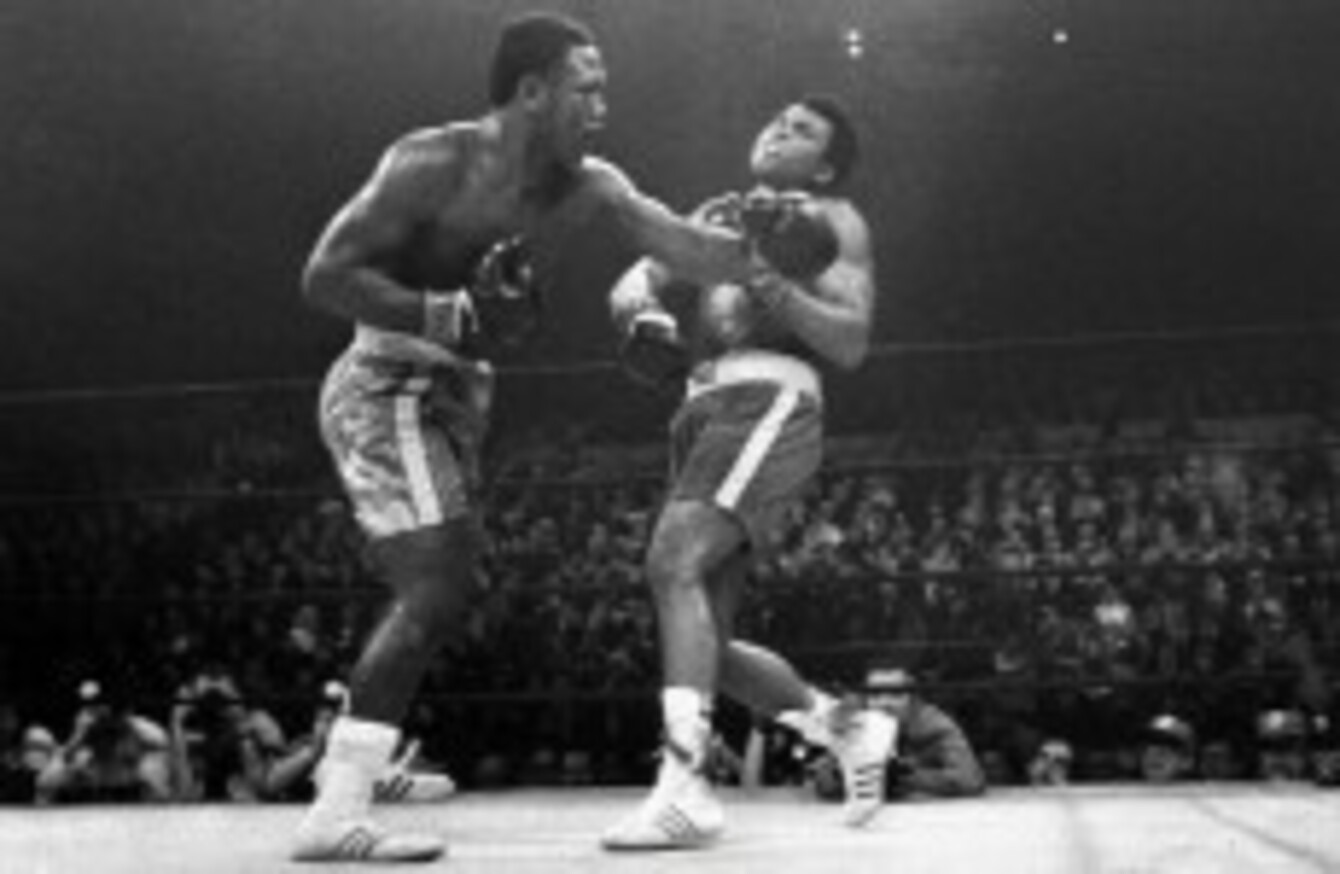 Image: AP/Press Association Images
Image: AP/Press Association Images
1. "Some people mean more together than they do apart, whatever the stage. Churchill and Hitler. Bogart and Bacall. Ali and Frazier. And for all the deserved accolades for Muhammad Ali, I've always believed that each at his best, Joe Frazier, who died Monday night at age 67, was the better fighter. And the better man."
There have been many excellent tributes paid to Smokin' Joe Frazier over the past few days, but none with as provocative an intro as Dave Anderson's obituary in the New York Times.
2. "From the moment of entry into the ring Ali set out to persuade Frazier that he was taking on impossible odds. The two corners told a story. Yank Durham, Frazier's manager, brought in the minimum help. Ali had half-a-dozen corner men, all clad in aggressive scarlet uniforms. A lesser fighter might have been unnerved by the sight of such a red army. But this one was content with the knowledge that Ali would be alone when the bell went. He was only mildly irritated when Ali, gliding sideways past his corner, muttered contemptuous predictions."
And while we're on the topic of Frazier and Ali's brilliant and bitter rivalry, Hugh McIlvanney brings the two warriors to life in the aftermath of their 1971 "Fight of the Century."
3. "When the fighting was over and the survivors came home and the football grounds were filled to the rafters by men in demob suits there wasn't a whole lot of talk about remembering the war – or wearing poppies. Maybe it was assumed that they had fought for a society which would always recognise sacrifice, always remember the values that made the nation's life – and that their greatest victory was over anyone who might want to tell us how to feel and how to think."
In the Independent, James Lawton looks at why FIFA shouldn't have backed down in their poppy row with the English FA — and why the issue should never have come up in the first place.
4. "For Joe Paterno to remain on the job for even one more second would have been beyond merely tone deaf or clueless. It would have been madness. It suggested that the leader of the cult had lost the capacity to think clearly. Was there no wife, brother, son, daughter, school authority figure, law enforcement official, or even respected peer intelligent and powerful enough to make him understand the counterproductive nature of his attempt to postpone a long-overdue retirement for three games and then, God forbid, a silly bowl game?"
The shocking Penn State child abuse allegations have rocked American sport — and American society — this week. The Boston Globe's Bob Ryan looks at the "single biggest story in the history of college sports" and why head coach Joe Paterno had to go.
5. "But you need to realise that it's not what Cassidy said that has seen him dropped, it's the fact he said it. So much of the new Donegal has been built on unity. Given their style of play and their reputation it had to be that way, from every man working for each other in tactics that had the physicality and imagination of shoveling coal, to a group renowned for off-field indiscretion all buying into a new way of life to such an extent that they even gave up their pre-championship night out for a trip to the Scottish league cup final way back in March. There was a trust and a bond amongst this Donegal team across 2011 that helped them come from nowhere to be genuine contenders and one of the core values of the squad was what happens on Donegal duty stays on Donegal duty."
Donegal boss Jim McGuinness has polarised opinion with his decision to dump Kevin Cassidy for speaking truthfully about the Donegal panel. On EircomSports, Ewan McKenna steps back and looks at why it's Cassidy, not McGuinness, who is in the wrong.
6. "We were once the greatest endurance runners on earth. We didn't have fangs, claws, strength or speed, but the springiness of our legs and our unrivaled ability to cool our bodies by sweating rather than panting enabled humans to chase prey until it dropped from heat exhaustion. Some speculate that collaboration on such hunts led to language, then shared technology. Running arguably made us the masters of the world. So how did one of our greatest strengths become such a liability?"
In the New York Times, "Born to Run" author Christopher McDougall explains why we have lost our natural ability to run effectively — and what we can do to make it better.
7. "The STL Northern League is the second oldest league in the world and steeped in history. In many ways the league continues to thrive and attendances year on year are up; but this does not disguise the fact that at a Northern league fixture you might be one of just a hundred paying punters. Oh – and a dog. There's nearly always a dog."
Supporting an amateur football team definitely has its upsides, but it can often be hard work as this extract from Mark Cowan's "Far from the Massive Crowds", featured on the Sabotage Times, shows.
8. "Reily surely did not know that on a late fall afternoon in the Berkshire Mountains of northwest Massachusetts, seven months before he graduated and went home to die, his young football coach and the college's equipment manager had made an impulsive decision to put away the purple, white and gold number 50 jerseys that he had worn on the field, and that over the next 47 football seasons five more coaches and six more equipment managers would quietly honor that decision, most without knowing why. They would leave the jerseys packed away, unofficially retiring number 50 at a college where numbers were not retired. And one day, quite by accident, the story of Mike Reily's jerseys would be unearthed, and the young man who inspired so many others would come back to life."
Chances are that you've never heard of Williams College, Massachussets, or Mike Reily, but the story of Reily's short life and its long legacy is a truly inspirational read. Tim Layden's feature in Sports Illustrated Vault is a must.