Liveblog
TIPPERARY AND OFFALY can count themselves somewhat lucky to remain in the All-Ireland Senior Hurling Championship as both needed late comebacks to get this far. 
However, win they did and Portlaoise was the venue as they clash in Round 2 of the qualifiers.
As always, we'd love to hear your comments. Send them to steven@thescore.ie, tweet them @TheScoreGAA, find us on Facebook, or leave a comment below.
You may need to refresh the page for videos to display properly. 
Good evening y'all.
Steve O'Rourke has been held up by the Wexford Park über-drama so it is Patrick McCarry here to see us through the early stages of this qualifier.
Here are your two teams, starting with Tipp.
TIPPERARY SH
1. Darren Gleeson (Portroe)
2. Paddy Stapleton (Borris-Ileigh)
3. Paudie Maher (Thurles Sarsfields)
4. Michael Cahill (Thurles Sarsfields)
7. Cathal Barrett (Holycross Ballycahill)
6. James Barry (Upperchurch-Drombane)
5. Brendan Maher (Borris-Ileigh)
8. Kieran Bergin (Killenaule)
9. James Woodlock (Drom & Inch)
10. Gearóid Ryan (Templederry)
11. Patrick Maher (Lorrha-Dorrha)
12. John O'Dwyer (Killenaule)
13. Noel McGrath (Loughmore Castleiney)
14. Seamus Callanan (Drom and Inch)
15. Lar Corbett (Thurles Sarsfields)
And here is how The Faithful will line out.
OFFALY SH
1 James Dempsey (Kinnitty)
2 Niall Wynne (St Rynagh's)
3 Rory Hanniffy (Birr)
4 Chris McDonald (Brosna Gaels)
21 Emmett Nolan (Birr)
5 Kevin Brady (Coolderry)
7 Cathal Parlon (Coolderry)
9 Sean Ryan (Birr)
14 Dan Currams (Kilcormac/Killoughey)
15 Joe Bergin (capt, Seir Kieran)
8 Conor Mahon (Kilcormac/Killoughey)
12 Colin Egan (Belmont)
13 Brian Carroll (Coolderry)
11 David Kenny (Belmont)
10 Shane Dooley (Tullamore)
Sky Sports have a fancier way of showing you who is playing.
Here is Seamus Callanan celebrating his late goal last weekend.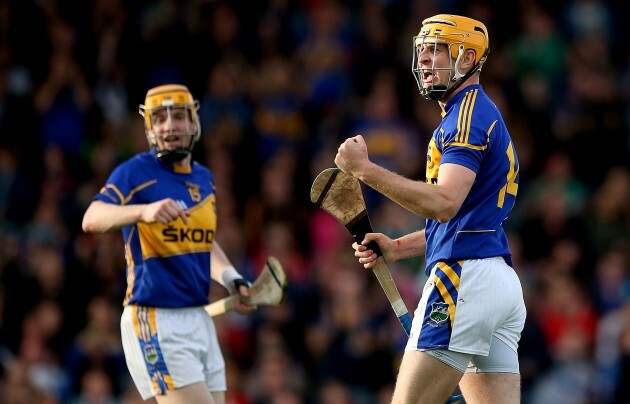 Source: James Crombie/INPHO
Offaly boss Brian Whelahan: While we won the game [against Antrim]. we definitely could have won it more comfortably. That instilled a lot of confidence.
Tipp boss Eamon O'Shea: We're fighting for our lives. The same attitude applies; the opposition doesn't matter.
I must grab you a screen-shot of Jamesie O'Connor in the Sky Sports studio. The well-dressed compliments from his TV debut must have zoomed straight to his head. He is so dapper this evening. So, so dapper.
National anthem is melodiously ringing around the ground. Poignant version. Nice.
Tipp fans, this should cheer ye up. Your footballers beat Laois in the qualifiers today.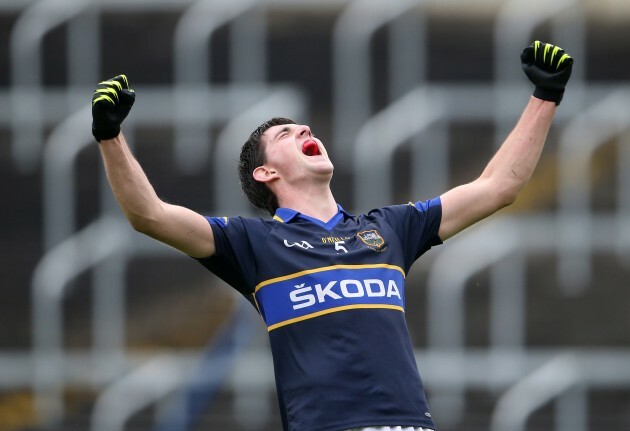 Tipperary's Colin O'Riordan celebrates after the final whistle. Source: Cathal Noonan/INPHO
And we're off. Early free but Callanan is left and wide from long-range. Bergin then has a pop but wide it goes too.
Tipperary 1-0 Offaly 0-0 – 2 mins Lar Corbett fires home from 12 yards out after there was a two-on-one created.
Tipperary 2-0 Offaly 0-1 – 4 mins They stream through again and Bonner Maher slashes home. Brian Carroll gets Offaly off the mark.
Tipperary 2-0 Offaly 0-2 – 5 mins  Another score for Carroll and this one from play. Found space and made it count.
7 mins - A bit of wind at Bergin's back so he has a dart from 70m out but it goes wide.
Tipperary 2-1 Offaly 0-3 – 8 mins Carroll is more accurate from right of the posts and 60m out. Over it goes. That should settle them after a very ropey start. Dennis Maher [on for Gearoid Ryan - blood ub] wins possession to knock over Tipp's first point.
Just a quick update to let you know Wexford have beaten Clare 2-25 to 2-22.
Tipperary 2-2 Offaly 0-3 - Simple free chance for Tipp and Callanan makes no mistake this time. Ryan patched up and back on.
11 mins - O'Dwyer left and wide from play. The Tipp man with a rueful shake of the head.
13 mins - Carroll should have lobbed that over but his free drops short. Cleared with little hassle.
Tipperary 2-3 Offaly 0-3 – 14 mins O'Dwyer goes for goal but James Dempsey makes a great save. The sliotar eventually comes out to Woodlock and he bangs over an arcing point.
Tipperary 2-3 Offaly 0-4 – 15 mins Curram chips in with a fine point from play.
Tipperary 2-4 Offaly 0-5 – 17 mins Cathal Parlon the next to nick a point back for The Faithful but Tipp have a simple free coming up… Callanan dinks it over from 35m.
Tipperary 2-5 Offaly 0-6 – 19 mins Shane Dooley sends over a beauty from the left wing. Great score. Bergin responds for the hosts.
19 mins - Great take in defence by Paddy Stapleton. He took a few raps in the process to earn a free out.
21 mins - Ryan is disgusted. Clear on goal but the ref calls play back for a free.
Tipperary 2-5 Offaly 0-7 – 21 mins Carroll knocks over another free from slightly to the left of the sticks.
22 mins - Another wide for Tipp, this time from Noel McGrath. Mahon then has a low shot just skittling wide of the posts.
Tipperary 2-5 Offaly 0-8 – 24 mins More indiscipline from Tipp and Carroll bisects the posts from out near the right touchline.
Tipperary 2-5 Offaly 0-9- 24 mins Dooley with a hand-pass to Carroll and he scythes one over from out on the right wing. Lovely score.
Here's Patrick 'Bonner' Maher scoring Tipp's second: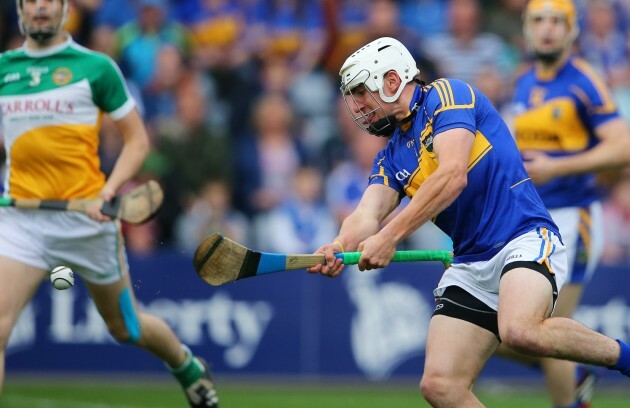 Source: Cathal Noonan/INPHO
Tipperary 3-5 Offaly 0-10 – 28 mins Superb, smacked goal from Corbett after Callanan's flicked pass set him up. The response is a Carroll free.
Tipperary 3-6 Offaly 0-10 – 30 mins Bonner Maher loses Brady, his marker, and uses the short-handled grip to send over his first point of the game.
Tipperary 3-7 Offaly 0-11 – 33 mins Portlaoise playing host to both sides today, on an evening where summer has gone amiss. Carroll gets an inch, takes a yard and sends another score over. McGrath pops over a point but Callanan wanted a pass as he was unmarked.
Tipperary 4-8 Offaly 0-11 – 34 mins So fluid, so graceful. Callanan has space out on the right and knocks over a fine score. Maher with the hand-pass moments later and in it goes, despite Dempsey's brave efforts.
Tipperary 4-9 Offaly 0-11 – 35 + 1 mins Callanan pops over an easy score and Tipp are coasting now.
Scorers for Tipperary: Callanan 1-4 (3f), Corbett 2-0, P Maher 1-1, D Maher 0-1, Woodlock 0-1, Bergin 0-1, N McGrath 0-1.

Scorers for Offaly: Carroll 0-8 (5f), Curram 0-1, Parlon 0-1, Dooley 0-1.
Righto, I will hand over this goalfest to Steve O'Rourke. G'd luck!
THROW-IN - 
The second half is under way.
GOAL! Tipperary 4-9 Offaly 1-11 – 37mins: Colin Egan gets on the end of a speculative Brian Carroll and Offaly have given themselves a chance here.
Tipperary 4-9 Offaly 1-12 – 37mins: Referee Alan Kelly signals that one of the Tipperary players handled the ball on the ground and Brian Carroll takes his point.
Tipperary 4-10 Offaly 1-12 – 39mins: Seamus Callanan with Tipp's first point of the second half to make it a goal and five for the full forward.
Tipperary 4-11 Offaly 1-12 – 39mins: That's a brilliant point from Tipperary. Lar Corbett with a little flick is picked up by Kieran Bergin and the Killenaule man points.
Tipperary 4-11 Offaly 1-13 – 39mins: Shane Dooley points a 65 and the gap is seven points again.
Tipperary 4-11 Offaly 1-13 – 44mins: Brilliant moment there watching Noel McGrath look for the sliotar even though his hurley was on the field about 20m away from him.
Tipperary 4-11 Offaly 1-14 – 45mins: Joe Bergin with a nice score there for Offaly when he looked to have been crowded out of the game.
Tipperary 4-11 Offaly 1-15 – 46mins: Offaly really getting back into this, Brian Carroll brings his total to 1-10 and the gap is now five.
Tipperary 4-11 Offaly 1-16 – 48mins: Another Carroll free and it's now a four point game. They can't, can they?
Tipperary 4-13 Offaly 1-16 – 52mins: Callanan gets Tipperary's first score in nearly 10 minutes and Bergin follows up with another point. The lead is now six.
Tipperary 4-14 Offaly 1-16 – 52mins: All of a sudden, Tipperary are racing ahead again, Callanan with another point from play.
Tipperary 4-15 Offaly 1-16 – 54mins: John O'Dwyer sweeps another score over the bar. Tipp have scored four in a row now.
Tipperary 4-16 Offaly 1-16 – 55mins: Lovely score from Lar Corbett as he gets his first point of the game.
Tipperary 4-17 Offaly 1-17 – 57mins: Offaly have no answer for this again, Paddy Stapleton with Tipperary's latest score.
Joe Bergin does get one back for the Faithful.
Tipperary 4-18 Offaly 1-19 – 60mins: Callanan brings scores another free.
Carroll reduces the deficit to nine again but Offaly need goals.
Tipperary 4-20 Offaly 1-18 – 61mins: It's now an 11 point lead for Tipperary as Bergin and Eoin Kelly – on as a sub – score back to back points.
Tipperary 4-20 Offaly 1-19 – 63mins: Another consolation point for Offaly and Brian Carrol. That's not 13 points for the forward.
Tipperary 4-21 Offaly 1-19 – 65mins: Denis Maher scores his first point of the game and the lead is 11 again.
Tipperary 4-23 Offaly 1-20 – 67mins: Seamus Callanan brings his total to 1-9 before Jason Forde edges Tipperary closer to the handicap margin of 14 points as the rain descends in O'Moore Park.
Sean Ryan gets a point the other end to keep the gap at 12 points.
Tipperary 4-24 Offaly 1-20 – 69mins: Another Tipp point, another free from Callanan.
Tipperary 5-25 Offaly 1-20 – 70mins: Corbett brings his total to 2-2 as the lead is before Callanan grabs his second goal and the rout is almost complete.
FULL-TIME -
And it's all over. Tipperary have run riot in the end and it's the Premier County who'll play in the All-Ireland quarter-finals with a comfortable 17-point win.
And that's it from us. Thanks as always for joining us. We'll have a report form this game up soon.
Before we go, here are the scorers from O'Moore Park:
Contribute to this story: