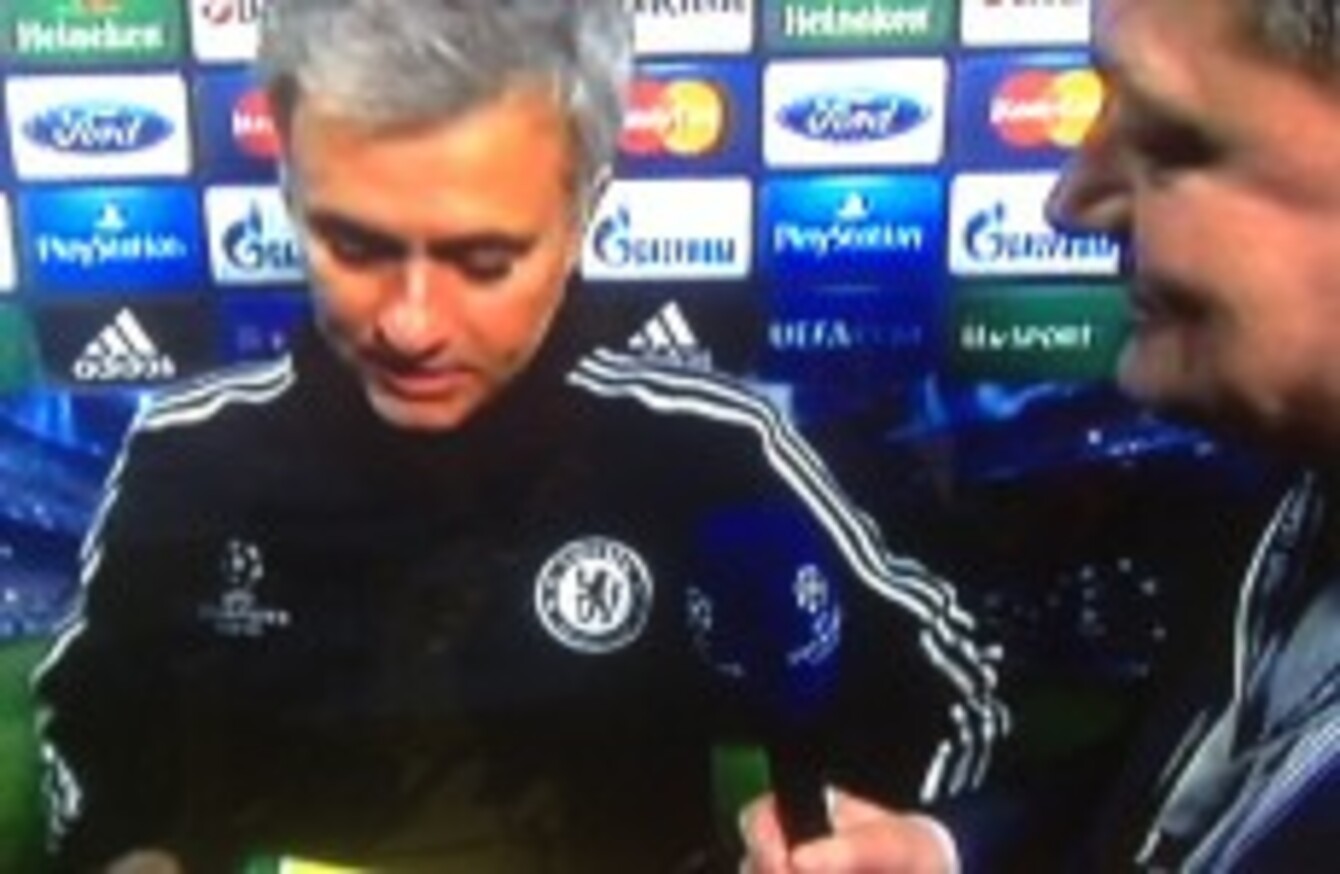 JOSE MOURINHO MAY have produced one of the moments of the European football season last night with his sprint down the Stamford Bridge touchline.
But, for Irish soccer fans, there was only one winner on a dramatic night in west London.
Trevor Welsh followed up his famous interview over a plate of custard creams with then Inter Milan boss Mourinho in 2010, by reprising the chat last night on TV3.
The Corkman produced a packet of custard creams bought from Blarney Filling Station after the school run yesterday morning to surprise the Chelsea coach.
"It was the Champions League quarter-finals when Inter Milan knocked Chelsea out at Stamford Bridge and I interviewed Jose afterwards," Welsh told TheScore.ie of the original meeting. "He was coming out and getting onto the bus, he was eating biscuits — I think he'd popped into the canteen for his custard creams for the bus home. Because he loves the custard creams.
"He was chewing away and it was going out live so I had to react. And I asked: favourite biscuit, Jose? And he said: 'Yes, custard creams, I love them.' But he finished the biscuit as fast as he could and he apologised again and we did the interview.
"And from then I thought I might get him again on that. This was the perfect opportunity then I though with a dramatic win on a European night at the Bridge."
Source: dearcee/YouTube
When  TV3 were chosen to chat to the Portuguese manager after the 2-0 win, Welch decided to take the chance.
"I had bought the biscuits in Cork and put them into my bag," he says. "I left them in my bag then in the flash area where we do the interviews afterwards. When I knew then I was going to get him I thought I might do it.
"He was down to do five broadcasters and I was in the top five, if you like, and knew I was getting him. I slipped the biscuits into my suit pocket, the PA person told me I was getting three questions so after third question I produced them, and said on behalf of TV3, tonight the custard creams are on us.
Did Mourinho remember the 2010 meeting?
"I think I caught him by surprise, to be honest," says Welch. "He moved on to the next interview and I was kind of standing across the way and he looked over at me smiling and nodding as in 'I remember you alright'. And I just gave him a little wave.
"I was doing the Gary Cahill interview then and I could feel the mobile hopping; stuff like, 'I loved that, magic' and 'only you'd get away with it'. It was pre-planned but it was a bit of  opportunism as well as it took a bit to execute I suppose."