Liveblog
Hello and welcome to today's live blog of Ulster's rescheduled Champions Cup clash against Oyonnax.
Les Kiss has made a number of changes and has included Ruan Pienaar and Paddy Jackson on a strong bench.
With qualification from the group stages already out of reach for Leinster and Munster, the pressure is on Ulster to keep Ireland's representation in the competition alive.
They will be looking for a bonus-point win today in France against a side that have lost all three of their games in the competition to date. It's been a rough year for the French outfit, who currently sit second from bottom in the Top14.
Here's some pre-match reading for you.
The42′s Seán Farrell met with Ulster out-half Ian Humphreys this week, a man who gets a rare start for the province today.
Ulster will be looking to get back to winning ways following the 9-7 home defeat to Munster in the Pro12 last time out.
A bonus-point win would put them within five points of all-conquering Saracens and level on points with Stade Francais as the top-ranked second-placed sides.
Meath man Eamonn Sheridan lines up in the Oyonnax midfield today. At 6ft 4in and 108kg, the former Leinster and London Irish back is no shrinking violet.
He is also a cousin of former Meath inter-county footballer Joe Sheridan, who not so long ago made his debut in the oval-ball game with Athboy.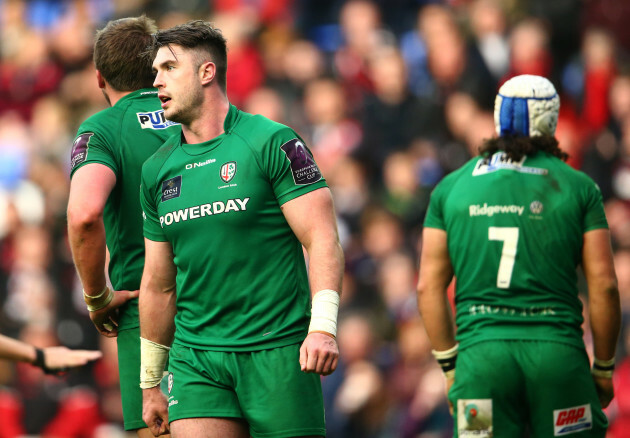 Source: Cathal Noonan/INPHO
This game will be live on Sky Sports 2, coverage starts at 12.45.
This is likely to be a physical battle and conditions are not ideal with heavy rain currently teeming down in the east of France.
It is, of course, an artificial pitch so there will be no major issue with players keeping their footing after so much rain.
We're under way in France.
Ulster's lineout off to a solid start as Oyannax begin the game with decent field position. The French side now with an attacking scrum on the 10-metre line.
Oyonnax are keen to get it out wide early on. Irishman Sheridan has already had a couple of touches but Codjo's poor handling kills the move out wide.
More poor handling from Oyonnax gives Ulster a solid attacking platform but their scrum is taken apart. That's worrying for the Ulstermen.
Oyonnax have turned it over and have a penalty on halfway.
Flag
Textbook forward play from the French side. A kick to the corner is followed by a clean take at the line-out. The maul follows and it's all very well done.
Nicky Robinson adds the extras from out wide with his left boot. Stunning kick.
The try has been awarded to Maurouard, the Oyonnax hooker.
Ulster have settled into this a bit better. A good penalty from Humphreys gets them into the middle of the field. Best finds his man in the set-piece but they fail to make any meaningful progress.
Oyonnax are making yards much easier than the Ulster men. Oyonnax field a kick well before hooker Maurouard makes 30 metres on a break forcing Ulster to eventually concede a penalty on the backfoot.
Robinson makes no mistake from the tee.
Ulster need to get going here, and soon. They have plenty of time to play with but need to get some continuity in their play and start to dominate this.
Winger Sean Arnold makes a good break but his pop pass is ahead of Luke Marshall and the centre knocks it on. A bit better from Ulster, it'll be interesting to see how this scrum goes after the last demolition.
Comfortable scrum from the home side.
Tidy ball to Robinson and he pings it in the corner – that was a bit special.
Ulster not competing physically at the moment. They're conceding yards far too easily. Oyonnax have been moving the ball quickly and well.
McCall looks like he'll need a couple of stitches after a nasty head knock. Callum Black is on for him while gets attention.
This game has settled down a bit – plenty of kicking from both sides.
Arnold is down receiving treatment. And it looks like his afternoon is over.
Ludik is on at full-back and Gilroy shifts to his more familiar home on the wing.
Great turnover from Gunther after McCloskey takes it into contact.
Ulster look vulnerable every time Oyonnax get the ball in their hands. The French side are well deserving of their 10-point lead.
A solid choke tackle gives Ulster a reprieve but they're hanging on a bit here.
At least Kiss has plenty of options on the bench with Jackson, Pienaar and Williams in waiting. It mightn't be too long before we see some, or all, of them at this rate.
McCall is back on after his running repairs.
Ulster's scrum fails them again following the return of McCall and Oyonnax have a penalty about 40 metres out.
Robinson to kick at goal.
Oyonnax 13 Ulster 0
Robinson makes no mistake – it's hard to fault his first-half performance.
Flag
Oyonnax 16 Ulster 0
Another penalty for Oyonnax – their pack have been so dominant today. Reminiscent of Toulon's superiority against Leinster at the Aviva not so long ago.
Robinson to kick from a similar position. And he delivers again, excellent stuff from the Welsman.
Better in attack from Ulster as Best and Paul Marshall make headway. Best's pass to Gilroy is knocked on in contact though and Oyonnax clear their lines.
Ulster are starting to find a bit of rhythm but the passes just aren't sticking. They could really do with a score before the break.
A good kick in behind from Humphreys forces a difficult clearing kick.
An Ulster lineout five metre out – this huge.
Oyonnax 23 Ulster 0
The maul doesn't work so they move it into the hands – the ball squirts lose from Scholes and Tawalo picks it up cleanly and sprints the length of the field to score.
Robinson adds the extras from in front of the posts.
Awful stuff from Ulster – it won't be a quiet dressing room at half-time that's for sure. Surely we'll have changes soon.
Flag
Les Kiss must be regretting his selection already. Jackson, Pienaar and Williams may be good but are they good enough to turn this around in 40 minutes? And will he bring them on at half-time?
This gives you an idea of how important this game is – it's a great chance for Ulster to cement their status as one of the top-ranked second-placed teams. This could be a disastrous result in the overall context of their European campaign.

Ulster could do with more of this man in the second half.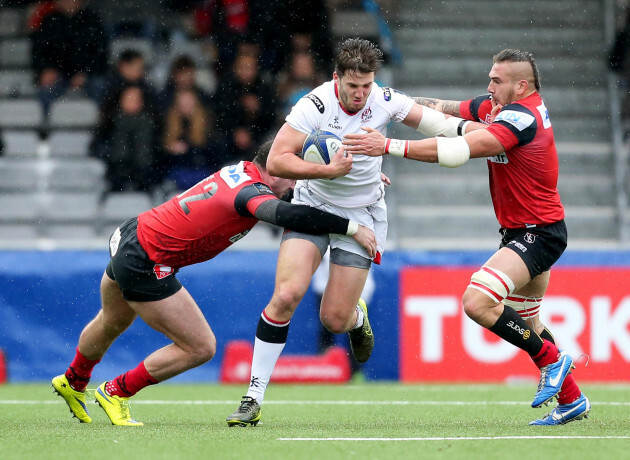 Source: Presseye/Darren Kidd/INPHO
We're back under way in France and Kiss has unloaded the bench.
Jackson, Pienaar and Williams on for Humphreys, Paul Marshall and Stevenson.
TRY ULSTER – Oyonnax 23 Ulster 7
The substitutes make an instant impact. Pienaar has single-handedly raised the tempo. Jackson is controlling the game – what a difference a few players make.
Ulster get just what they needed early on as Scholes makes a great break and finishes excellently after some good work from his South African scrum-half. Jackson adds the extras.
This could be a game to remember yet – hold fire you cynics ;)
Ulster now with an attacking scrum five metres out – game of two halves anyone?
Ulster's hands have still been letting them down a bit but Henry is now getting involved, rather than barrelled over, the halves pairing seems to have lifted the game of everyone around them.
Oyonnax win a penalty at the breakdown, a major reprieve for the home side. That will be a big boost after a difficult spell – they still lead by 16.
Ulster are starting to get a grip on this game now; they've turned this right around. Oyonnax look rattled and are starting to give away penalties.
Ulster go for the corner, a big attacking lineout to come.
But they lose it; that was the one part of the game that was functioning well in the first period.
They still have territorial advantage though and have another attacking lineout, this time on the '22.
While Ulster have been dominant in this second half their hands have still been letting them down. Oyonnax have survived the initial onslaught and still have 16 points to spare.
Flag
TRY – Craig Gilroy (Oyonnax 23 Ulster 14)
WOW – now we have a game.
Pienaar injects some more pace into the game with a quick tap penalty.
Jackson gets on the ball and completes a lovely Sexton-esque wraparound move with McCloskey. The fly-half then finds Ludik who draws the tackle beautifully before shifting it to Gilroy, and the speedster makes no mistake from there.
Jackson adds the extras from the right touchline – that's why he is being tipped by some to take the Irish 10 jersey off Sexton sooner rather than later.
This has been a masterclass of halfback play from Pienaar and Jackson; imagine what they could have done to this Oyonnax side over 80 minutes.
A poor knock-on from Oyonnax gives Ulster an attacking scrum about eight metres out. Still 14 minutes to play – this has been an incredible second half. Edge-of-the-seat stuff.
TRY McCall – Oyonnax 23 Ulster 21
This has been an incredible comeback from Ulster. They now find themselves just two points down with 10 minutes to play.
One try away from a bonus-point win – Jackson, Best and Pienaar key again.
A bloodied McCall is eventually the man to get the ball down. Jackson adds the two. Oyonnax's heads have dropped now – Ulster have done the hard work, can they finish it off?
A Jackson cross-field kick just evades Gilroy.
Oyonnax look like they're desperately clinging on at the moment.
Oyonnax are having their best spell of the second half, and what a time to have it.
Four minutes left, Oyonnax have an attacking penalty but have gone for the corner – strange decision.
Lineout is a success but Ulster defend the maul well and turn it over.
Squeaky bum time now, Ulster's season in the balance – three minutes to complete this great escape.
They secure a penalty on halfway – is it in range?
Paddy Jackson says yes – he's going for the posts.
My stars, what a kick from Jackson from his own half. It sails through the posts. Ulster lead by one but the home side have the ball.
A great turnover from Ulster again. They just need to see this one out now.
Best is back on.
Ulster take too long to play the ball from the back of the scrum and Oyonnax turn it over….scrum for the French side – last play of the game.
Fingernails gone in east France…stay tuned. We're in added time.
Flag
Ulster win the scrum against the head and secure the win. No bonus point but given the circumstances they'll take that and run.
That's all for the live blog, thanks for joining us.
Report and reaction to follow on the42.ie
Contribute to this story: