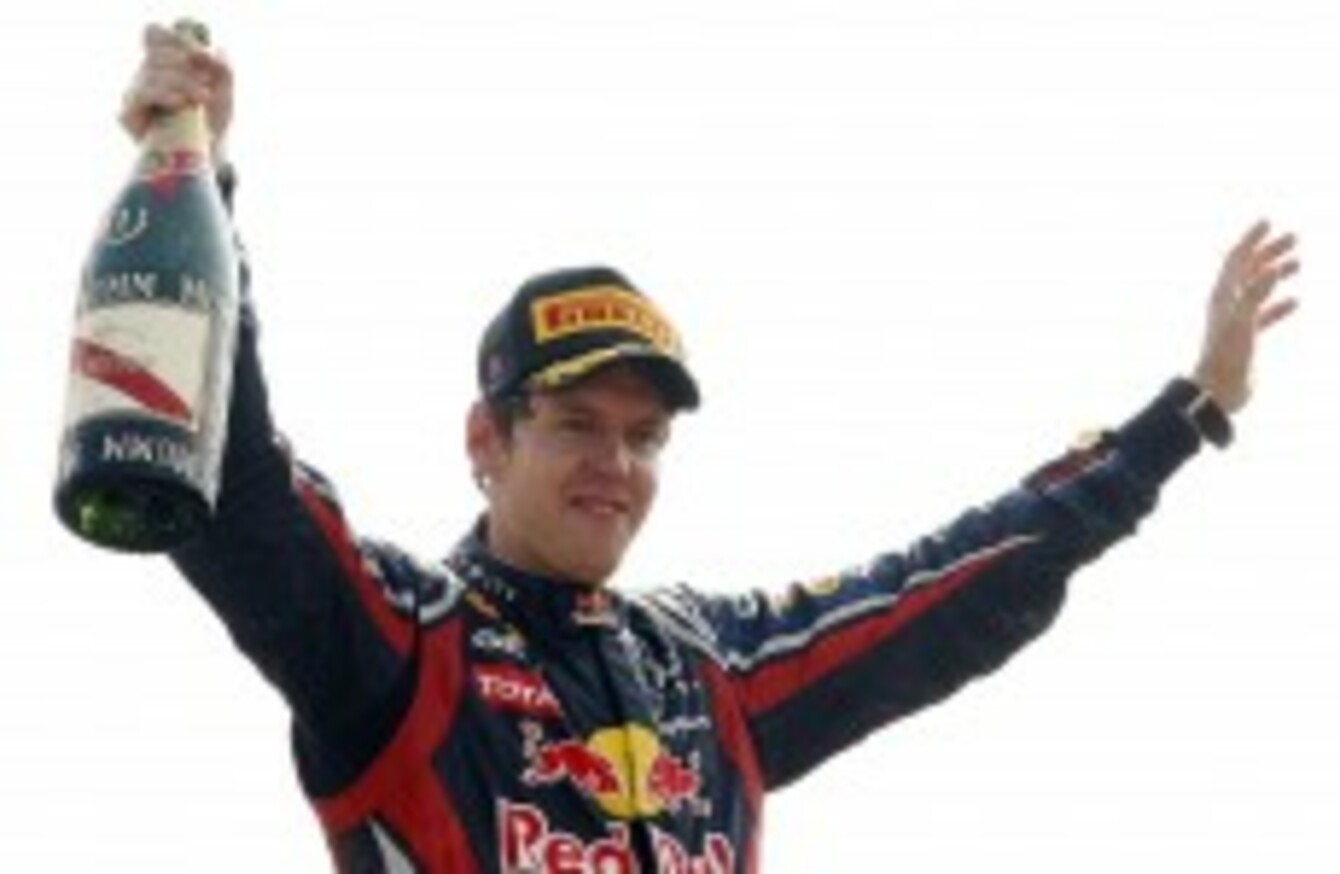 Vettel celebrates in Monza
Image: Antonio Calanni/AP/Press Association Images
Vettel celebrates in Monza
Image: Antonio Calanni/AP/Press Association Images
SEBASTIAN VETTEL'S 2011 form has had the Red Bull racer nicely placed to claim a second successive Drivers' world championship for several months now but it was only on Sunday – following the German's dominant victory in Italy – that his rivals started to publicly concede the title.
Vettel has won eight of the 13 Grand Prix events so far this season and his most recent two victories have come at circuits that his team was expected to struggle (a little) at – Spa and Monza.
What left petrolheads in awe, however, was the manner in which the reigning champion passed home favourite Fernando Alonso to take the lead of the Italian Grand Prix on Sunday.

Writing in his Herald Sun column
, Vettel's team-mate Mark Webber – who crashed out of the race – admitted that there was little the rest of the field could do now to halt the apparently invincible Seb Express.
"He's 112 points ahead with 150 on the board, so a victory in Singapore and some bad luck for his main rivals could even see him crowned at the next race.
"The battle for second place is close, however. There are four of us – me, Fernando, Jenson (Button) and Lewis Hamilton – separated by just 14 points, so it's nip 'n' tuck. None of us is going to give an inch."
Alonso has moved into second in the championship, 112 points adrift of Vettel, and the Spaniard has set himself the task of being best of the rest by the end of the season. Speaking to reporters after the main event, he said:
"Six races to go, so obviously the championship is impossible – not mathematically, but we are no longer in contention so we try to enjoy every race. We try to go for individual victories, also fighting for second place in the championship. I'm second after Mark's retirement so I will try to get second place as I did last year."
Lewis Hamilton, who was fourth, added: "I doubt it's still possible to beat Sebastian for the title, but we'll keep pushing. For now, I'm looking ahead to the flyaway (races) – they're going to be exciting and I'm really focused on getting some more wins for the team."
A podium finish, depending on other results, could be enough to seal the 2011 championship for 24-year-old Vettel but despite listening to his competitors' concession, he insisted that nothing had been confirmed yet.
"If you ask Fernando, Lewis, Jenson or Mark, I think they would like to swap positions so no doubt (I'm in a good position). But it's over when it's over, and not before. Obviously, this year it might be a bit different, but there are still a lot of races to go and we will go into every race trying to optimise our result as we did here."