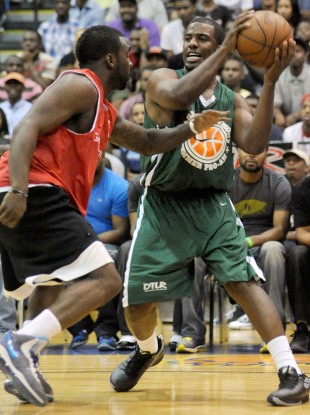 Chris Paul, right, of the New Orleans Hornets, plays against former NBA player Ty Lawson.
Image: Steve Ruark/AP/Press Association Images
FORGET ABOUT ENDING the NBA lockout — let's just watch LeBron, Melo and the boys play challenge games against one another till kingdom come.
Last night, a host of NBA giants put on a show in Baltimore as two of America's most famous pro-am summer leagues came together for a superstar extravaganza.
At one end, Carmelo Anthony, LeBron James and Chris Paul, all playing on behalf of the Baltimore-based Melo League.
Opposite them, representing Washington DC's Goodman League, was the equally formidable trio of Kevin Durant, John Wall and Brandon Jennings.
It was hyped as the biggest game of basketball this summer (we've seen some good ones), and in front of a packed-out crowd of 4000 fans, the NBA's big names didn't disappoint.
In the end, it was the Melo League who took the bragging rights, winning 149-141 — but the score doesn't really matter. Last night was all about individual flair and showmanship.
Check out the highlights.

Video (http://www.youtube.com/watch=haE__2e3kDo&t=)