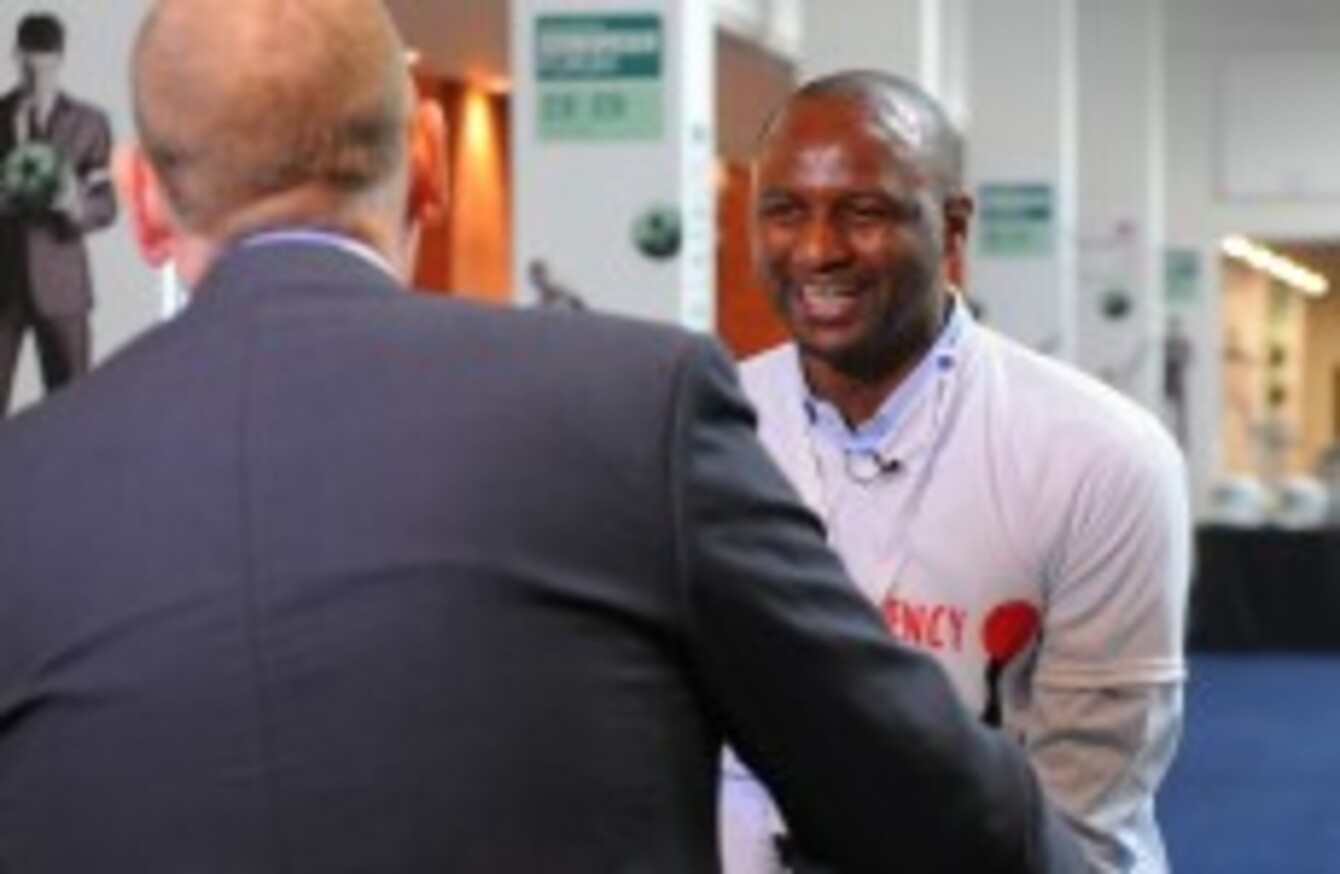 Vieira speaks to Roan yesterday.
Image: Joe Giddens/EMPICS Sport
Vieira speaks to Roan yesterday.
Image: Joe Giddens/EMPICS Sport
MANCHESTER CITY HAVE hit reporter Dan Roan with an immediate ban and claim Patrick Vieira was the victim of a "serious and cynical misrepresentation".
With the Premier League race between City and rivals United hotting up, the two clubs have had a number of exchanges in recent weeks.
Football Development Executive Vieira was reported as saying that the Red Devils were showing "weakness" by bringing midfielder Paul Scholes out of retirement, only for Alex Ferguson to hit back by insisting that the return of Carlos Tevez after a five-month absence was an act of "desperation".
The Frenchman then gave a scheduled interview to BBC reporter Roan at the annual SoccerEx exhibition on Wednesday afternoon but has since expressed his anger and maintains his comments were wrongly interpreted.
His quotes centred around a penalty which Fulham were denied late on in their 1-0 defeat to United on Monday and were reported as suggesting that United receive an extra advantage from referees in their home games.
However, the club issued a statement last night, which begins:
Patrick Vieira has expressed his disappointment and anger at what he feels is a serious and cynical misrepresentation of an interview he gave to the BBC.
"An interview given to the BBC's Dan Roan contained what Patrick feels was a very leading line of questions regarding Manchester United supposedly receiving favourable treatment by referees.  Patrick feels that his views have been deliberately taken out of context."
"I am very angry with Dan Roan," added Vieira. "I feel he has misrepresented me. I made it clear in the interview twice that I wanted to avoid criticising United and even stated that I didn't watch the United game against Fulham and had not seen the incident to which the reporter referred.
"That part of the interview was ignored and my comments were taken completely out of context. I called the reporter twice to ask for a retraction and an apology which has not come. I feel Dan Roan and the BBC have shown a complete lack of respect for me, the 'Football Against Hunger' charity and Manchester City Football Club."
Roan has been banned from the club's facilities and future media activity.
Here is the interview in question:

YouTube credit:
PakiArsenal