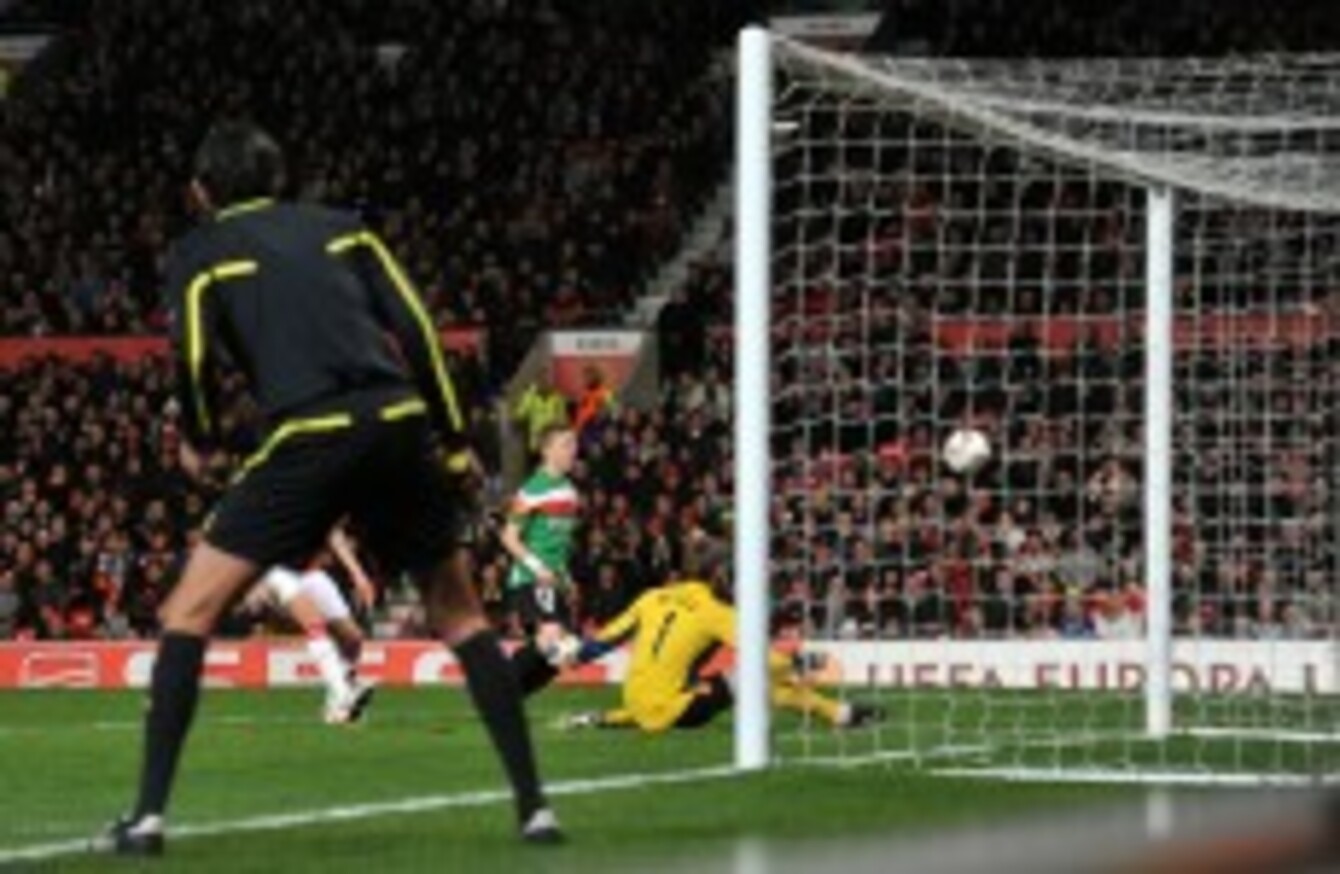 Image: Neal Simpson/EMPICS Sport
Image: Neal Simpson/EMPICS Sport
MANCHESTER UNITED MANAGER, Alex Ferguson, said his team deserved to lose against Athletic Bilbao in the Europa League on Thursday.
United went down 3-2 at home to Spanish side Athletic in the round-of-16 first leg at Old Trafford.
Having led 1-0 through Wayne Rooney's first-half goal, the hosts trailed 3-1 heading toward the final whistle, before an injury-time penalty from Englishman Rooney reduced the deficit for the English Premier League champions.
"We were well beaten, Bilbao were the better team," Ferguson told Channel 5.
"I thought our defending really wasn't very good tonight, that kept us on the back foot all the time."
"Our attacking play was very good at times. It was a really open match, an entertaining match. On the night Bilbao were the better team."
Despite the defeat, Ferguson said he was confident of causing Athletic problems in the second leg at Estadio San Mames next Thursday.
"We can win the game (in Bilbao), I don't think there's any question about that, we showed tonight that we can make chances against them," Ferguson said.

"Obviously we're going to have to defend better, that goes without saying."
"I need to find a way of bringing (Rio) Ferdinand in without disrupting our league programme because Ferdinand's an important figure in terms of experience."
An unusual incident occurred in the build-up to Athletic's third goal.
United defender Patrice Evra lost a boot, prompting the referee to award a free kick in the visitors' favour.
United's players believed their opponents would return possession as a gesture of sportsmanship, but Athletic instead played on, with the subsequent attack resulting in Iker Muniain scoring past David de Gea.
"The third goal, I don't know how to describe it," Ferguson said.
"The issue of him (Evra) not having a boot on, they said you're not allowed to do that."
Victorious manager Marcelo Bielsa paid tribute to both sides in the enthralling contest, while praising his defence for limiting United's opportunities on goal.
"I think it is an indication of how good our opponents were tonight that they didn't need to create that many chances to come away with two goals. We played well and dominated the game," Bielsa said.
Next Thursday
"They didn't get through on goals very often yet they have two goals from the tie. There was a difference in play tonight and in general play we were probably better than Manchester United but it shows how good they are that there is only one goal between the two teams. That is a compliment to our opponents and their quality."
Bielsa was quick to point out their famous Old Trafford victory would stand for little should they not get the correct result at Estadio San Memes.
"I think we must not forget that there is one game still to play and that is the most important thing we need to remember," he said.
"I think that all the positives we have taken from tonight, the success and the great result, will be wasted if we don't take care next Thursday. We have to make sure that we finish the job next week.
"I would like to highlight the fantastic commitment of every player out there and how much they put in and also the fantastic support of the fans, who were magnificent."