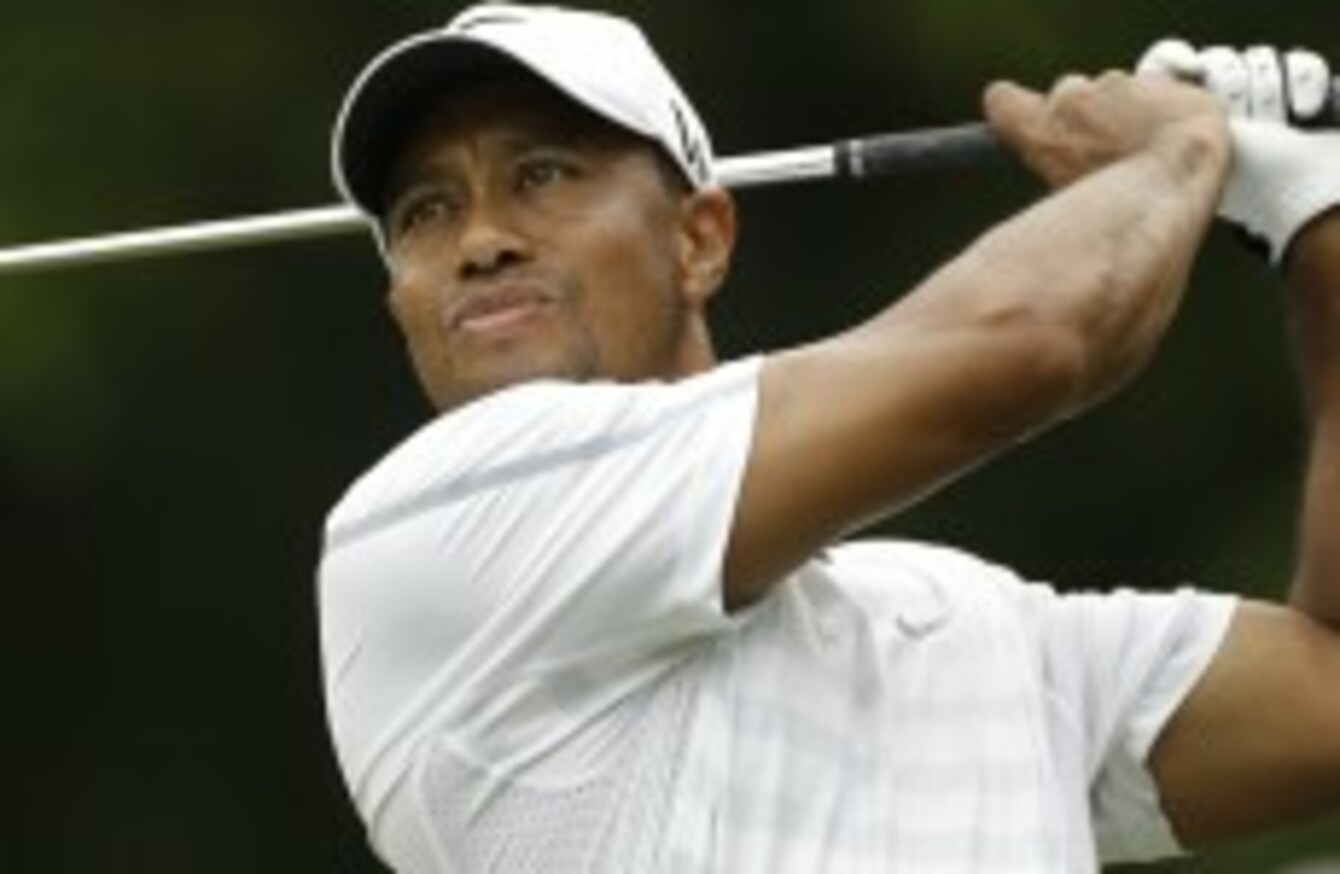 Tiger Woods and Sergio Garcia are battling for the lead at The Players Championship.
Image: Gerald Herbert/AP/Press Association Images
Tiger Woods and Sergio Garcia are battling for the lead at The Players Championship.
Image: Gerald Herbert/AP/Press Association Images
TIGER WOODS WAS surrounded by four rows of fans who stood shoulder-to-shoulder, curious to see how he was going to escape from the trees on the second hole at The Players Championship. Cheers erupted when he pulled out a 5-wood, a risky shot off the pine straw through a 15-foot gap of pines.
Woods said he didn't hear Sergio Garcia hit his shot from the fairway. He didn't see Garcia stare in his direction.
But he heard Garcia on television during a storm delay.
The Spaniard said the burst of cheers disrupted his swing, and he suggested that Woods was the instigator by thinking only of himself.
"Not real surprising that he's complaining about something," Woods said.
"That's fine," Garcia said when told of Woods' comments. "At least I'm true to myself. I know what I'm doing, and he can do whatever he wants."
A storm was brewing Saturday at Sawgrass even before the real storms rolled in and caused a two-hour delay, keeping eight players from finishing their round. And in the midst of the latest chapter in this Woods-Garcia rift, Swedish rookie David Lingmerth quietly went about his business and wound up atop the leaderboard.
Lingmerth finished a wild day with an 8-foot eagle putt on the par-5 16th and a 10-foot birdie on the island-green 17th to reach 12-under par when the third round was suspended because of darkness.
He was two shots ahead of three players who have won The Players Championship — Woods, Garcia and Henrik Stenson.
"I'm aware of where they're at," Lingmerth said. "I try not to look at the leaderboard when I'm out there. I'm just trying to do my thing. But having those guys behind me, I know they're going to try to hunt me down, of course. But I'm just going to try to forget about all that and just try to do my thing."
That starts just after sunrise. Eight players — including the top four — had to return Sunday morning to complete the third round. Woods and Garcia were on the 15th hole.
The best action Saturday was during the rain delay when Garcia was asked about the par-5 second hole.
"Well, obviously Tiger was on the left and it was my shot to hit," Garcia said. "He moved all of the crowd that he needed to move. I waited for that. I wouldn't say that he didn't see that I was ready, but you do have a feel when the other guy is going to hit and right as I was in the top of the backswing, I think he must have pulled like a 5-wood or a 3-wood and obviously everybody started screaming. So that didn't help very much."
Woods said Garcia didn't have his facts straight.
"The marshals, they told me he already hit, so I pulled a club and was getting ready to play my shot," Woods said.
Asked if they talked it over when play resumed, Woods replied, "We didn't do a lot of talking."

Garcia wound up making a bogey on the second hole to lose the one-shot lead he had at the start of the round. Woods pulled off his shot, and then blasted out of the bunker to about 10 feet and made birdie to take the lead.

When storm clouds moved in, Garcia already hit a tough shot onto the green at No. 7, and Woods had to mark his ball in the fairway when the siren sounded to stop play. When they resumed, Wood hit onto the seventh green, and Garcia putted before Woods got there.

They were on the 15th hole when play was stopped because of darkness. Woods gave a brief TV interview, and Garcia came over to shake his hand.

Garcia didn't back away from his TV interview.

"It happens to me when I'm in Spain," he said of the large crowds. "Obviously, it happens to him everywhere he goes. He gets a lot of people following, and I think you have to be very careful because there's another guy playing. Sometimes you have to pay attention to what's going on because if the other guy's hitting and you do something when you're in the crowd, the crowd is going to respond and it's going to affect the other player.

"I think sometimes you have to be a bit more careful."

You can see more on the spat here:



YouTube Credit: ESPN