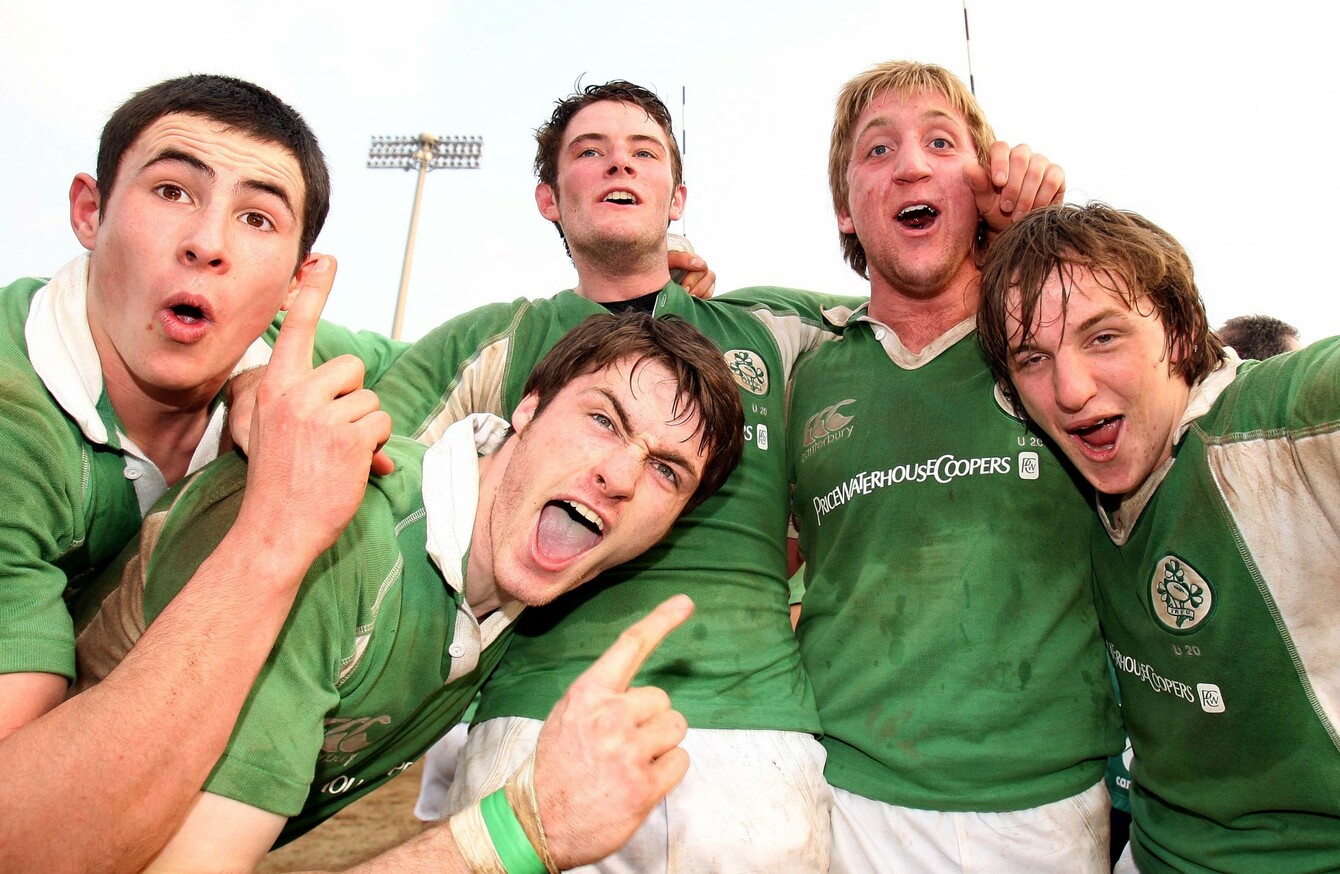 Felix Jones, Shane Monahan, Conor McInerney, Richard Sweeney and Paul O'Donohoe celebrate a Grand Slam.
Image: Dan Sheridan/INPHO
Felix Jones, Shane Monahan, Conor McInerney, Richard Sweeney and Paul O'Donohoe celebrate a Grand Slam.
Image: Dan Sheridan/INPHO
GRAND SLAMS ARE a rare commodity for Irish teams, whatever the grade.
At under 20 level, the feat has been done four times in nine years. England rolled their way to clean sweeps in '08 and '11. 2014 was France's year, but in 2007 Eric Elwood took a special crop of talent together and watched them grow into champions.
"We didn't have a full appreciation of it at the time," says Felix Jones who was the team's ever-present fullback.
The former Munster captain was able to pick lines off the likes of Keith Earls, Darren Cave and Shane Monahan in an enormously exciting back-line that wouldn't have looked much out of place in a senior Test setting.
It could have been even better, but the 19-year-old Luke Fitzgerald was withdrawn from the squad after picking up an injury in his 13th outing for Leinster that season.
Back then, they were all in the same boat. Fitzgerald had already made it, but those who did tog out in green that year needed every minute they could get to prove themselves.
"None of us who were in the group had turned professional. Most of us were hoping to have a good campaign so we could get an academy contract out of it.
"A lot of the guys now are already in the academy or sub-academy. We probably didn't fully appreciate what was going on until afterwards. When you're in it you don't know if you've got special guys around you, but obviously looking back now – Earlsy, Seanie, Healy – a huge number of us who turned professional and a good few who followed up with some international caps."
Cian Healy was the rock upon which Elwood built his pack. He had Sean O'Brien at his disposal for two games and Tommy O'Donnell as his replacement, with Ulster duo TJ Anderson and the captain David Pollock ever-present in the back row.
Healy would pack down with Jamie Hagan as his tighthead and Andrew Browne as lock with St Mary's men Conor McInerney and Richard Sweeney completing a mean pack.
They were a swashbuckling sort of outfit too. From the off they showed a habit of grabbing victory from the jaws of defeat as Jones' two tries helped secure 15 – 17 comeback win over Rhys Priestland's Wales.
France had Guilhem Guirado, Yoann Huget and Louis Picamoles, but were kicked away by Keatley.
England matched up Ireland's powerful front row with Dan Cole and Matt Mullan, but never reeled Ireland back after a Monahan try in Athlone.
Elwood's young guns began to cut loose in the final two rounds with Darren Cave and Keith Earls on the score-sheet against Scotland. And, despite being 20 – 7 down to Italy at one point, the Wolfpuppies roared back to complete a brilliant quintet of wins with Healy, O'Donohoe, Keatley, Cave and Jones scoring the tries that delivered a 25 – 36 win and a Grand Slam.
"It's a great launching pad. That Wales game was a massive opportunity for me and for all the other guys. It's the same for these guys now, it's a massive opportunity for them to announce themselves and throw themselves into professional careers."
This year's crop will do well to turn out as special as the squad who turned out seven internationals led by Jones. Far from the soft surface of Athlone's Dubarry Park, the 2015 vintage with the likes of John Poland, Johnny McPhillips, Jack Power and Jacob Stockdale will have the benefit of a fast track in Donnybrook when they play their Friday night home fixtures. The perfect setting to show off their hard efforts behind closed doors and gates in the provincial academies.
"These guys now are tremendous athletes and that is a tribute to the schools, the clubs and the academies. The level of strength and conditioning and the training they are getting now with the way sports science is means guys are coming out in great condition at these young ages.
"Combine that then with the fact that they are on a pitch with another 29 guys of a similar level and at an intensity that they will have never played before at and it is great to watch.
"It's a great barometer for them. It is a close level to what professional level is like. The U2os, in terms of intensity, is probably stronger than some Pro12 fixtures that have happened. So it is a high standard."
"For sure a significant number of those guys will go on and have professional careers and some of them hopefully will progress to the senior side."
Winning Championships at this level isn't everything, but it's a hell of a place to start.