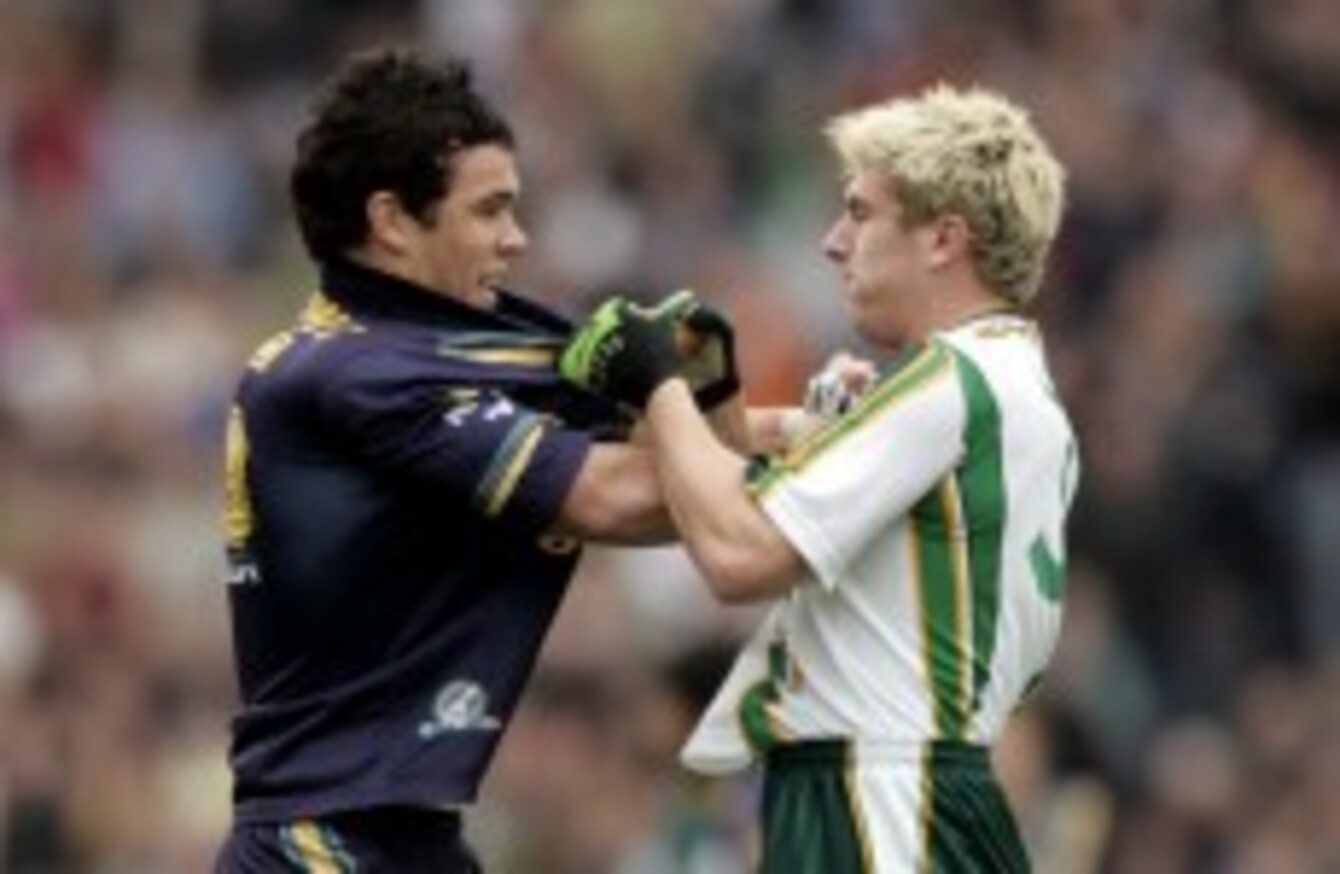 "Pretty crazy": Begley tussles with Australia's Ryan Crowley during the 2006 second test.
Image: INPHO/Donall Farmer
"Pretty crazy": Begley tussles with Australia's Ryan Crowley during the 2006 second test.
Image: INPHO/Donall Farmer
"If you wanna box, say you wanna box and we'll box. If you wanna play football, say you wanna play football and we'll play football."
LATE AFTERNOON ON 5 November 2006, Kieran McGeeney stands in the realms of Croke Park — not one bit happy with how the previous two hours has turned out. McGeeney is known for his hatred of losing, but it wasn't just the 38-point defeat that had gotten under his skin.
A week earlier Ireland had upset the Australians in Salthill in the first test. Among the scorers that day was 20-year-old Laois man Colm Begley, coming back to Ireland after a season where his own Australian Rules dream had got up and running.
"I think I had two senior games that year for Brisbane. It was a massive help for me, I was only about 19 or 20, to have that experience over there. Especially when coming back (to Ireland) and playing with all these players you looked up to when you'd been playing GAA the four or five years before that."
The first test was unique – the first time an international rules series game had been played under lights. In dire weather Ireland won a low-scoring affair 48-40. The main talking point from the test was the citing of Graham Geraghty for a knee to the head of Australia's Lindsay Gilbee. Unfortunately it wasn't going to be the only time Geraghty was the centre of attention during the series.
"We actually played really well that day. There was a few scuffles here and there and conditions were poor with the wind, but it was just a fast-paced, hard-hitting match – nothing too much involved.
"For me I'd played games before under lights so I was used to it. A lot of games we had would have been under lights in the Gabba and the MCG but it would have affected some players. I know lads found it different when the lights came into play, reading the flight of the ball."
With a first test win secured and the prospect of a sell-out in Croke Park a week later, the country started to embrace the concept of two sports giving and taking to create a competitive compromise. 2006 was the pinnacle of popularity for the series – with the Irish winning on home soil two years prior and the Australians reversing that and then some the next year, this series was billed as the decider.
The 2nd test crowd of over 82,000 was 21,000 more that had been at the same fixture two years before. This wasn't an end of season exhibition any more; it was the real thing.
INPHO
The week leading up to the game only added to the hype. Carlton's Brendan Fevola was sent home for an assault on an Irish barman – and words between the two camps were being openly exchanged.
"There were a few things mentioned in the papers and a few words from Aussie boys, saying that they were going to bring the physicality to the game and that they were going to beat the Irish down with that.
"We were trying to focus on our game and our performance. That was really re-enforced. If something happened we were all on board to jump in and support each other, but the thing is back then if you got sent off there was no repercussions.
There was a no holds barred feel going into the game so they could force the physicality on us.
The expectation that something might kick off wasn't far wide of the mark. The real surprise was how soon the niggling began.
"We all lined out on the pitch, then the first fight started, there was lads grabbing each other and it was just happening everywhere. I think it was (Ryan) Crowley from Freemantle who I was on and straight away we were shouldering and grabbing, throwing a few punches and stuff like that."

YouTube Credit: smili72
Begley looked around and saw the amount of chaos before a ball had even been kicked. "There were about four or five things going on. The crowd was loving it to be honest, I remember them roaring and shouting.
"It was a good atmosphere but it was pretty crazy. I looked up and saw McGeeney and Barry Hall in a good scuffle — Barry Hall would have been a big player but McGeeney wasn't holding back , he gave him plenty of it."
When professional athletes try to bully and intimidate amateurs, you'd expect only one outcome. But Irish squads are picked with this in mind, and Sean Boylan's team weren't ready to be pushed around.
INPHO
"A lot of players were well able to give it back to them – you look at the likes of McGeeney and Sean Marty Lockhart, they were as tough and as strong, if not stronger then the Aussie lads. The scrapping and stuff like that wouldn't be in the gaelic football game, but some players react well to it, some players don't.
The Irish players probably weren't expecting what happened, but I don't think anyone turned away from it. It developed the game. Obviously some people say it was madness and stuff like that but when you're involved it really got the atmosphere going, it gives you a bit of a lift in the game.
"Whether we got too caught up in it, maybe we did."
At one stage in the first half Aidan O'Mahony caught an Aussie in the head. He continued to stride forward through impact and was met by three Australians looking for afters. That was how the game was going to be played.
But the series will be remembered for a first-half tackle by Australian Danyle Pearce on Graham Geraghty, knocking the Meath man out cold, something that really angered manager and fellow countyman Boylan.
INPHO
[Boylan] was pretty disgusted about it. He'd be a very kind, gentle man, all about the game and the sport. He was never encouraging dirty play or anything like that.
"The way the game went he thought it was disgraceful, and the tackle on Geraghty was obviously pretty extreme too, especially with the conclusion of it and him being taken off in a bad way.

YouTube Credit: bobby292
"We were always trying to focus on playing the match and our game – making sure we weren't getting involved in other stuff. He said we'd back each other up if needed, but let's focus on trying to beat them on the field.
"One of the changing goals they got in the game, there were two fights going on and they played on with the ball and scored a goal. That was something we didn't want to happen but it happened."
INPHO
Australia went on to win the test 69-31 and the series 109-79. It was to be the last of its kind.
After McGeeney's 'boxing' interview, Boylan came out fuming, describing the game as thuggery. The result: a code of conduct for future tests and falling popularity and crowd numbers.
Teams are picking more running-based players now, not so many big power-based lads. I think they might have taken too much of the physicality out of it. I think they got a bit worried that it might have gotten worse, stuff like the shepherding, the bumping.
"I enjoyed it in AFL, I thought it was good and if it was controlled properly by the umpires, it'd be no problem."
But once the game ends there are no hard feelings, and the teams often socialise with each other afterwards. Back in Australia Begley took all necessary stick, even getting a chance to joke with big bad Barry Hall about a couple of rows.
"He gave me a few good thumps off the ball in the second test and a few months later I was in Sydney with Tadhg Kennelly and Barry was out with us and he had a good laugh at the few thumps he gave me.
"What happens on the field stays on the field."