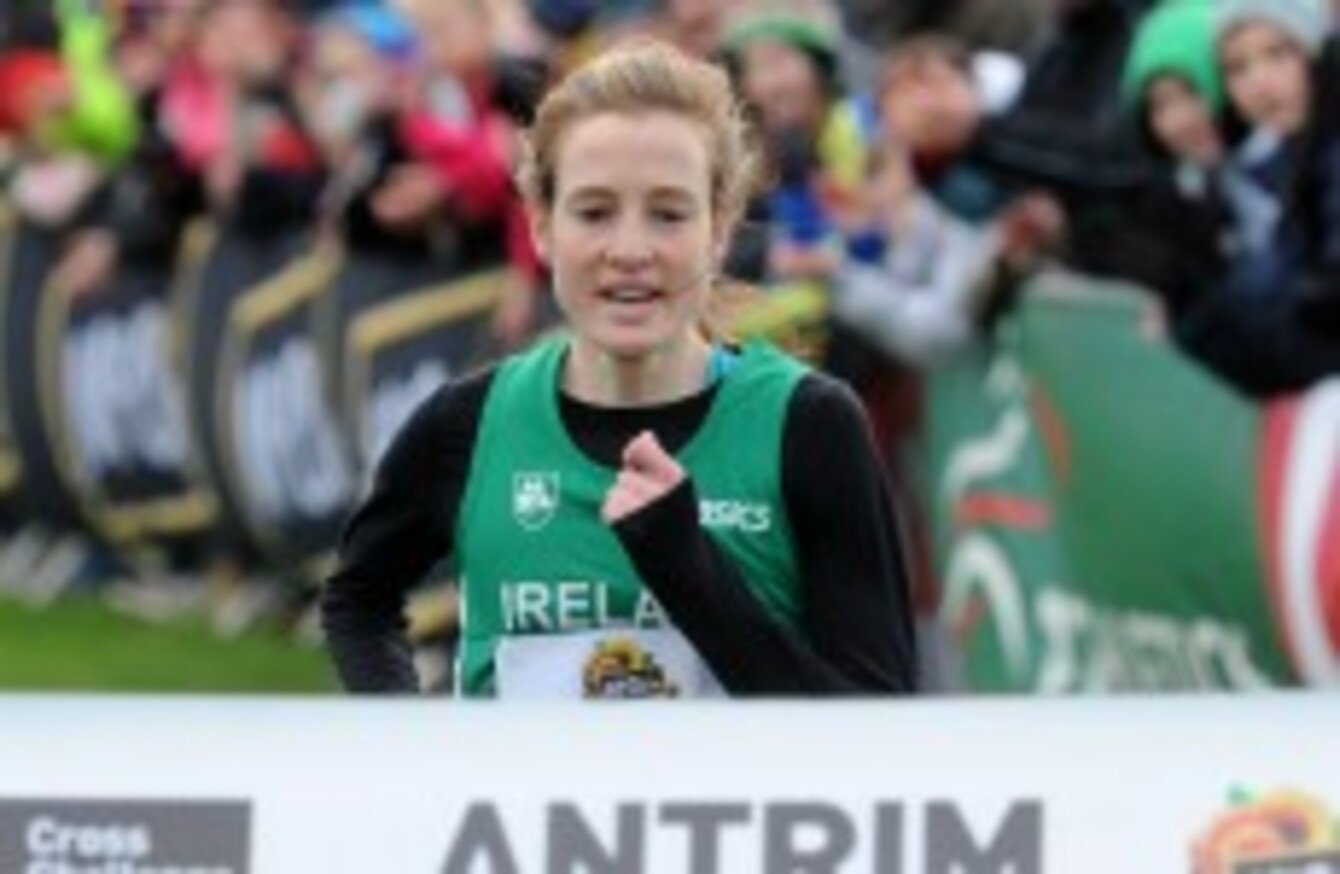 Fionnuala Britton winning the Antrim IAAF Cross Country in January.
Image: ©INPHO/Presseye/Declan Roughan
Fionnuala Britton winning the Antrim IAAF Cross Country in January.
Image: ©INPHO/Presseye/Declan Roughan
IF FIONNUALA BRITTON could have kept her win at December's European Cross Country Championships a secret, save for telling her family and a few close friends, you get the sense that she might have tried.
Which is unusual, because it was a race she desperately wanted to win after missing out on the medals by a hair's breadth 12 months earlier.
In the media blizzard which followed her success in Slovenia, Britton frequently told the story of how she was spurred on during her last lap by a shout from her sister Una, who reminded her that she wanted it more than her opponents.
She did. But the 27-year-old from Kilcoole, County Wicklow has never been in this for the glory.
Five months out from the London Olympics, there's no shortage of athletes with childhood tales of how they fashioned a makeshift podium out of an upturned biscuit tin and a medal out of tinfoil. The words "Olympic dream" are by no means disingenuous, but they are well-worn.
Britton never had that dream as a child. She runs because she loves to run; because she wants to keep proving herself to herself, not to anybody else.
And, one suspects, because she's damn good.
Britton laughs when asked if she ever saw herself as an Olympian when she was younger.
"I never really thought about it. I started running because it was a local club, and I joined the club and I loved running and I kept doing it. But even at that age I didn't realise about All-Irelands, never mind Olympics.
"Obviously when you get to that point where you can qualify for the Olympics, that's what I really wanted to do.
"It wasn't something that I thought of when I was six or seven; that I watched it on telly and decided 'Ooh, that's what I want to do.'"
Britton is greeted by John O'Toole, vice-chairman of Kilcoole AC, on her return home from the European Cross Country Championships. (©INPHO/Morgan Treacy)
Spotlight
Now, it's something that she has already done. Coming off the back of a strong performance in the 2007 World Championships, Britton ran in the 3,000m steeplechase at the Beijing Games, where she failed to qualify from her heats.
The fact that she already has Olympic experience and an extensive cross-country CV — the fact that she even existed before last December — is sometimes forgotten. Britton admits that the way in which her career has changed since winning European gold is all a bit of puzzle.
"I just think it's really weird. You're doing what you always did and then suddenly you win a race and then people are interested in it. It's not really any different in what you're doing.
Exclusive NZ - IRE
Rugby Analysis
Get Murray Kinsella's match analysis and Garry Doyle's updates from New Zealand exclusive to members
Become a Member
Part of the problem, she adds, comes with competing in a sport that falls outside Ireland's holy trinity of GAA, soccer and rugby. If you're a female athlete, it's that little bit harder again.
I think the biggest thing is that all the sports aren't looked at in the same light. The soccer team, I know it's great that they qualified for Europeans and I know that it's a really big deal — but it's Europeans.

In minority sports, unless you do something really big, you're not looked at. And then if you do something, you're expected to do something [again]. The expectations and the coverage aren't the same.

It's the same with women's sport. It's not big until you do something really big, and then you're expected to keep doing it like poor Katie Taylor.
Targets
That cycle, in which athletes drift out of public consciousness for large swathes of the sporting year, brings pressures of its own. Once you're in the spotlight, you have to fight to stay there. But that's nothing compared to the high bar Britton sets for herself.
"I think the biggest pressure really is what you put on yourself, because you're the person that knows what you can do and what you want to do.
"People say you just go and do your best, and it is about doing your best, but you know sometimes that maybe your best isn't what you thought it was going to be. That's where the pressure comes from — within, more than from the outside."
Although Britton has already qualified for the 3,000m steeplechase, she's still trying to hit the Olympic "A" standard times for the 5,000m and 10,000m as well. This month, she's in Albuquerque, New Mexico for altitude training.
Working alongside coach Chris Jones, she's confident that her prep plans are spot on and waves off any suggestion that she might be trying to do too much.
"It's an endurance event. What will benefit me for the 10k, if I do the 5k, it'll be the same. It's not like going into a different sport and then trying to do them all at same time.
"In the 5k, I'm close to it [the "A" standard], so hopefully I'll be able to do that, but the 10k I've never done before, so it's kind of a case of do it and see what happens."