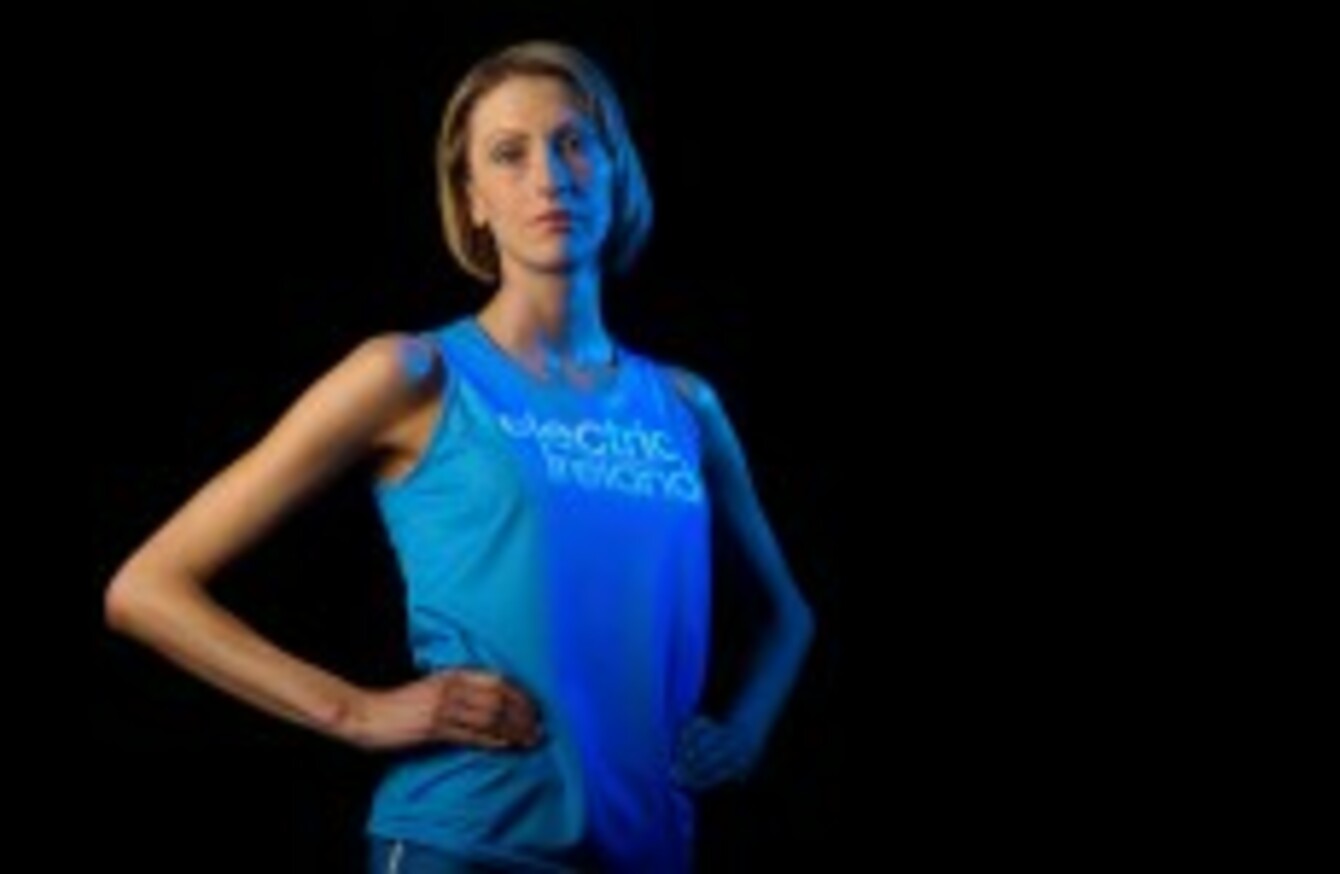 Deirdre Ryan, speaking at an Electric Ireland Olympic event.
Image: Brendan Moran / Sportsfile
Deirdre Ryan, speaking at an Electric Ireland Olympic event.
Image: Brendan Moran / Sportsfile
DEIRDRE RYAN IS no stranger to injuries, but with the season-opener of an Olympic year just around the corner, she knows that now is no time to fall back into bad habits.
On 19 May Ireland's top high jumper will be in Shanghai for the Diamond League meet, quietly starting her Olympic season while the rest of the sporting world is fixated on the Heineken Cup and Champions League finals.
A week may be a long time in politics but 11 weeks is nothing in the quadrennial cycle of an Olympic hopeful. Without doubt, those months will be the most exhilarating of Ryan's athletic career — provided, of course, that she can stay fit.
The Dubliner's illustrious injury CV has the lot, from the minor to the severe to the downright untimely. There was the stress fracture in her leg which ended the 2003 season and, ultimately, any faint hopes she harboured of a place at the Athens Olympics in 2004.
Four years later, illness blighted her attempts to qualify for the Beijing Games; she kicked off the 2011 season by tearing ligaments in both feet; and then, in this of all years, she sprained her ankle in January.
"In the world of Deirdre's injuries, I'm putting this down as a one on a scale of one to 10," Ryan tells TheScore.ie. "I constantly have something wrong with me, so I didn't even consider this one when I missed three weeks."
Three weeks out of action was enough to remind her of the need to tread carefully this year. Ryan turns 30 in June and will be 34 by Rio 2016. There's no telling yet if this will be her last Olympics but minimizing the risks that could ruin the adventure is a priority nonetheless.
Whether it's bad luck or me being pure stubborn and training through things, I don't know. There's always an element of it, you're pushing yourself all the time to the limits so I have had quite a few injuries from stress fractures to ankle sprains. This year I seem to have had a good run at it so I can't complain. It makes a massive difference.

I'm doing a lot more prehab and rehab and things like that than in recent years. Rather than me not being stubborn, I suppose it's more of an educational thing. You learn new ways to keep yourself fit, talk to good physios, osteopaths and learn how to keep yourself and your body fit.
Money talks
Ryan was one of the first Irish athletes to clinch her place in London, jumping a personal best of 1.95m to come sixth at last year's World Championships in Daegu, South Korea. It was the biggest jump of her career in more ways than one, guaranteeing her a "world class" level grant of €20,000 from the Irish Sports Council and putting her in the shop window for potential sponsors, including London City Airport who agreed a partnership in February.
Those finances have helped her to concentrate full-time on the sport in Leverkusen, Germany, her home for the last three years where she continues to train under the respected Gerd Osenberg.
"It's probably enabled me to get more recovery between my training sessions," Ryan says, but the mental benefits of turning full-time are every bit as important.
It's nice for your mind just to relax and chill out and not have deadlines, just really enjoy the year. Before I used to have to save work days and holidays for competitions and then never really have down time. I can go on holidays this year for the first time. It's nice like that.

I'm studying a bit as well which is good for the head. Sometimes when you're completely full-time, you've no other interests and I think it's really important for athletes to have other interests. If you don't have any other interests and you have a bad training session or you're injured, you can really go to the dark place.
What pressure?
Surrounded by a close group of friends in Germany, Ryan is mentally ready for for the thrills and spills of the coming months. Last weekend, she ticked off one of her final bits of pre-season work, jumping 1.70m to win the Irish University Championships for DCU.
The Olympic Stadium is a long way from the relatively placid grounds of Athlone IT, or the fields of Marlay Park where she ran as a teenager, but excitement rather than fear or worry is the dominant emotion at the moment.
"To take part in the Olympics was what I always dreamed of. There's just that extra something — I don't know if it's because it's multi-sport, or because there's such a history to it. It's such a real privilege to compete for my country in it. It will definitely be the high-point [of my career].
"There is of course pressure, but there's enjoyment as well. At this stage now, it's your own pressure. You do it for yourself, you do it for your coach and all the people that have put the time in over the years — you want to do well for them. The external pressure is how you perceive it; it's more than you want to do well because you want to do well.
I'm just going to focus on myself and not really worry about what everyone else is jumping. I don't really know what they will be jumping. It'll be 1.95m to get into the Olympic final, so I'll have to equal my PB. That's the first step.