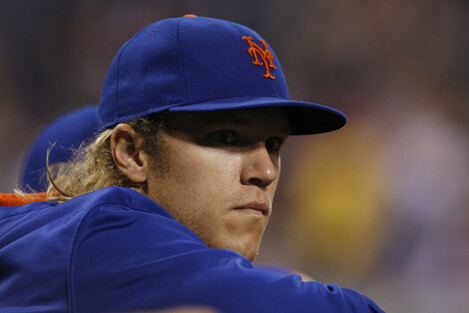 Noah Syndergaard Source: AP/Press Association Images
NEW YORK METS pitcher Noah Syndergaard set the tone last night with his opening throw and his decision to challenge Kansas City batters paid off in a World Series victory.
"I feel like it really made a statement to start the game off, that you guys can't dig in and get too aggressive because I'll come in there," said Syndergaard, the long-haired right-hander nicknamed "Thor", who put the hammer down with a first pitch at head level to Royals lead-off man Alicides Escobar.
"I certainly wasn't trying to hit the guy, that's for sure. I just didn't want him getting too comfortable," Syndergaard said. "If they have a problem with me throwing inside, then they can meet me 60 feet, six inches away. I've got no problem with that.
"My intent on that pitch was to make them uncomfortable, and I feel like I did just that."
Syndergaard's efforts helped propel the Mets to a 9-3 victory that pulled New York within 2-1 in the best-of-seven Major League Baseball final.
Escobar and his teammates said Syndergaard seemed to be looking for trouble in nearly hitting a batter to open the contest, but Syndergaard said it was important to set a tone.
"For I think every post-season game that Escobar has played in, he has swung at the first-pitch fastball and I didn't think he would want to swing at that one," Syndergaard said.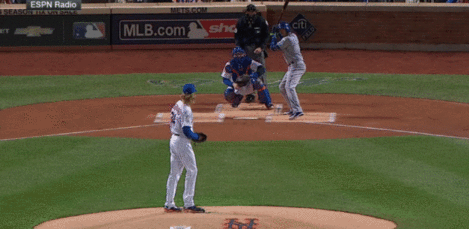 Syndergaard pitched 104 times over six innings and allowed three runs on seven hits, although he surrendered only one hit past the second inning, retiring 12 Royals in a row at one stage.
"The hits I gave up, they were just up in the zone. They were able to put a good piece of wood on it," Syndergaard said. "After that second inning I was able to go inside the clubhouse and talk with Dan [Warthen, the Mets' pitching coach] for a little bit and make some mechanical issues to work down in the zone."
Be part
of the team
Access exclusive podcasts, interviews and analysis with a monthly or annual membership.
Become a Member
It worked until the sixth when the Royals loaded the bases on a single and two walks, putting the tying run on first base. Mets manager Terry Collins kept him in the game and he induced a ground out to end the threat.
"It brings me joy that he decided to leave me in there, and has that much confidence in me to get that final out," Syndergaard said. "And it was a huge situation.
"I wasn't thinking about the whole game being on the line when I was out there in that sixth inning. I knew it was a key moment in the game. But I was able to just locate two good sliders on the outside corner and induce a ground ball and get out of that inning."
Mets captain David Wright said the struggle made Syndergaard's start better than some of his more apparently dominant outings.
"It's more impressive what he did tonight than what he's been doing all postseason, because he's been cruising," Wright said. "He got into some trouble tonight and that's where you see what these starting pitchers are made of. To be able to make it through six, he didn't have his best stuff, didn't have his best command, but that's when you find out what a pitcher has got."
What he might have is a chance to pitch again. The 23-year-old is the Mets' scheduled game-seven starter in Kansas City if the Series goes the distance.