THE FOLLOWING IS a quick look at five fights that defined the career of boxing legend Muhammad Ali, who died on Friday at age 74:
Ali-Liston 1
The challenger, then known as Cassius Clay, throws a straight left to the face of Charles Sonny Liston in third round of their heavyweight championship fight. Source: AP
Ali was 22 and still known as Cassius Clay when he took on heavyweight world champion Sonny Liston for the first time on 25 February, 1964 in Miami Beach, Florida.
The brash, fast-talking challenger taunted Liston unceasingly in the build-up to the bout, but few expected him to win.
Clay came out strong, using speed and footwork to his advantage against the slower Liston. After the sixth round, Liston, who was suffering from cuts and bruises under his eyes and an apparent injured shoulder, announced he couldn't continue. Clay won the match by technical knockout and then proclaimed to the world: "I am the greatest!"
Ali-Liston 2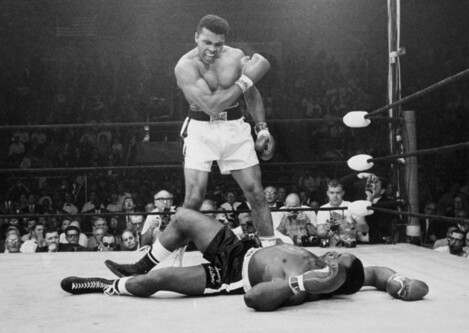 In this May 25, 1965, file photo, heavyweight champion Muhammad Ali, then known as Cassius Clay, stands over challenger Sonny Liston. Source: JOHN ROONEY
On 25 May, 1965, Ali met Liston in a rematch in Lewiston, Maine. Ali's first-round knockout victory remains one of the most controversial results in boxing history.
Midway through the first round, Liston threw a left jab and Ali went over it with a fast right, knocking the former champion down.
Liston went down on his back, rolled over and got to one knee, then fell back again. Many in attendance didn't see the decisive blow — dubbed by critics the "phantom punch" but called the "anchor punch" by Ali.
The scene was chaotic, with referee Jersey Joe Walcott struggling to get Ali to a neutral corner and some confusion over the count.
Liston said he was hit by a "good, right-hand punch" but said he could have continued had he heard the count clearly.
Ali-Frazier 1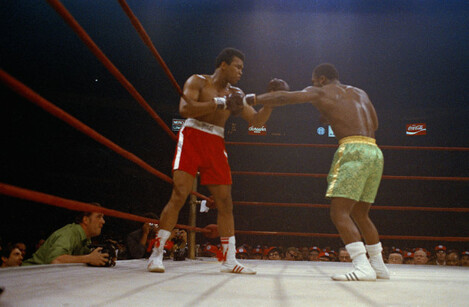 Muhammad Ali, red trunks, and Joe Frazier, green trunks, are shown during round 7 of their bout in New York's Madison Square Garden. Source: AP/Press Association Images
The original "Fight of the Century" at Madison Square Garden took place on 8 March, 1971. The $2.5 million payday for each fighter was the largest for any entertainer or athlete at that time, and 50 countries purchased rights to the telecast.
The fight more than lived up to the hype, with Ali dominating the first three rounds with punishing jabs that marked Frazier's face.
Frazier began to take control in the fourth with a spate of left hooks and body blows. In the 11th Frazier caught Ali, backed into a corner, with a crushing left hook that almost floored him.
Ali survived and fought well over the next three rounds. Early in the 15th, Frazier put Ali down with another left hook. Ali, his jaw swollen, rose quickly and stayed on his feet amid a hail of blows, but Frazier retained the title with a unanimous decision, handing Ali his first professional defeat.
Be part
of the team
Access exclusive podcasts, interviews and analysis with a monthly or annual membership.
Become a Member
Rumble in the Jungle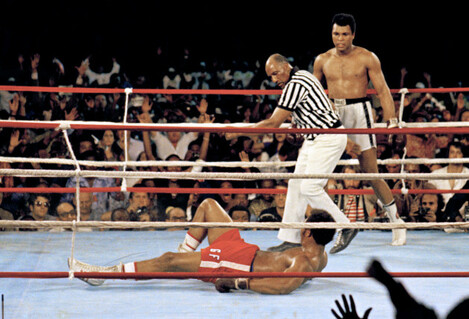 Muhammad Ali, right, as he stands back as referee Zack Clayton calls the count over opponent George Foreman, red shorts, in Kinshasa, Zaire. Ali won the fight in Africa by a knock out in the 8th round. Source: AP/Press Association Images
Ali became the second fighter ever, after Floyd Patterson, to regain the heavyweight world title when he knocked out George Foreman in the eighth round in Kinshasa, Zaire, on 30 October, 1974.
Ali came out dancing, and Foreman, feared for his punching power and sheer physical presence, went right at him. Early in the second round, Ali went to the ropes and covered up, letting Foreman swing away — later dubbing the strategy the "rope a dope".
Foreman spent his energy throwing punches in the sweltering heat, egged on by taunts from Ali. Ali staggered Foreman with a combination early in the fourth and again late in the fifth — when the champion was clearly weary.
In the eighth, Ali landed a final combination, a left hook that pulled Foreman's head up so Ali could nail him with a hard right that sent Foreman staggering back and down. He couldn't rise before the count and the fight was over.
Thrilla in Manila
Muhammad Ali connects with a right to challenger Joe Frazier in the ninth round of their title fight in Manila, Philippines. It was, Muhammad Ali would later say, the closest thing to death he had ever known. He and Joe Frazier had gone 14 brutal rounds in stifling heat off a Philippines morning before Frazier's trainer Eddie Futch mercifully signaled things to an end, his fighter blind and battered and feeling pretty close to death himself. Source: AP/Press Association Images
Ali was in a lighthearted mood in the build-up to the third installment of his rivalry with Frazier, who was thought to be washed up after a devastating loss to Foreman.
But Ali's taunting of Frazier as a "ugly, dumb gorilla" and "White Man's Champion" infuriated Frazier, who trained with grim intensity for the 1 October, 1975 fight.
When Ali came out fast with a flurry of combinations, Frazier pushed forward through the punishment and as Ali tired, Frazier stepped his attack with damaging left hooks.
Frazier dominated the middle rounds, but began to tire in the 10th and Ali started to turn the tide.
In the 11th, Ali connected with a series of speedy combinations that left Frazier's eyes all but swollen shut. Frazier's trainer Eddie Futch stopped the fight between the 14th and 15th rounds, over the objections of Frazier, who was hailed by Ali as "the greatest fighter in the world — next to me."
The42 is on Snapchat! Tap the button below on your phone to add!