All-in-One Breakfast
THIS IS A great sharing breakfast that I picked up in Australia. The Aussies love a good brunch and I tried something similar to this in a café in Canberra. I'm a big fan of chorizo, so I have used it here instead of bacon and I've added kidney beans. With loads of flavour from the balsamic vinegar and Worcestershire sauce, it's a great dish to kick-start your weekend.
Ingredients
100g chorizo, diced
1 x 400g tin of chopped tomatoes
1 green pepper, chopped
1 tbsp Worcestershire sauce
1 tbsp balsamic vinegar
salt and pepper
1 x 400g tin of red kidney beans, drained and rinsed
4 medium eggs
serves 4
Preheat the grill.
Heat a large frying pan over a medium heat and add the diced chorizo. Cook for two minutes, until it has started to release its oil, then add the chopped tomatoes, green pepper, Worcestershire sauce and balsamic vinegar and season with salt and pepper.
Turn up the heat and leave for four minutes to let it reduce, stirring occasionally. Add the drained kidney beans and mix well.
Make four wells in the mixture and crack one egg into each well. Leave for another couple of minutes, until the bottom of the eggs turn white. Transfer to the grill and cook for another couple of minutes, until the eggs are cooked through.
Bring the pan straight to the table and let everyone help themselves.
Protein Balls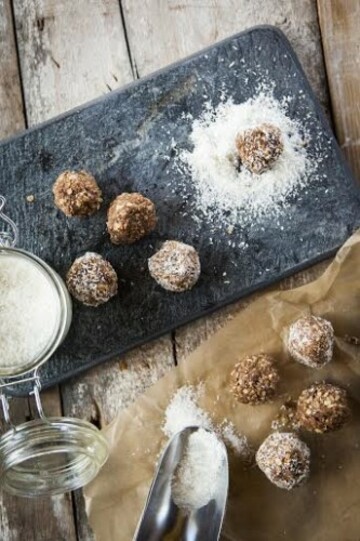 Ingredients
50g porridge oats
30g shredded desiccated coconut, plus extra for coating
10g chocolate or vanilla-flavoured whey protein
4 tbsp good-quality low-sugar peanut butter
2 tbsp honey
1 tbsp cocoa powder
makes 8 balls
Mix all the ingredients together in a bowl until well combined.
Divide into eight equal portions and roll into balls between the palms of your hands.
Sprinkle some extra coconut in a shallow bowl and roll the balls in it. Chill until ready to eat. Store in an airtight container in the fridge for up to five days.
Chicken and Spinach Wrap
Lunch can be tough. A lot of people don't have time to cook and are looking for something quick and healthy. Every meal should be balanced and include elements from all the food groups. I like using wraps, as they are lighter than paninis or ciabatta, and I pack them full of goodness. The avocado purée is full of healthy fats, plus it makes the wrap moist and appetising. Another good wrap filling is turkey and the homemade coleslaw (recipe available in book).
Ingredients
1/2 ripe avocado
1 tbsp tomato purée
1 tsp garlic purée
1 wholegrain wrap
150g cooked chicken, sliced small handful of spinach
1/2 red pepper, diced
50g mozzarella, sliced
a few fresh basil leaves, chopped
1 tsp olive oil
serves 1
Put the avocado in a bowl and mash with a fork. Stir in the tomato and garlic purées and mix together well.
Lay the wrap out on the worktop and spread the mashed avocado down the middle of the wrap. Cover with the chicken and spinach. Finish by adding the diced pepper, sliced mozzarella and chopped basil. Drizzle with olive oil and fold the wrap up tightly. Cut in half on the diagonal and serve.
Courgette 'Spaghetti' Bolognese
Everyone has their own way of making Bolognese. I like mine with a bit of Worcestershire sauce and balsamic vinegar, just like my gran made it. Her secret was to let the sauce simmer for as long as possible. Delish! To cut down on the calories and because I don't need all that energy in the evening, I replace pasta with courgette ribbons.
Ingredients
1 tsp coconut oil
1 onion, chopped
2 garlic cloves, crushed
300g lean beef mince
salt and pepper
2 red or yellow peppers, chopped
1 x 400g tin of chopped tomatoes
2 tbsp tomato purée
1 tbsp Worcestershire sauce
1 tbsp balsamic vinegar
1 courgette
Parmesan shavings, to serve
serves 2
Heat the coconut oil in a large pan over a medium heat.
Add the onion and garlic and cook for five minutes. Add the mince, season with salt and pepper and cook until lightly brown. Mix in the peppers and cook for three minutes.
Add the chopped tomatoes, tomato purée, Worcestershire sauce and balsamic vinegar and stir well.
See Sport
Differently
Get closer to the stories that matter with exclusive analysis, insight and debate in The42 Membership
Become a Member
Cover the pan and let it simmer for as long as you like. The longer you leave it, the more flavour will be in the dish.
When you're ready to eat, use a vegetable peeler to peel the courgette into strips. Add the strips to the Bolognese and mix for one minute to heat through. Serve with a few Parmesan shavings if desired.
Strawberry, Ricotta and White Chocolate Tart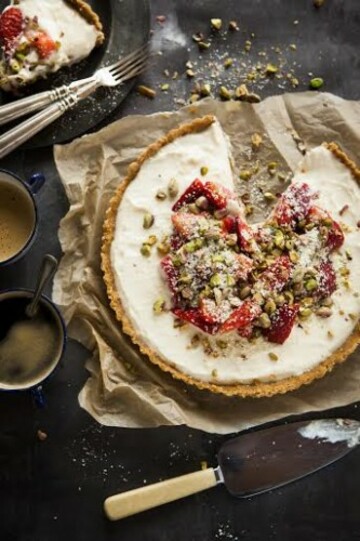 We are all entitled to a dessert now and again, and as part of training week I would have a treat meal on a Saturday or any time I felt I deserved something sweet. I also made this for the dessert task on Celebrity MasterChef Ireland and it's fair to say the lads enjoyed it!
Ingredients
100g amaretti biscuits or biscotti
100g digestive biscuits
100g unsalted butter, melted and cooled
500g fresh ricotta cheese
115g icing sugar +
1 tbsp icing sugar
zest and juice of 1/2 orange
80g white chocolate, half finely chopped, half grated
60g shelled pistachios, chopped
400g fresh strawberries, hulled and halved
serves 8—10
Place all the biscuits in a large ziplock bag and seal it tightly, then crush the biscuits by bashing them with a rolling pin (or you could use a food processor). Transfer to a bowl and mix well with the melted butter. Press into the sides and base of a 25cm loose-bottomed tart tin, then press down with the back of a spoon to smooth it out.
Chill in the fridge for 30 minutes.
To make the filling, beat the ricotta and 115g of icing sugar until smooth, then fold in the orange juice, the chopped white chocolate and half the chopped pistachios.
Spoon into the chilled tart base, then put back in the fridge and chill for four hours.
Half an hour before serving, mix the strawberries with the remaining tablespoon of icing sugar and the orange zest.
Transfer the tart to a serving platter, then pile on the strawberries. Top with the grated white chocolate and the remaining chopped pistachios.
More recipes can be found in a new book entitled 'David Gillick's Kitchen,' which is published by Mercier Press. More info here.