More space
IN AN EFFORT to cram in more machines, more mats, more weights and various other props, gyms reduce the amount of space there is to actually use them.
Hands up those of you who are more worried about clattering a dumbbell off someone during a workout than actually lifting it?
Or do you find yourself migrating to another section of the gym entirely, just to get your three sets in?
More squat racks
Squats are the king of all exercises. They work your upper body, lower body, core and back.
You can do all kinds of exercises on one and we'd go as far as saying all you actually need to stay in top trim is a squat rack.
But why, oh why are there only two of them in a gym that has over 800 members (150 of whom are regular users)?
More changing room space
Call us queens here looking for more room again but how some gyms could sure do with an extra 20 square metres of floor space.
And 8 showers (six of which work) isn't near enough either.
For those of us who go to work afterwards, a decent-sized place to have a shower as well as getting suited and booted is the least we expect.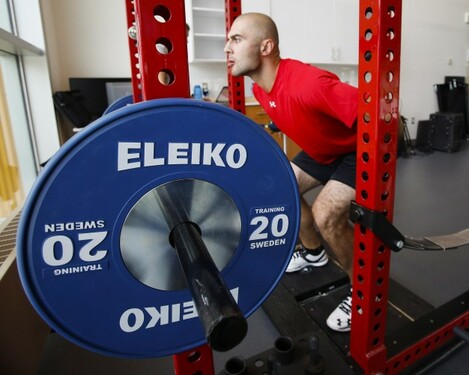 How are we expected to get our three sets of squats done if there is a queue for the rack? Source: Jeff McIntosh
More of a music selection
You're in the gym almost 12 months now and still listening to the same Gorillaz track…
You can actually even predict the next 10 songs. Change the tune lads and lassies!
Longer opening hours
Here's a thought. If gyms had longer opening hours there wouldn't be as much of a squeeze in the mornings, as much of a stampede for the squat racks or for the available floor space, and there'd be more changing room space also, wouldn't there?
On weekdays, is 6am too early to be open and 11pm too late to close? And on weekends, can we suggest an 8am opening time and 6pm closing time?
Didn't think so….