1. Brilliant nicknames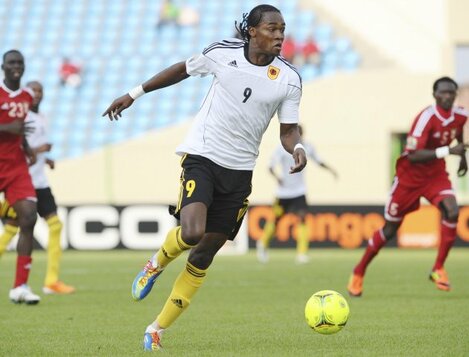 Angola striker Manucho. Credit: Barry Aldworth/Sports Inc/Press Association Images
The Black Antelopes (Angola), the Copper Bullets (Zambia), the Blue Sharks (Cape Verde Islands) and the Desert Foxes (Algeria) are just some of the excellent nicknames of the teams involved this month.
2. Cracking goals
Look forward to strikes such as this free-kick from last year's Player of the Tournament Yaya Toure. It was scored against co-hosts Equatorial Guinea at the quarter-final stage.

YouTube credit: zap0rozec
3. …and some fairly suspect goalkeeping
Traditionally, the goalkeeping on show at the African Cup of Nations can leave a lot to be desired and occasionally is even comical. Prime example, Benin's Yoann Djidonou against Mozambique in 2010:

YouTube credit: broxybeardpl
However, stoppers such as Vincent Enyeama of Nigeria (Lille, on loan at Maccabi Tel Aviv) and Ivorian Boubacar Barry (Lokeren) have been doing their bit to change their bad reputation in recent years.
Former Cameroon keeper Joseph-Antoine Bell recently told FIFA.com: "You have had some good and some not-good-enough goalkeepers at the tournament, but this is something that you can see everywhere in the world.
4. Player disputes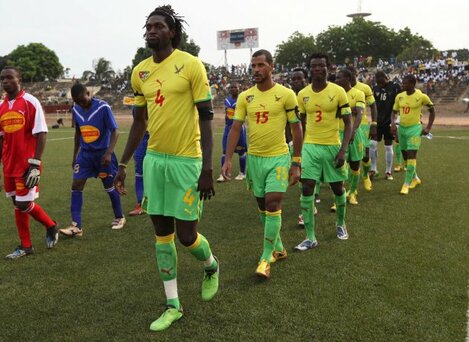 Emmanuel Adebayor will lead his team out in South Africa. Credit: Sunday Alamba/AP/Press Association Images
In the run-up to the finals, there are regularly disagreements between players and national federations over the payment they will receive for appearing at the continent's premier tournament. This time around, Tottenham striker Emmanuel Adebayor had planned to boycott the competition over unpaid bonuses until Togo's president Faure Gnassingbe persuaded him to do a U-turn.
5. Witchcraft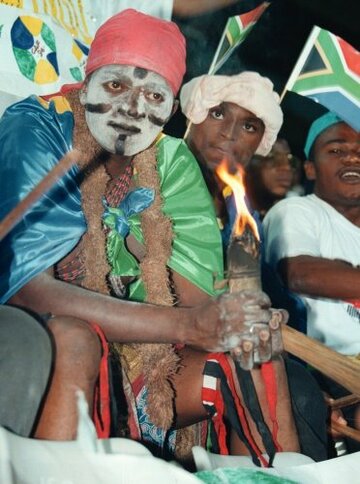 Credit: Matthew Ashton/EMPICS Sport
Voodoo, juju and miti spells have been cast in an effort to influence results down the years. In 2002, the Ivorian government called for forgiveness from a group of witch doctors after they had put a curse on the team when they weren't paid for 'helping' the country win the competition ten years earlier. The Rwandan and Ugandan players also clashed before kick-off in 2003 when the Ugandan players tried to prevent Rwandan goalkeeper Muhamud Mossi from "lighting a mysterious substance".