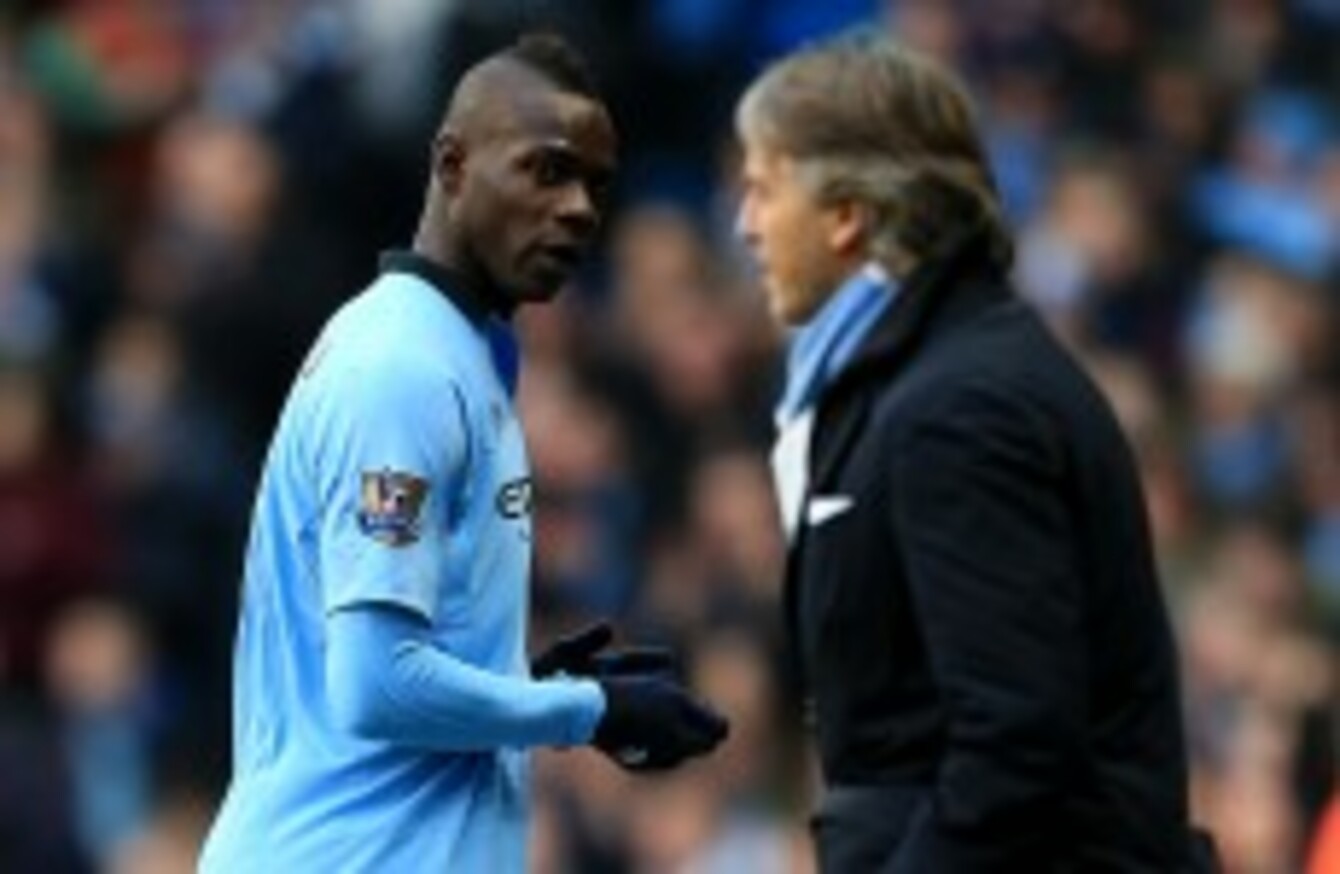 Balotelli glances over at Mancini while being substituted.
Image: Mike Egerton/EMPICS Sport
Balotelli glances over at Mancini while being substituted.
Image: Mike Egerton/EMPICS Sport
Not quite the 'Baby Faced Giroud' now, is he?
Chelsea, and Rafael Benitez, can thank the heavens for Nordsjaelland. Playing one of the worst teams to have ever 'graced' the Champions League group stages came at just the right time for the London club and their beleaguered manager.
Progress to the knockout stages was improbable long before the Spaniard took a call from Roman Abramovich, so Chelsea had the freedom of their own lack of expectation.
Six goals later, victory over Sunderland was never in doubt for a second and Chelsea will welcome the signing of 2008′s Fernando Torres, one of the most instinctive and lethal finishers on the planet.
The 28-year-old has enjoyed mini-revivals before but this was something different. Not only did Torres volley a brilliant opener (reminiscent of that splendid strike against Ukraine in 2006) and puff out his chest for his first penalty in English football, but his snapshot to set up Juan Mata's was the best evidence of the day that Torres is blooded with a new confidence.
And whoever dubbed Benitez 'The Torres Whisperer' on Twitter is a genius, by the way.
He didn't see it
Was there anything more predictable than Arsene Wenger's initial claim not to have seen Santi Cazorla's blatant exhibition of cheating against West Brom?
The Arsenal manager has made a career out of turning the other way as soon as any of his players commit acts contrary to the spirit of the game, while he loses the rag when his is the injured outfit.
Just once, we'd love to see him state that one of his own was bang out of order, without the type of equivocation he offered after seeing the incident on television.
"I am sorry if it was not a penalty, but I have spoken to Santi, and he said he has been touched and lost his balance. Maybe he made more of it, I don't know. It's a difficult decision – it can go against you; it went for us in this game."
Not good enough. Cazorla, meanwhile, should be docked a week's wages for such a blatant abuse of the laws of the game, and retrospectively banned by the Football Association.
The former Malaga man cut a likable figure in the early weeks of his Gunners career, but it seems that a dishonest streak has inevitably followed his frustration at not being able to influence games.
What's Delia putting in the soup?
Chris Hughton led Norwich to a quite superb victory over Swansea at the Liberty Stadium.
Despite the 4-3 scoreline at the finish, Norwich never truly looked like losing or even drawing the game (save for one moment in the match when a goal for the home side was dubiously ruled out for a foul on Mark Bunn).
Cameroonian centre-back Sebastien Bassong grabbed his third goal in four games, while Grant Holt was superb in attack, and had it not been for the intuitive Michu then Swansea would have suffered a drubbing.
Robert Snodgrass may be possessed of the worst surname in English football, but the Scot has been as pivotal to Norwich's resurgence as either Wes Hoolahan or Anthony Pilkington.
The 25-year-old former Leeds winger was at the centre of everything yesterday, while Jonny Howson's lobbed throughball for Bradley Johnson to hit the bar was oh so close to the assist of the season.
This joke isn't funny anymore
Why always him? Because he refuses to grow up, that's why. Mario Balotelli was his usual self in the Manchester derby. Shouting at team-mates, throwing shapes, languid at all the wrong times, disinterested.
Storming down the tunnel, one wondered whether Roberto Mancini would finally lose patience with the 22-year-old and try to send him back to the old country.
One wondered whether we witnessed the end of Balotelli's Premier League career the moment he tried an effete backheel, when more direct stylings were required. His manager, painted in slow motion on the touchline, flapped his arms, turned around in disgust and immediately told Carlos Tevez to get ready.
Tevez changed the game, driving City back into the game with the kind of performance that Balotelli has, arguably, never produced in English football.
It almost worked, too.
Return of the old boys
It took three former West Ham players to rescue a much-needed win for Liverpool at Upton Park earlier today. A sweetly-hit strike by Glen Johnson had put the Reds ahead but they were second best for much of the game and deservedly found themselves 2-1 down at half-time.
Joe Cole replaced the injured Jose Enrique but hadn't been able to make the sort of impact he would have hoped for when Raheem Sterling, who Liverpool have become increasingly reliant on in recent weeks, slipped the ex-Hammer in with a delightful pass. Cole's finish was excellent and the visitors drew level.
In the absence of Luis Suarez, Jonjo Shelvey was again handed a 'false nine' role for Brendan Rodgers' side. And with 11 minutes remaning, the 20-year-old, who supported West Ham as a boy and spent three years in their youth academy, reeled away to celebrate what turned out to be the winner.
Replays show defender James Collins getting the last touch, but it mattered little.
That win moves the Merseysiders up to tenth in the league table, level with West Ham who will feel unlucky not to have taken something from the game,  and ahead of a winnable fixture with Aston Villa next week, Rodgers must be aiming to leapfrog a couple more teams going into the hectic Christmas period.