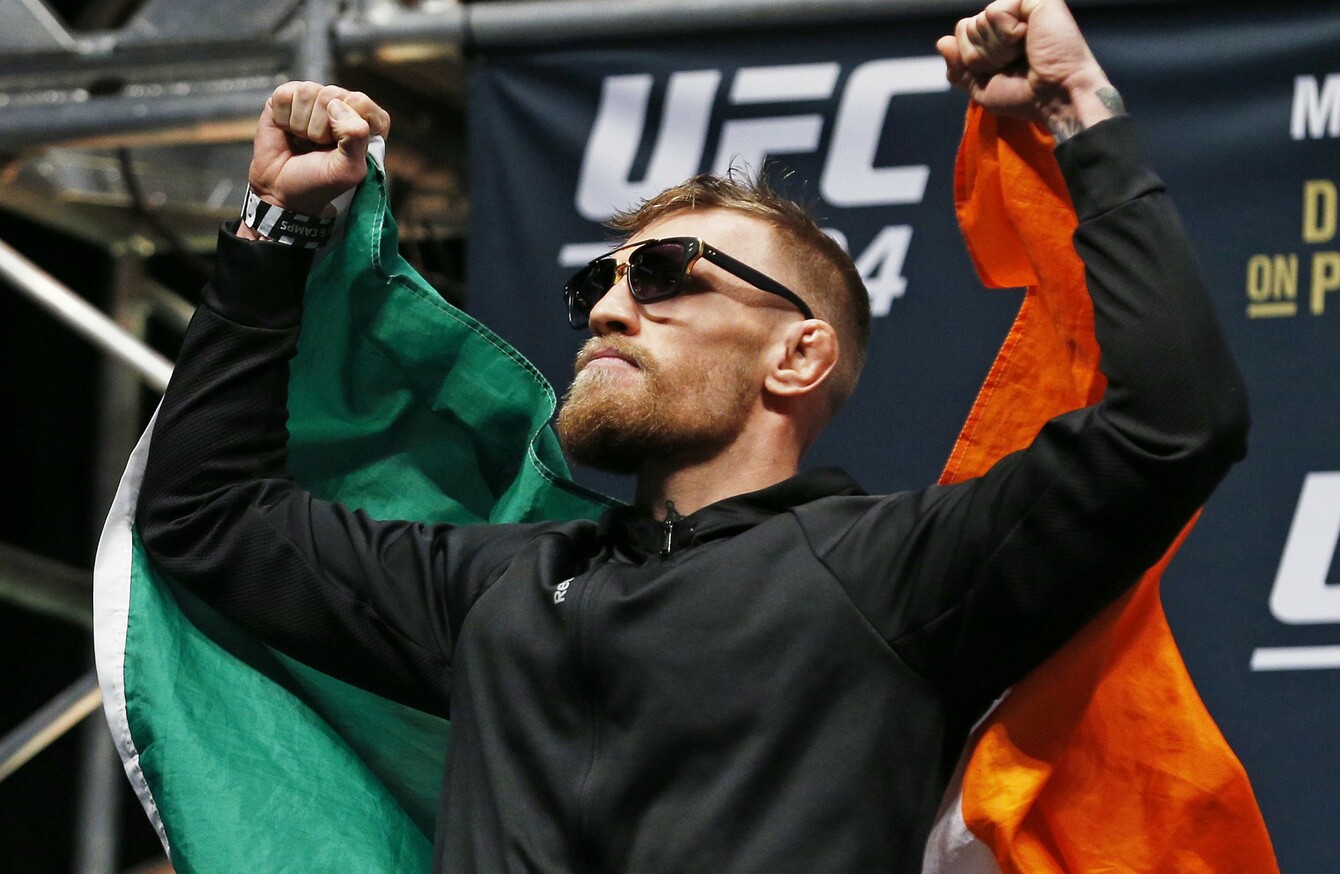 McGregor is one of the UFC's biggest stars.
Image: John Locher
McGregor is one of the UFC's biggest stars.
Image: John Locher
Even at his peak, Kobe Bryant made greatness look grueling. He had every gift, every natural blessing — but he made having them look hard. He could do whatever he wanted on a basketball court, but being in charge of that kind of skill was exhausting, and the strain showed. It was as if he had to keep the Amazon flowing with nothing but his own force of will. The scorn he directed at other players — at rivals, at his own teammates — always seemed to come from a place not just of superior ability but also of superior suffering. You call that a river? He defined himself through his talent, but in the sense of someone who takes pride in carrying a heavy burden without mislaying it. He had contempt for anyone whose burden was smaller, or who didn't take it as seriously; this was why, after he'd made something of himself, he couldn't go on tolerating Shaq. His stringency and his ferocious responsibility to himself left him sealed inside a closed circle. People wanted to be like Mike. When Kobe came around, they wanted to get the hell out of his way.
Early on a Tuesday morning last fall, Ronnie O'Sullivan was running through the woods near his home, in Chigwell, Essex, northeast of London. It was damp and muddy, England in November. O'Sullivan, who is thirty-nine, loves the anonymity of running. About ten years ago, he discovered that it was one thing that truly takes him out of himself—more than the drink and the drugs and the antidepressants—and suspends the otherwise unavoidable fact that he is the most talented snooker player of all time. At the age of eleven, O'Sullivan was making good money in the sport, and in the past three decades he has won five World Championships and set a number of records while enduring a bewildering odyssey of breakdowns, addictions, and redemptions, largely precipitated by the imprisonment of his father, whom he loves, for murder. O'Sullivan is frequently described as a genius. But he does not see how this can be so. Most days, he feels like a fraud. His game comes only in fits and starts. He wins because the others lose. He has wondered for a long time whether he would be happier doing something else. He has moved nine times in the past ten years. "I'm fucking, you know, searching," he told me recently. "I kind of know who I am but I don't like who I am, do you know what I mean? I wish I was a bit more fucking stable."
Saigon can be a dangerous place, not only because of what someone might do to you there but because of what you are allowed to do to yourself. People and their intentions come whole and leave broken. Every vice is for sale: cheap beer, snake liquor and easily scored hard drugs; private clubs where women are for rent hide above parking garages, and streetwalkers stand alone in the neon rot of crumbling doorways. There are still opium dens, like something from a 19th-century travel novel. Shame and regret grow faster than the mold creeping in wide tongues up the narrow slum alley houses. This is where the universe, with its vicious sense of humor, summoned Jason Rabedeaux in late 2011. It was the only coaching job in the world he could get. "A lot of doors were closing on him," said his agent, Keith Kreiter — actually his former agent because Jason went radio silent on him.
What do we even mean when we say "Florida Man"? It's an American phrase that identifies one of those indescribable French feelings, the kind there's no word for in any other language. But it has evolved into something that transcends language. Give a state invasive fish and imported exotic birds and hordes of freed pet pythons, and in return it gifts us with the most specific sense of place imaginable, one with layers of humanity, history, and ecology fusing into something that can't be defined except maybe by a laugh — rueful, but warm — and a certain tilt of the head, and a look of You Just Had To Be There, And Aren't You Sorry You Weren't.
He watches them closely, listens carefully, envies them their neat, tidy life stories, and their intellectual confidence. His life is a mess, as everyone knows, and he often feels intellectually overmatched, because he didn't go to college. No father, no college — these are his two gaping wounds, his two great sorrows. They're also a huge part of why he's here today, but no, no, he doesn't dare go into all that, doesn't want to tell these students anything about himself, let alone everything, including his darkest secrets, and yet here it comes, the invisible baton of attention, wending its way around the room, not unlike a baseball going around the horn. In fact, if the classroom were a diamond, he notices, by pure chance his seat would be the hot corner.
Barefoot and frightened, Nicole Holder walked as fast as she could through the darkness, and the moment she saw the cops she ran. She headed west on Fifth Street toward North Church, away from the Charlotte., N.C., apartment of Greg Hardy, a star defensive end then with the NFL's Carolina Panthers. Minutes earlier he had, she said, thrown her against a tile bathtub wall, tossed her on a futon covered in assault rifles, and choked her until she told him to "kill me so I don't have to".
Kelly is sarcastic and dismissive of reporters; he declines most every interview request, including one for this story, and refuses in any forum to answer questions about his personal life. His family has been ordered to keep quiet in public about Kelly, and Mike Zamarchi, the coach's longtime buddy, says Kelly's friends are "sworn to silence." Players, too, are kept at a distance, and so are fellow coaches: Mike Bellotti, the former Oregon coach and athletic director who was Kelly's boss for three years, knows little more about Kelly than that he hates green vegetables and loves beer. "I'm not sure I would consider that I know Chip," Bellotti says.
Wilson earned his drug seed money from an unlikely source: bootleg T-shirts. A friend of his from the scene, Ray LeMoine, had spearheaded the operation. They capitalized on the Boston Red Sox's infamous rivalry with the New York Yankees. Simple white tees in a blue font, they sported a combustible two-word phrase: "Yankees Suck."
In the Vault on this night, November 3, is a woman who represents the owner's interests. Her name is Irina Pavlova. She is diminutive, but with a strikingly vibrant presence, not unlike a bird. She wears a black ribbed skirt and a black fitted jacket that frames the bright plumage of a blazing yellow shirt. Her buoyant blonde hair is burnished by the low brass light; her nails are painted jet black. Perched on a leather couch in a corner of the room, as if ready to take flight, she speaks softly but intently in Russian to a man in a gray suit; it is Sergei Kushchenko, a legendary Russian basketball executive and one of Mikhail Prokhorov's closest allies.
"I can't remember the last time I watched golf. I can't stand it. Unless one of my friends has a chance to win, then I like watching it. I watched Jason [Day] win the PGA. But it was on mute. It's always on mute and I have some other game on another TV."
Players like Keane were the early recipients of the new money which flooded into the English game; I would be surprised if he really needs to work again. Bobby Moore earned a good living in his playing days, but it was a fraction of Keane's earnings at Manchester United. Like Keane, he tried his hand at management, but with disastrous results. An offer from Elton John to take over at Watford was withdrawn, and the job given to Graham Taylor. He then agreed to manage non-league Oxford City (a club whose existence I was unaware of). Moore's detachment, which served him so well as a player, was a major handicap as a manager. Unlike Keane, he hated confrontation. Oxford City were relegated from the lowly Isthmian Premier league after his first season in charge. A spell at fourth division Southend was an embarrassing failure, the low point coming when Moore turned up for a match drunk, having spent most of the day at the Hope pub in Southend with his old mentor, Malcolm Allison.
"I come from a different generation," Jiménez says. "And I'm not a hypocrite. I don't hide the way I am. If I want to have a drink, I have a drink. Why shouldn't I? Is it illegal to drink alcohol? Is tobacco illegal? So why should I care if people see me smoking? I do what I do out in the open. If people have a problem with that they can stick their tongue up their ass and let the rest of us do what we want to do. You can quote me exactly the way I said that." He cracks an impish smile. "And what else do you want me to tell you?"
Every day, the girl who wasn't supposed to play crept a little closer to the action. First to the perimeter of the soccer facility. Next to the low-slung fence surrounding the field. Then to the top of the fence, the better to sit and watch the local kids practice, amazed that girls could participate. She even started returning stray balls.
"Heysel was a horribly tense experience. It remains something of a nightmare. I was spared the worst excesses because of my presence in a commentary position high up in the main stand. The angle of vision meant I was unable to see the wall collapsing on the extreme left hand side of the ground. At the very time the match between Liverpool and Juventus was due to start, parts of the old stadium resembled a battle ground.
"I saw missiles being fired from the Liverpool end over the heads of the police cordon and landing in the Juventus side. Truly, I was taken aback by this because Liverpool fans always had a great reputation among visiting supporters up to that point. They were deemed to be good fun, top-class followers, however, on this occasion they had been infiltrated by a hooligan minority that ultimately tarnished the club's reputation."
Late last year, McGregor and Mendes both appeared on the same episode of BT Sport's Beyond the Octagon. Before the show, McGregor had made fun of Mendes for being short: He's 5-foot-6. So Mendes started things off by asking McGregor how tall he was, and that ended up being a mistake. McGregor is an A-plus instigator and needler. It's actually part of his fight strategy. He's the White Men Can't Jump Woody Harrelson of the UFC. And as soon as he realized that Mendes was the tiniest bit sensitive about his height, he threw dart after dart. Mendes tried to keep pace, but McGregor gave him no air. An early and oft-used criticism of McGregor has been that he's not very good at wrestling, and so Mendes, who happens to be very good at that exact thing, tried to pivot the conversation. "Conor, Conor … do you know what wrestling is," Mendes asked, trying to be dismissive. But McGregor ignored the question completely, responding, "I can rest my balls on your forehead."
That question doesn't have an answer for now: Williams has won twenty-eight straight matches at a major, going back to the start of last year's U.S. Open. Her record in major finals for her career is an incredible 21–4, and she hasn't lost a major final since 2011. In the semifinals at Wimbledon, she beat her nearest rival, Maria Sharapova, for the seventeenth straight time. Williams now has as many major titles as all other active women combined. Calling her fellow players contemporaries doesn't seem quite right at this point; they are the ones who give it their best try, the ones who force a smile while holding the smaller trophies, the ones against whom history gets made. "Don't be sad," Williams told Muguruza after the match, "You'll be holding this trophy very, very soon." Williams has to retire someday, right?
"When Ali arrived, he had something. With the outside of his right foot, he could go round a defender," former team-mate Simo Valakari told Bleacher Report. "But that was all he had. After the first two weeks,bam, it was gone. Maybe it was the parties or something, but then he looked like he had never played football at all."
Kenny Stabler learned he had colon cancer in February. He was in Phoenix, Arizona, where he had been renting a home since the fall of 2014 so he could watch his two grandsons play football for Chaparral High School. One is a receiver. One is a defensive back. Stabler called them his "grandsnakes." In January, he had called Kim Bush, his partner for the last 16 years of his life, and told her of a consistent pain in his stomach.
Back in 1996, when Muhammad Ali went down to Pensacola, Florida, for an event with Roy Jones Jr. and spoke to thousands of schoolchildren bused in from around the county, Ali asked to go where Jones Jr. trained so they could playfully spar a few rounds.
Even on good days, Ali's speech was pretty limited, but he was still strong enough to move around and exercise back then. After Ali and Jones Jr. had circled one another in the ring and only really feigned jabs, at one point Ali smiled and gestured at Jones Jr. that he'd spotted a weakness.
Ali imitated and exaggerated the flaw he'd discovered in Jones Jr.'s jab and left them both in fits of laughter at his shrewdness. Jones Jr. nodded after he'd caught his breath and confessed, "Yeah, you found it. But I'm so fast I can get away with it.
A glorious on-field reputation forged, McGrath was increasingly operating on the most turbulent of stages, his life becoming broken by addiction. His incredible autobiography, Back from the Brink, remains one of the finest in its genre. It is a tale of a war against his demons, battles lost more often than they were won. This is less a description of a footballer's life, but the tragic story of a man's descent into the abyss.
Despite having played 606 games for his club and 106 times for his country, Charlton said goodbye to his beloved Manchester United in 1973. Having won the World Cup, the European Cup and several domestic leagues and cups over the course of a 20-year spell with the club, many would have forgiven him for hanging up his boots there and then. Like many others from his generation, however, Charlton decided to continue playing. Charlton's brief spell away from Manchester is rarely discussed nowadays, but at the time it was a source of delight to the clubs he graced.
He's used to this, Ciarán Ó Lionáird. He's used to disappointments, niggles, pains and puzzling performances. He's 26 now, and the Irish miler and FSU graduate has been in the game long enough to know how all this works, how to pick himself up from the canvas, dust himself off, and stride back to the centre of the ring once more, unaware whether he's about to land – or indeed absorb – a knockout punch. This is his life – one of pain, persistence, and an occasional, all-too-fleeting sojourn to paradise.
It is 1971, and I am new to the fifth grade at Rock Creek Forest Elementary School, a few hundred yards north of the D.C. line in suburban Maryland, where everything is perfectly Proustian, perfectly preserved in memory.
I have been on the playground, playing strikeout with Firestone and Bjellos. It is an April afternoon, after school hours, yet unseasonably hot in my memory. I am wishing the water cooler actually worked, stumbling into the boys' room to take a leak before drifting back to the game.
On my little Sanyo, Frank Howard launches a grand slam off the Oakland A's starter, some fella with the improbable name of Blue. It is Opening Day. And though this is Washington Senators baseball, all things are still possible.
A hugely talented goalkeeper with a maverick streak, Nicholls was 22 when he was killed riding as a pillion passenger on a motorcycle, on the A1 near Peterborough, just hours after playing for Stalybridge Celtic and only minutes after getting on the bike. Matthew Lindsey, the 25-year-old motorcyclist, also died in an accident that wrecked the lives of both families to such an extent that even now, almost two decades on, everything feels raw. "I always said to Alan: 'Whatever you do, please don't go on a motorbike'," Nicholls' father says.
The first half of the 1990s, the Bermuda triangle of Kerry football, has largely been ignored by former players and journalists. Pat Spillane's 1998 autobiography 'Shooting From The Hip' ends his Kerry career in 1989. There is no reference to the 90 and 91 seasons, save for a passing critique of Mickey Ned's new age habit of getting them to watch reams of video footage of the opposition (a mode of preparation which Spillane regarded as far inferior to Micko's favoured pre-game ritual, which amounted to a bullish assertion that they were the best team in the country and needn't be worrying about the opposition).