1. Rafa in danger of gaining 'tinkerman' reputation
To blame Rafa Benitez purely for not playing his best team against QPR last night seems a little unfair.
Many of Chelsea's rivals in the table – such as Tottenham, Man United and Man City – have also rotated their squads to a degree over the Christmas period, while it could be argued that Arsenal dropped points against Southampton the other day on account of Arsene Wenger's reluctance to rest players.
However, it was the manner of Benitez's selection that left fans feeling justifiably peeved.
To leave out not one but two of their main creative players (Juan Mata and Eden Hazard) seemed both ill-conceived and disrespectful to their opponents, who ultimately stunned them with a display that combined opportunism in attack with rigorous defending.
Consequently, Benitez is in danger of gaining a reputation similar to that of a previous manager – Claudio 'The Tinkerman' Ranieri – if he perseveres with such eccentric decision-making.
2. Luis Suarez rapidly becoming a Liverpool legend
The Uruguayan was magnificent for the umpteenth time this season, as Liverpool comfortably beat Sunderland at Anfield, scoring two of the goals and setting up another.
The Merseyside club were sometimes described as a one-man team in the days when Steven Gerrard was at his peak, but now, it is undeniably Suarez who is their main man.

Aside perhaps from Robin van Persie at United and Michu with Swansea, there are no players who come close to having the sort of influence on a club that Suarez enjoys at Liverpool.
While many will claim Suarez is unworthy of such a comparison on account of the perception that he is an unsavoury character, on the football field at least, he possesses the talent to emulate the feats of Kenny Dalglish, Ian Rush and other Liverpool greats.
3. Southampton expose Arsenal's weaknesses
Arsenal have intermittently impressed of late, with their recent respective thrashings of Reading and Newcastle providing evidence of their capabilities when on form.
However, on Tuesday, Southampton gave a lesson to all others in how to cope with their formidable attack.
Nigel Adkins' men made two wise decisions during the game. First, they focused intensively on crowding out Arsenal's chief playmaker, Santi Cazorla, whenever he got hold of the ball, thereby reducing his ability to dictate proceedings as he normally does. And second, they elected not to play a high line, thus minimising the amount of space for Theo Walcott to run into, and making the striker look decidedly ordinary in the process.
Deprived of two of their main weapons, the Gunners were conspicuously limp in attack, and failed to trouble their opponents unduly as a result.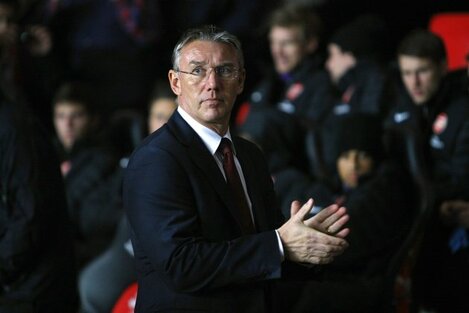 (Nigel Adkins' intelligent tactics helped Southampton earn a point against Arsenal – Chris Ison/PA Wire/Press Association Images)
4. Tottenham finally showing some consistency under AVB
There have been times this season when Spurs have been relatively lacklustre.
Indeed, some disappointing early results had many of their more reactionary fans urging the club to prematurely sack manager Andre Villas-Boas.
Be part
of the team
Access exclusive podcasts, interviews and analysis with a monthly or annual membership.
Become a Member
And even their initial wins were recorded in an unconvincing fashion.
Nonetheless, 10 points from a possible 12 over the Christmas period is impressive for any club, let alone one that has often, in the past, let early-season promise elapse during this stage of the season.
Moreover, in contrast with earlier games such as the nervy 2-1 win against Southampton, they are now invariably overcoming inferior teams, including Aston Villa and Reading, with relative ease.
5. Van Persie not the only reason for United improvement
Last season, during the dying stages of the title race, Man United needed a victory at Wigan to consolidate their lead at the top of the table. They ultimately lost 1-0, and the league was thrown wide open again as a result.
Yet there were no such mistakes on Tuesday, with United comprehensively outclassing the Latics and triumphing 4-0.

In addition, the ever-reliable Robin van Persie notched a brace, meaning he has started 2013 in a similar manner to how he played for the majority of 2012.
Yet Van Persie's heroics have somewhat unfairly overshadowed another player's telling contribution.
Michael Carrick was excellent once again at the DW Stadium, and the England international, in general, is arguably having his most productive season since joining the club.
6. Big problems remain at City, despite comfortable victory
Man City secured a deserved 3-0 win over a tired-looking Stoke City the other day, but problems persist at the club.
Looked at from one perspective, the sudden promotion of Edin Dzeko to the main striking role, despite the player being used sparingly for much of the season, could be regarded as excellent use of the City's squad by Roberto Mancini, introducing a talented striker at just the right time.
However, it seems more likely to have been a hopeful move rather than a calculated one.
Mancini's decision-making often appears to be characterised by a lack of conviction, and his sudden heavy reliance on a player who is (or at least, was) reportedly on the brink of being sold is a primary case in point.
This apparent personality flaw was also highlighted earlier in the week, when he appeared to admit that it would be the owners rather than himself who would determine Mario Balotelli's future at the club.