1. The form of Lar
The Dublin hurlers will remember how much Lar Corbett hurt them in the 2011 All-Ireland semi-final. In a tight battle, Corbett who bagged the only goal of the game and his overall 1-3 return assisted Tipperary as they won by four points.
Much like the Dublin team as a whole, Corbett endured an indifferent 2012. But this spring his form has flared up again as he made worthy contributions to Tipperary's wins over Kilkenny, Galway and Clare.
As Dublin get set to face Tipperary tomorrow, they will be on their guard against an old foe.
2. The absence of Brian Cody from the sideline
During the week Joe Canning described the prospect of Kilkenny's legendary manager not being present on Sunday as 'weird' and it's difficult to disagree. Cody has been intrinsically linked to hurling at the top level since he took the reins in 1999. His absence as Kilkenny face into a hurling league semi-final will be notable.
To evaluate the length of his stint in charge, consider what some of tomorrow's protagonists were doing when Cody first took charge in a league campaign 14 years ago. Joe Canning was ten years of age, Anthony Daly was still in the Clare hurling ranks and an 18 year-old Lar Corbett had yet to play a championship match for Tipperary at any level.
Cody's sidekicks Martin Fogarty and Michael Dempsey are well-established figures who will ensure Kilkenny are primed for tomorrow's game. But still you can imagine that they will find it reassuring when their figurehead is back patrolling the sidelines.
3. Dublin's choice in goal
Gary Maguire has been Dublin's first-choice netminder in recent years but an eye injury which sidelined him recently paved the way for Alan Nolan to deputise. Even with Maguire's return to fitness, Nolan is expected to hold onto the number one jersey.
And watching the St Brigid's man in action against Limerick in the Division 1B final, it's easy to understand why Anthony Daly has placed faith in him. He may be diminutive in stature but Nolan had a towering impact in the first-half as he repelled Limerick with a series of superb saves.
Instead of Limerick sprinting clear on the scoreboard, Dublin were able to hang in there and eventually ground out victory. Nolan returns to the scene of that triumph tomorrow.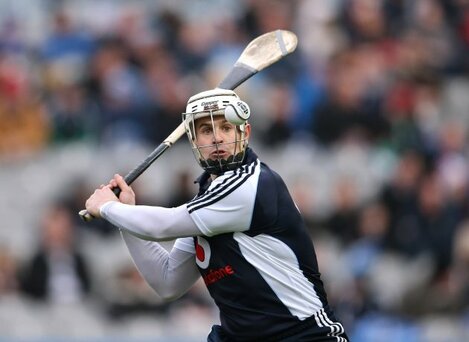 Dublin's Alan Nolan
Pic: INPHO/Cathal Noonan
4. Kilkenny's efforts to keep a clean sheet against Galway
Galway have discovered the happy knack of raising green flags under Anthony Cunningham's watch against Kilkenny. In the sides last four meetings – between league and championship – Galway have fired ten goals past Kilkenny.
In two of those meetings, the 2012 drawn All-Ireland final and February's league meeting, Galway have struck less scores than Kilkenny but avoided defeat on both occasions due to their ability to hit the net. Meanwhile in the six other competitive championship and league games that Kilkenny have played since last year's Leinster final, they have only conceded seven goals.
It may not be a massive concern for Kilkenny but it's still a crease in their game that is worth ironing out. Minimizing the leakage of goals against Galway on Sunday would be a plus for them.
5. Tipperary pitching Jason Forde in from the start
He only did his Leaving Certificate last year and has been restricted to substitute appearances in this year's league campaign in what his first senior intercounty season. Yet the Tipperary management have had no hesitation in handing Jason Forde the number 15 jersey for tomorrow's clash with Dublin.
The Silvermines player, who is still eligible for the U21 grade next year, has built up a fine CV to date. Anyone who saw him in action for the Nenagh CBS side that won last year's All-Ireland colleges SAHC title will have been impressed.
For their seven games in the knockout stages since January, Forde amassed a staggering total of 5-41 which included standout contributions like 1-11 against Ardscoil Rís in the Dr Harty Cup semi-final replay and 0-14 against St Kieran's in the All-Ireland semi-final.
Now he is rubbing the shoulders with the elite and it will be interesting to see how he fares against the Dublin defence tomorrow.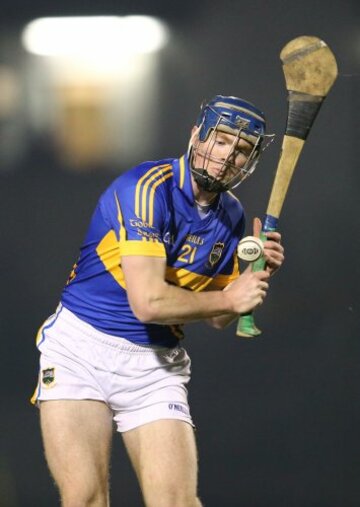 Tipperary's Jason Forde.
Pic: INPHO/Cathal Noonan
6. Kilkenny and Galway continue their auditions
Given they clashed three times in the championship last summer, the starting line-ups for Kilkenny and Galway became instantly recognisable. But of course that does not mean it is pre-ordained they will be the sets of 15 that take to the field in this summer's championship.
The league has illustrated how players in both counties are not happy with warming the bench and are instead intent on forcing their way into the starting side. For Kilkenny that means the likes of Eoin Murphy, Conor Fogarty, Lester Ryan and Ger Aylward.
For Galway that means the likes of Fergal Flannery, Colm Callanan, Aidan Harte, Joseph Cooney and Davy Glennon. Tomorrow may be a league semi-final but it also serves as a major audition for the months ahead.
7. Dublin's centre-back and centre-forward combo
Dublin's selections in the pivotal positions at the heart of their defence and leading their attack were interesting against Limerick a few weeks back. Liam Rushe was magnificent at centre-back while in contrast Johnny McCaffrey was whipped off at half-time after his stint at centre-forward.
Both players have experience in playing in different sectors to which they operated in that night. After the game Anthony Daly was fulsome in his praise of Rushe for his performance in the closing stages.
But he also praised McCaffrey for standing up to provide words of encouragement to his teammates at half-time despite just being informed he was being substituted. Rushe thrived that night while McCaffrey struggled yet both are the kind of leaders who are integral to Daly's 2013 plan.