1. United are a lesser force without Alex Ferguson
"Nostalgia does funny things to people's minds," responded Alex Ferguson, when it was put to him that Man United's title winners last season weren't quite on the same level as previous incarnations of the side.
However, it now appears that those critics' point was — to an extent — valid, as virtually the exact same group of players have seriously struggled to perform this season.
United's toils are evidence, more than anything else, of the importance of a manager's influence on a particular club.
Incoming boss David Moyes is hardly wholly to blame for their struggles — but he would not necessarily command the level of respect among players that Ferguson had been granted.
Moreover, the team's limitations have been badly exposed this year, with an ageing defence and a lack of creativity in their somewhat injury-prone midfield chief among their problems.
2. German football is good but not THAT good
The fact that both Dortmund and Bayern Munich made the Champions League final last May led many to excitedly describe the Bundesliga as the best in the world.

Nevertheless, this outcome surely owed as much to luck as it did to excellence — Dortmund would not have gone further than the quarter-finals had Malaga not imploded in the final moments of their Champions League tie and conceded two goals in the game's dying moments.

Moreover, United, who are struggling to a degree in the Premier League, managed to beat Leverkusen — on league form, the Bundesliga's second-best side — 5-0 away from home, completely outclassing them in the process.

Hence, while the German national team and Bayern Munich may be among the best sides in the world, their league isn't so superior when it comes to strength in depth.
3. Roy Keane is not the complete control freak he's often portrayed as being
The Corkonian had an eventful enough year, causing controversy by claiming Nani deserved a red card against Real Madrid, before agreeing to become Ireland's assistant boss and also starring in a fascinating documentary about his on-field rivalry with Patrick Vieira.
Perhaps the most surprising of the three was his willingness to take on the role of assistant to Martin O'Neill.
Many would have previously dismissed the idea, arguing that Keane is too arrogant, temperamental and control freakish to be anyone's number two.
However, the more deeply you think about it, the more it makes sense — Keane's playing career was characterised by a conspicuous level of selflessness, a willingness to put his body on the line and sacrifice himself for the team when necessary, while the public perception of him as a raging loner has always been grossly exaggerated.
4. Luis Suarez is worth the hassle
If Luis Suarez wasn't one of the best strikers in the world, he would have left Liverpool long ago.
Between the Patrice Evra controversy, biting an opponent and demanding a transfer in the summer, Liverpool fans among others would be forgiven for questioning whether he's more trouble than he's worth.
It was particularly interesting that Brendan Rodgers' side did not suffer unduly when he was suspended, with Daniel Sturridge proving to be an able replacement — a factor that put even more pressure on the Uruguayan amid his eventual return.
Be part
of the team
Access exclusive podcasts, interviews and analysis with a monthly or annual membership.
Become a Member
Suarez needed an eye-catching start to his season to appease the criticism he had largely brought on himself, but he did more than enough to silence his skeptics — proving beyond any reasonable doubt that he's one of the best players in the world, with a series of exceptional performances.
5. Barcelona are on the slide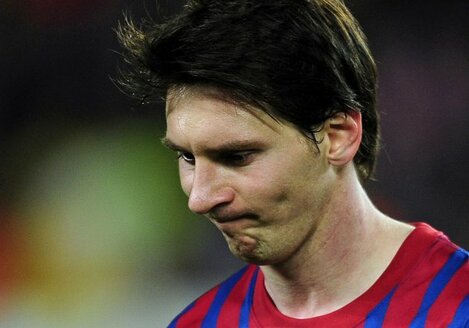 (Lionel Messi shows his frustration — MANU FERNANDEZ/AP/Press Association Images)
Xavi is finally starting to look his age, their defence appear more vulnerable than ever and Lionel Messi has suffered multiple injuries.
Moreover, new coach Gerard Martino has received criticism for his overly direct style that is supposedly failing to make full use of their ball-playing midfielders.
Barca's growing weakness was epitomised by their 7-0 aggregate loss to Bayern Munich in the Champions League earlier this year — perhaps an inevitable result, owing to the wear and tear they've undoubtedly suffered from playing with such intensity at a consistently high level in recent years.
That said, it's still only a crisis by Barcelona standards. Irrespective of its increasing mediocrity, they still managed to win La Liga and for all their current problems, few would be brave enough to rule them out of contention for this year's Champions League.
6. Seamus Coleman is a top-class right-back
There is no doubt that Ireland suffer from a lack of top-class talent, however Everton's Seamus Coleman is rapidly becoming one of the country's best right backs ever.

The Donegal native is proof — if any were needed — that for all the problems at underage level, Ireland are still capable of producing the odd highly talented player.

Coleman has consistently been one of Everton's best performers in 2013, and therefore, it was no surprise to see him linked with Arsenal recently.

Furthermore, he has been one of the few solid performers in an Ireland team that has underperformed considerably in the past year, hence it was no surprise to see him captain the side against Germany, despite still only being 25.
7. The power of managers has dwindled irrevocably
2013 has proved a more depressing year than ever for Premier League managers.
It was bookended by two incredibly harsh managerial sackings — Nigel Adkins, who appeared to be turning a corner at Southampton, and Andre Villas-Boas at Spurs.
If results had worked out in their favour on the weekend ahead of their game with Liverpool, Tottenham could conceivably have moved up to second in the table, yet their 5-0 loss prompted chairman Daniel Levy to wield the axe.
Such philosophies are not necessarily a guaranteed recipe for disaster. In fact, in Southampton's case, Mauricio Pochettino's introduction to the set-up has ultimately seemingly worked out in their favour.
But irrespective of the outcomes of these changes, where once the manager was unequivocally the most important person at a football club, that power has now shifted irrevocably.
Roy Keane has in the past complained of players being treated as if they were "a piece of meat," yet the same principle now arguably applies to most managers as well — if there is the slightest hint of the team underperforming, many directors will no longer hesitate to hire someone who is ostensibly more adept in their place.