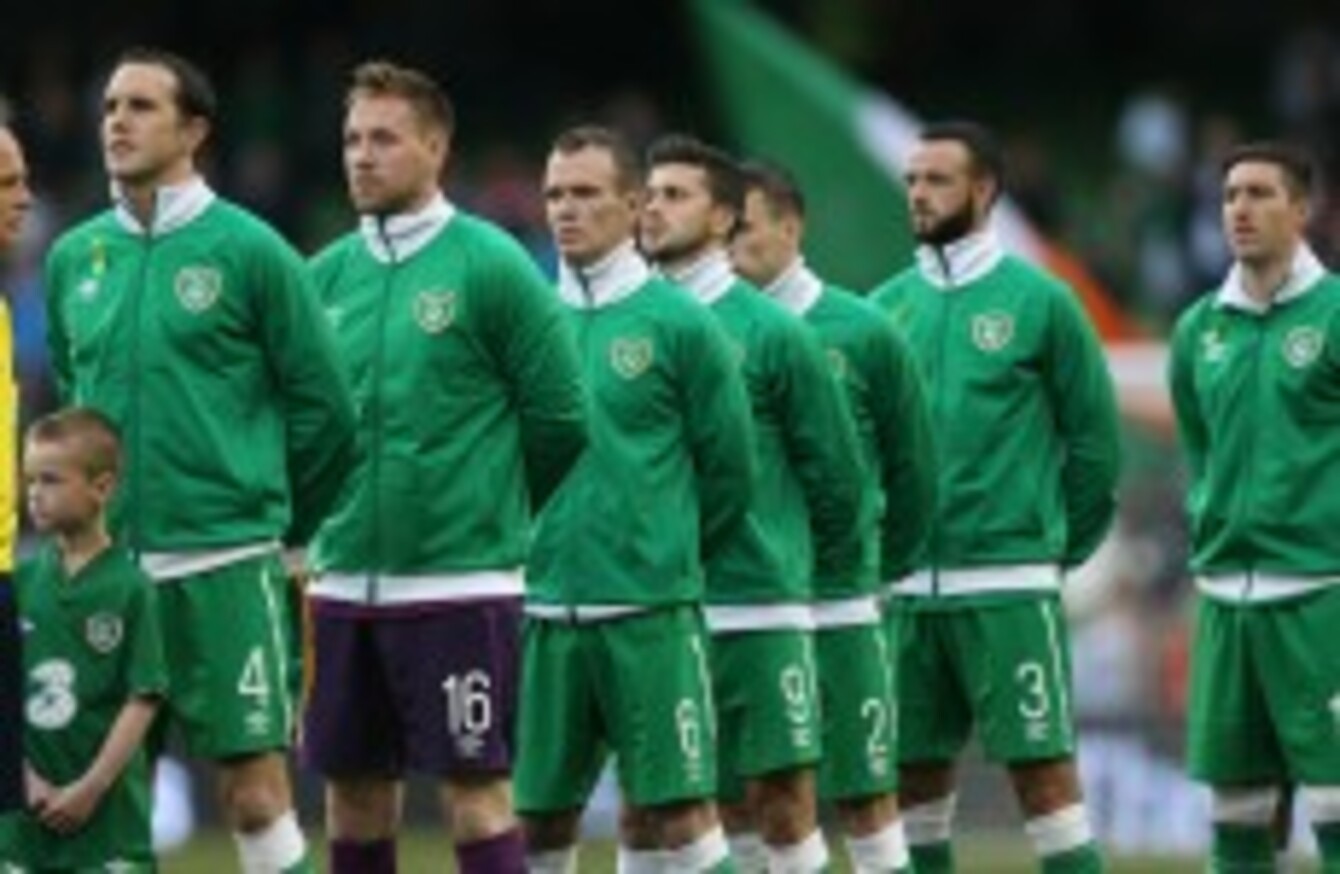 The Ireland team recently slipped to a record low of 70 in the world rankings.
The Ireland team recently slipped to a record low of 70 in the world rankings.
LAST JUNE, THE Irish football team dropped to 70th in the world rankings — their lowest position since FIFA established this system.
Whereas for a period under Jack Charlton and to a lesser extent, Mick McCarthy, Ireland were considered one of the top international teams in the world, the current crop of players are a long way off emulating the achievements of their predecessors.
While encouragement was taken from the recently friendly draws against Italy and Costa Rica, Ireland's subsequent thrashing at the hands of Portugal served as a reminder that much work needs to be done.
It's often asked: what can Ireland do to get back to the enviable standard of the late 80s and early 90s? One of the most commonly cited reasons for the failure of the team is the lack of investment in addition to the general public's apathy towards the League of Ireland.
Although a sizeable portion of the current squad started off in domestic football, there are still concerns that the Airtricity League is not currently competitive enough — an assertion backed up by the Irish sides' recent disappointing European campaigns.
Two people with more authenticity than most on the subject of what it takes to succeed at international level are La Liga pundits Guillem Balague and Gaizka Mendieta. Both are old enough to vividly remember a time, not so long ago, when Spanish football underwent its own bout of soul searching.
The ensuing implementation of a new philosophy in the Spanish team's youth structure eventually yielded unequivocally positive results. Spain won an unprecedented three consecutive major trophies at international level, as their radical new approach towards mentoring young players in various elaborate ways (as documented by Graham Hunter among others) paid enormous dividends.
While Ireland can surely never hope to enjoy the same type of success as Spain no matter how efficient their youth structure is, they are at least a country from which inspiration can be derived.
Yet the contrast between the two countries could not currently be starker. Whereas La Liga is routinely perceived as the best domestic league in Europe, the Airtricity Premier Division is commonly regarded as being among the worst.
With this in mind, does Ireland need to enhance its own league before it can expect to enjoy a return to a period of success even remotely akin to the glory days of the Charlton era?
"It is important to have a domestic league because people compete, but it's more important to make a determined decision to improve coaching," Balague tells TheScore.ie. "So if you decide to give up on the next 10 years, but create the biggest foundation of coaches that any country of our size has, then you're going to get success.
"But success for Ireland is qualifying and maybe having a good World Cup, but in any case, it's about better football, making it more competitive, creating better players. If you do that, you create a stronger league, and if you create a stronger league, people will decide to stay instead of leaving."
(Ruud Dokter was last year appointed as the FAI's High Performance director)
While Ireland are perhaps moving towards a more sophisticated set-up with a considerable level of investment in grassroots football and the appointment last year of Ruud Dokter as the FAI's High Performance Director, with the Dutchman already winning admirers as a result of his much-discussed vision to change the FAI's youth set-up for the better.
But there remains a sense that many within the Irish game are intent on holding onto the traditional elements of schoolboy football, thereby preventing the ostensibly necessary sweeping changes from being seamlessly integrated.
Balague cites Australia as a country where such radical change is currently being implemented, and if Ireland can follow suit, the Sky Sports analyst believes the Airtricity League will naturally improve immeasurably as a result.
"In Australia, a much bigger country [than Ireland], they're going through that right now. They said 'scrap everything'. Let's start over again, and let's do it with people that have done it in other parts of the world, so they used to bring in Dutch coaches, now they want to bring in Spanish coaches. So it's just about absorbing and learning and creating an atmosphere that's attractive for people to go and work there, but also for people to stay.
"If you're Irish, you want to play for your teams if your teams are competitive. So it's about really believing that football is a key part of the success of the country and then just putting the money towards it and putting the human energy towards it."
Balague knows more about coaching than most, given that he is currently working to get a UEFA A Licence, and he believes managers often have a tendency to overcomplicate matters at youth level.
"There's too much obsession about tactics," he says. "The young coaches say if the goalkeeper plays the ball to the centre-back: 'What does the centre-back do, or how does 4-3-3 work…' Forget that! All you need to do is to give kids from five, six and seven-years-old enough time with the ball to develop their individual technique and good coaching to actually understand the game.
"Then at 15, your goalkeeper passes the ball to your centre-back and he'll know what to do. You won't need to teach him. Because there's an idea, a concept and it needs to be applied and it will be dependent on the situation and position of the rival and the moment.
"And players will know, as it's about understanding the game and that's something I see missing in Ireland and Britian. There's now an obsession to be like the Spanish or the Germans. Forget the style of football and the formation. Anybody can do it if it's coached properly."
Ireland, of course, are far from the only country currently engaging in a degree of football-related introspection. After their latest World Cup disappointment, the usual complaints were made about the state of English football as well, and Balague believes Roy Hodgson's team have learnt little from their past failures.
"They're now looking at the Germans and how they did it — you already did that, you saw Spain as the way forward. They need to find their own way, but to do that, they have to have leadership. The basis of it is coaching. Improve the coaching and everything else will come. There are still so many people stuck in their old ideas.
"I've been touring with the two books and I've been seeing a lot of young kids in their 20s who want to learn from Spain and Italy and apply it to football in England and I think, give them another generation and they may be able to come out with a lot more quality. And also, the younger players with England are going to be coached by Mauricio Pochettino, by Jose Mourinho, by Roberto Martinez, by Arsene Wenger, by Louis van Gaal, they can only get better."
(Mendieta won 40 caps for Spain in addition to reaching two consecutive Champions League finals with Valencia)
Balague's Sky Sports colleague, Mendieta, who just missed out on Spain's golden generation, having won 40 caps for his country in the late 90s and early 00s, feels that a country must have a strong domestic league to compete consistently on the international stage.
"I think it is [important], because that is your base for what you want to build. Starting from youth teams, young kids need to improve technically, physically and tactically. It doesn't have to be the same way Spain, Germany and Holland has done it, it has to be in the way you want your country to play. You have to build a path for everyone to go in the same direction."
Nevertheless, the 40-year-old pundit does not necessarily feel Irish players occasionally moving to the Premier League or elsewhere is necessarily a bad thing.
"It's important too to have certain players playing abroad," he explains. "We felt that difference with Spain when we started to take players away, especially to England, Germany or Italy. That gives you another approach or experience to the game that you don't get in your own country. That's something that France had when they became world champions. The main core was French-based but they had Didier Deschamps, Youri Djorkaeff, a few players playing abroad and that brings you something extra.
"So for Ireland, I think that would be a model to follow. You have to create your own players, but then, as a result of their talent, you would be exporting certain players and that would bring you something extra. It wouldn't necessarily bring you great success, because football is not an exact science, but you would be closer to achieving something."
What do you think Ireland needs to do to improve at international level? Let us know in the comments section below.
Former Spanish International footballer, Gaizka Mendieta and his fellow La Liga pundit Guillem Balague, visited Dublin with thanks to the Guinness Plus app for a special preview of the Guinness International Champions Cup pre-season tournament, which takes place in the United States until August 4th and is live on Sky Sports featuring eight of the world's top clubs including Manchester United, Liverpool and Real Madrid. More extraordinary rewards including unrivalled access to other Guinness events and festivals throughout 2014 will be announced in the coming weeks.  The Guinness Plus App is available to download for iPhone and Android Smartphones from the iTunes App Store and Google Play Store now.