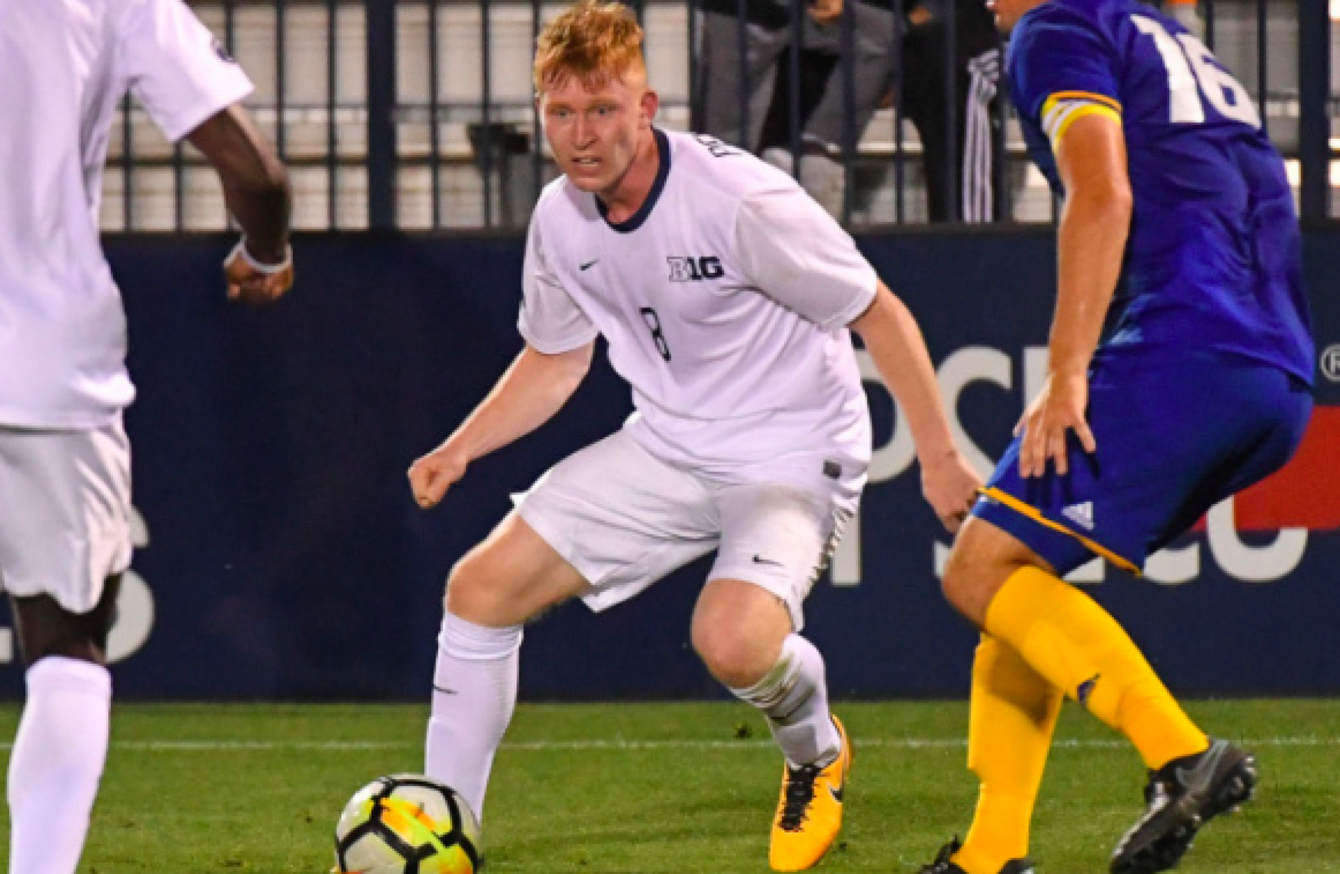 ABOUT HALFWAY BETWEEN Santa Monica and Redondo Beach on the west coast of the southern United States is Loyola Marymount University.
Last week, with Los Angeles in the middle of a sweltering heat-wave, the college soccer team hosted Penn State in 37 degree temperatures and in front of 247 people. But the sparse crowd went home happy. After all, they'd witnessed a pretty special moment.
On 13 minutes, the flame-haired Penn State captain clattered into a tackle in his own half, came away with the ball and instantly got his head up. Instinctively, he knew what to do next and measured a superb strike that floated over the stranded Loyola goalkeeper and nestled in the net: the biggest calling card Aaron Molloy has left since arriving in the United States just over a year ago.
If this isn't @sctop10 worthy, we aren't sure what is! @aaronmolloy18 takes a shot from his defensive end to score for #PennStateMSOC! pic.twitter.com/Sahc7BQj0M

— #PennStateMSOC (@PennStateMSOC) September 4, 2017
The 20-year-old former Bohemians and Drogheda midfielder is just beginning his second season in America's expansive and intensive collegiate system.
But, his recent arrival at Penn State – which boasts one of the most well-known and successful athletic departments in the entire country – is a reflection of how far he's come in a very short space of time.
It was just over a year ago when Molloy left Dublin and headed for Fort Lauderdale, spending his freshman year at Keiser University in Florida under the guidance of coach Alan McCann – who previously played underage with St. Pat's.
Molloy started 15 games in his first campaign with Keiser and impressed with his performances. Still, at a smaller university it was difficult to get noticed. That all changed when he signed up for Pennsylvania side Reading United of the Premier Development League (PDL), unofficially a type of fourth tier in the country's football pyramid.
The best college prospects are usually brought in by a PDL club once the school year ends. It keeps them fit and also gives them a bigger audience to impress. Molloy did just that.
"Keiser isn't the biggest college in the world but I had a really good year for them," Molloy tells The42.
"I got Freshman of the Year, four goals, three or four assists. But then I got Young Player of the Year at Reading. I scored eight goals, got one assist. And then a couple of the bigger colleges started knocking on my door – a couple of ACC (Athletic Coast Conference) universities and then Penn State. And that blew my mind. I went on a visit, they showed me the facilities, I met all the boys and it was a no-brainer."
Molloy wasn't just scoring goals for Reading. He was scoring great goals. There was a magnificent long-range strike against Lehigh Valley and then something similar against the New York Red Bulls U23 team.
The elite were finally taking notice.
Penn State boasted a number of players who had followed a similar path. And McCann offered Molloy the counsel he needed.
"He guided me through Keiser, through Reading and knew the best team for me. That was Penn State and he advised me and helped me get there," Molloy says.
He officially signed in June and it was both a serious step up and steep learning curve. The college system in the US is multi-faceted and has a range of governing bodies that oversee educational institutes based on their size and status. The National Collegiate Athletic Association (NCAA) is the best-known but there's also the National Association of Intercollegiate Athletics (NAIA) and the National Junior College Athletic Association (NJCAA). From there, things get split between divisions and conferences. It's an acronymic minefield.
"Before I came, I had no idea about NCAA or NAIA or Division 1 or Division 2. I just wanted to go to America. I just wanted something different," Molloy says.
"Before I came over I was looking on YouTube – looking at the big colleges and their soccer programs and their facilities. I couldn't believe that's what I was getting myself in for. Back in Ireland – even at the biggest clubs – you haven't got these facilities. You haven't got two huge, massive training fields that are just as good as our pitch. We have our own gym. A dietician. Trainers almost 24/7. We've got absolutely everything we need. So, to be a professional footballer, this is the place I want to be. And I also want to get my degree at the same time because you never know what's going to happen down the road."
During our conversation, Molloy references the importance of the academic side of his new life quite a bit. And there's a good reason for that.
"It was August 2015," he says.
I finished my Leaving Cert and I got a little bit scared because I didn't do brilliantly. It wasn't going to get me into college or get me a great job because I had been so focused on football and I had just wanted to be pro. When I was with Bohs U19s and their first-team, I was like, 'Well, I want to be pro but I'm not going to earn enough money here for the rest of my life so I want to get a degree'. I started looking at different options and started thinking about America. And then that came around.
I talked to Pete Mahon before I signed for Drogheda and told them I was leaving the following July but he signed me anyway. I played nearly every game, got a couple of goals and he wasn't happy to see me leave. He wanted me to stay and tried to get me a few trials over in England but that ship had sailed for me because I'd already committed to going to America.
I just wanted something different. I knew I was making my Mam and my family proud by playing professionally – I was in the newspaper a lot and on TV – but I wanted something for myself. I wanted something that not a lot of people had done. I wanted to get my degree, first of all, for after football. But I can see myself playing football until my legs give up.
Penn State, I think, is in the top-50 of the best universities in the world. So, to have a Penn State degree (Molloy is majoring in Recreation, Park and Tourism Management) behind me going into my football career is going to be massive."
But, being a student athlete is different in the United States. College sports is a lucrative business. Forbes have predicted the entire industry will be worth over $70 billion by 2019. If that number seems inflated, the latest issue of TIME magazine suggests the children's sports market (Little League and similar) is now worth about $15 billion.
When I try and arrange a call with Molloy, I end up having to dial the number of a staff member who then hands the phone to him. Why? Because contact details for athletes remain private.
The Penn State soccer website – complete with its enticing ads for various merchandise – is more advanced, hi-tech and nuanced than what some Championship clubs in the UK offer up as a digital portal.
It's big business. And, as result, a lot is expected of the athletes. But Molloy isn't overawed. He revels in it.
"There are 50,000 students here so it's pretty easy to spot an athlete if you're wearing the gear," he says.
"Not that there's pressure but people look up to the athletes over here so we have to be good and not get into trouble. Everyone is watching and looking up to us so it's been good to be role model to other students."
The transition hasn't been without its problems. He remains a young man a long way from home and, inevitably, he thinks about his family a lot.
Stepping on that plane last year was tough.
"That was probably one of the worst moments of my life," he admits.
"My Mam was crying, my Nanny was crying, my little brothers and sisters. I shed a little tear. It wasn't easy saying goodbye. But it was more of an 'I'll see you later'. My Mam came over to me at Halloween – so less than four months later. And then she came over again in April to West Palm Beach in Florida, where I was at the time. I think I'm a little Mammy's boy, if I'm being honest. I'm really close to my Mam. I talk to her every day and I think she'll come over again before Christmas and see me. I'd love to have her up in the crowd for one of the Penn State games here.
I'm a little homesick every now and then. It was my sister's debs and her 18th a couple of days ago and there was nothing more I wanted to do than go home and see her, my Mam, my little brothers and sisters. I'm the oldest of eight and I haven't seen my youngest brother yet – he was born when I was over here and I still haven't seen him. So as soon as the school season is done, I'm on the next flight home."
Molloy has a bit of work to do yet. The next break he'll get is at the end of October and then there may be the Big Ten (Penn State's conference) championship the following month.
SEE SPORT
DIFFERENTLY
Get closer to the stories that matter with exclusive analysis, insight and debate in The42 Membership.
Become a Member
But he's enjoying himself. The standard surprised him immediately and was much better than he was anticipating.
"When I left my Mam in the airport I had two suitcases and two football bags and I was off on my journey and I never looked back. My first few weeks were at Reading and I wasn't expecting the level to be as high as it is. At Drogheda, I was playing in the middle with Sean Brennan and Sean Thornton. Thornton played Premier League football. But the level here is really, really high. I was taken aback by it, actually. People had told me it was just physical but, trust me, it's a lot more than that."
The US is Molloy's base now and he is plotting a precise course. Through Reading's affiliations, he's already trained with USL (United Soccer League, unofficially a joint-second tier) side Bethlehem Steel (where former Pat's and Shelbourne player James Chambers is captain) and Major League Soccer's Philadelphia Union.
If he's deemed good enough, MLS will invite him to their Combine – a VIP event for about 50 elite college players – where they'll perform for various coaches and general managers.
Eventually – as per other North American sports – there is the Super Draft where every MLS side will hustle and trade for the brightest young talent.
"I wouldn't change a thing in the world right now for where I am," Molloy says.
"I have the next three years ahead of me at Penn State. Things are looking good. I've been training with a couple of pro teams here. The Philadelphia Union in MLS are keeping a close eye on me. They've been to a few games and I was training with them during the summer. I'm only a sophomore so I've got a lot of time left in college so everything's looking up for me at this end of the world."
In a neat twist, Molloy is at Penn State alongside Ethan Beckford. Both know a thing or two about how high-achievement can run in the family.
Molloy's father, Trevor, is a well-known former League of Ireland star and underage international. Beckford's father, Jason, is a former Manchester City and Blackburn striker. His uncle, Darren, had a distinguished career at Port Vale, Norwich and Oldham. While his cousin, Danny Webber, began his career at Manchester United before making a name for himself at Watford and Sheffield United.
"Me and Ethan have had a few chats about being associated with our fathers," Molloy says.
"I don't think it's one of the reasons we came here but we did want to take our own path. We want to do our own thing. We don't want to look in our Das' eyes and go the way they went. My Da would never tell me what to do. He'd give me the pros and cons of every situation and he'll put it out in front of me and I'll make the decision – which I think is the most perfect way.
Me and Ethan are pretty much room-mates, we're pretty close. We've talked about those situations – the type not many people can relate to. It's good to have someone on the team who understands the pressure you're under as a kid to be great. But both of us talked about how it didn't faze us. We just wanted to play our own game. Both of us are at Penn State and are ready to make a mark on this team and this league."
Subscribe to The42 podcasts here: